Wandering through the gardens at The Elms Te Papa Tauranga, one is suddenly aware of something new. Standing on the front lawn is a sculptural piece that appears to be concrete blocks stacked on top of each other. On closer inspection, it's clear it is in fact made from treated plywood, steel bolts and polyurethane.
Around it, rosellas flutter down onto the grass.
In the distance below, the sound of traffic from the bridge, Sulphur Point and the port.
Around us in the garden tuis call, and trees move in the spring breeze.
The work is called Sightlines by Mathew Elwood. An Auckland artist of national repute, he is exhibiting this piece as part of Tauranga Art Gallery's exhibition called The Future Machine.
Intended to be part of the gallery's outreach programme to encourage community engagement with art beyond the gallery itself, it certainly captures attention.
"There's some nice resonance with this art work and the backdrop here," says The Elms Te Papa Tauranga manager Andrew Gregg. "We have an unobstructed view of the Mount. This piece of art makes some commentary on building techniques and the industrial development of Sulphur Point in the early 20th Century."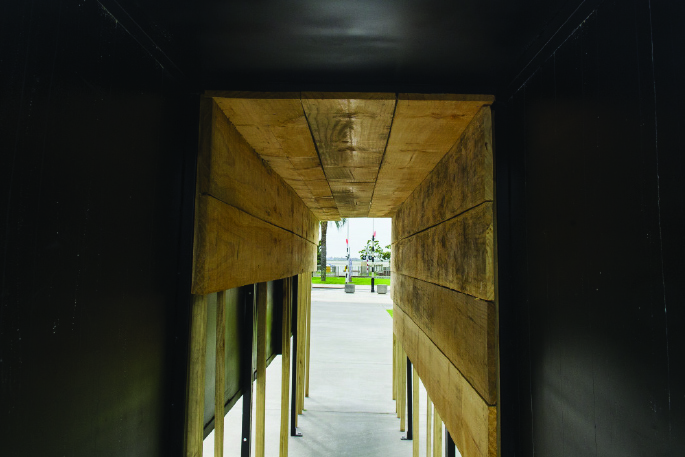 On show courtesy of Matt and Melanie Roger Gallery, the installation alludes to the urban contemporary landscape that now surrounds The Elms Te Papa Tauranga.
From the plaque nearby, the message states that "the hand-crafted, laminated plywood blocks which resemble an ordinary column of concrete blocks are stacked and organised in a nod to directional markers such as signposts and weather vanes.
"The rotation and position of each block acts to accentuate the mix of local geography and recent urban development that is so present at The Elms.
"The clash of historical and contemporary landscapes is also suggested through the use of modern materials and techniques that critiques current conversations around the carbon footprint of the building industry."
In nearby Masonic Park, another piece stands.
Titled Promenade encourages us to take a different route and perspective through the park. Created by Stufkens and Chambers in collaboration with sculptor Nic Clegg and Torbin Chambers Soundscapes, it highlights the tension that can exist within the city on a multitude of levels; between history and future, the natural and man-made, and between silence and cacophony.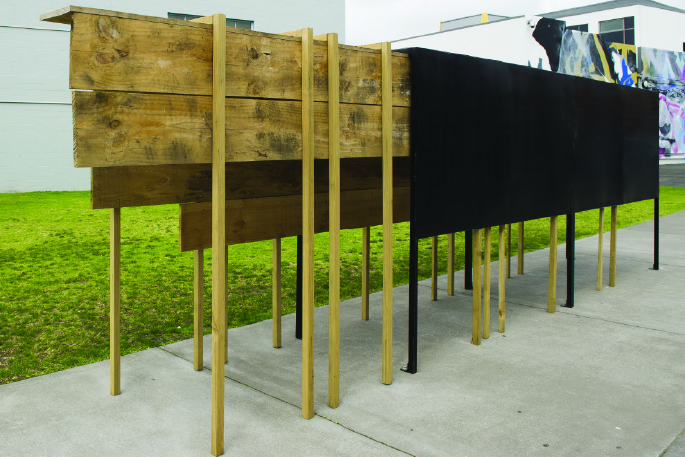 Moving through the work, the installation provides temporary relief from the fast-paced pressures of the city environment.
The Future Machine group exhibition is infiltrating the central city environs, highlighting some of the more surprising imagery, historical and physical spaces we have in our own backyard.
The main exhibition will be held at the Tauranga Art Gallery, with works also found around the CBD. It continues until January 2018.