Baz Mantis Photography
Antony Warnes was re-introduced to a collection of his past paintings this week. The substantial oeuvre constitutes favourite and significant works gathered from people who have acquired pieces over a 50-year period.
"I asked Tony if he would paint me a Mini once," says Lynette Fisher, who contributed her Warnes painting 'Monty's Place' to the retrospective exhibition. "He turned up with Monty, my old Mini, parked outside of our old local, The Parallel Bar.
"Tony told me his old nickname was Monty, and signed the words Antony S.W. He told me the S was for Sebastian. I can remember wondering if he was having me on, and feeling pretty lucky that I had a unique signature and it only cost me a bottle of vodka!"
Simone Anderson, director of The Incubator Creative Hub, which is holding not just the retrospective exhibition but also a show of Antony's current work, recalls the Parallel Bar days.
"Antony had one of the first exhibitions at the P bar," says Simone, who points to her Warnes painting 'Monday Night Moggy'. "It was of full sized, giant cats and they were all snapped up that night, including this one for me."
There are other stories – recollections by purchasers of over 100 paintings on display in The Peoples Gallery – Toi ka rere.
Remembrances of where they bought their Warnes, and what they mean to them.
Tauranga City Councillor Catherine Stewart used to work opposite the city's well-known aspen tree in Willow Street.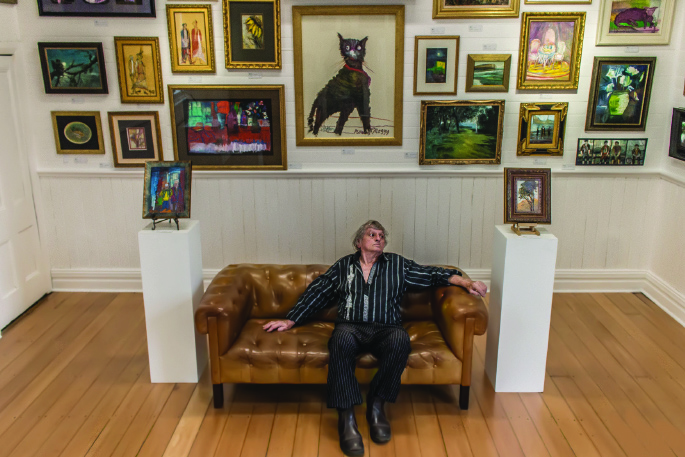 Baz Mantis Photography
When she saw Antony's painting of the aspen come up for sale 35 years later in a charity auction, she delightedly snapped it up.
"I think some of the earlier pieces were quite mad," says Antony in 'The Super Sonic Vagrant', a documentary made by Baz Mantis.
"I saw a story once on a whole front page of the newspaper that Antony Warnes was going insane. I was 45 and locked myself in a house for three days. I didn't want to come out."
The 50-minute documentary runs in a side room at the 'Reluctant Melancholia' exhibition, the name given to this celebration of work by Warnes. Running until November 22, the exhibition is actually a series of three concurrent exhibitions and events, recognising this iconic Bay of Plenty artist.
Part One, at the Incubator, features works for sale, giving an overview of his current painting style. Some unframed, they feature portraits, landscapes, gardens, fish, cats and birds.
Bursting with life and colour, there is warmth and joy hidden within the cerise and manganese blues. Rich purples and cherry reds, they evoke moments and ideas, the creativity and life caught by birds in flight and flowers bursting from the soil.
He sometimes changes the names of his paintings, even years later.
"I've got to stop being melancholy,
I like to be more happy," he says in the documentary.
Asked about the painting process, Antony muses that it's not a process.
"It just happens. I can't explain it."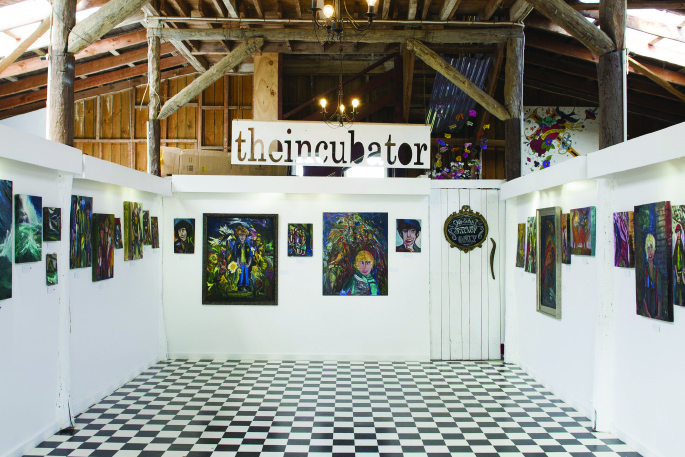 The second part of the exhibition is the retrospective display of more than 100 paintings in the nearby gallery recently reopened as 'The Peoples Gallery – Toi ka rere'.
The paintings go back to 1972, with the owners recounting often humorous stories about their provenance. Mac and Kate O'Brien have collected 25 works spanning his whole career.
"We first met Monty in the 1970s on Willow Street whilst he was looking after his mother," write Mac and Kate. "We took him on holidays to the Coromandel and had great fishing missions with plenty of banter. We have drifted, but regularly pick him up hitchhiking in Katikati and drop him off at the Forte Leza."
The third part of the Reluctant Melancholia series will be held at the Forte Leza. Fans and old friends have the opportunity to dine with him at the restaurant surrounded by his paintings.
Built in 1902, Forte Leza was purchased by the Belcher family in 1979, and Phillip Belcher is a close family friend of the artist.
Asked about his techniques, Antony responds bemusedly.
"Techniques? No, I just throw them together," he says. "I guess you can call that a technique."
He paints daily, often with his cat Sylvester close by. He considers friend and local painter David Warriner to be the Bay of Plenty's most eminent painter.
He is also inspired by local painter Graham Bell, and international artists Egon Schiele, Toulouse Lautrec, Van Gogh and Picasso.
"I like the idea of a retrospective because I can have a look back," says Antony. "It's not often I can see them again. There's homes I go past, but I can't go banging on their door."
"To my mind, Antony Warnes is one, if not the most important Bay of Plenty artist of our time," says Simone Anderson. "The epitome of raw, gritty talent."