Two very different styles of art will soon call Tauranga's The Art Lounge NZ home.
Sarah Albisser and Anya Mowll both have different art styles, and their creations will be on display until January 4.
Sarah's collection 'Line Complexity' features black and white drawings and ink and stitching portraits.
"In my work, I capture expressions, feelings, moods and mental states," says Sarah.
Swiss-born Sarah says art has been a lifelong passion for her, and she draws influence from her father – an architect and abstract artist.
Once Sarah had graduated from the London Studio Centre, she started contemporary dance at the Merce Cunningham Studio in New York before launching a career as an independent dancer and choreographer.
She switched gears in 2007 and moved to New Zealand and has since developed her own style and technique.
"It's fascinating how each of us is unique, which is shown in facial expression, body gesture and our overall presence. My work is inspired by strong female characters, who are original and have a powerful presence."
Sarah's larger drawings in the exhibition – called 'The Wireheads' – have evolved from a long history of sketching.
"They represent the energy of thinking and the subconscious mind in movement and in the moment," says Sarah.
Anya's collection 'My Happy Place' is comprised of ceramic figurines with a bronze coating.
Anya is a full-time artist based in Wellington where she works in her new studio.
She focuses her talents mostly around clay, but often likes to experiment with other new media.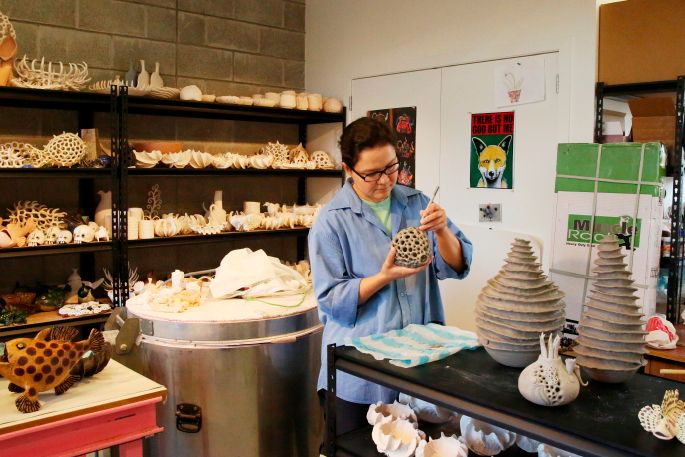 She graduated with a Diploma in Ceramic Arts in 2012 before completing a Bachelor in Applied Arts at Whitireia Polytechnic.
Anya enjoys exploring the texture of fired ceramics from very smooth to as sharp as a knife, as well as preserving fingerprints in the finished pieces and experimenting with fluid glazes.
"My inspiration comes from nature, particularly in features like growth, weathering, evolution and organic structures," says Anya. "However, my art pieces are mainly inspired by the sea life. When I work on a figurative work, I concentrate on emotions rather than a form."
Anya is usually working on three or more projects simultaneously and is always looking for new ideas, which makes her art so unique. Ceramic figures with bronze coating were designed and created especially for The Art Lounge NZ, Fine Art Gallery, who represents Anya in the Bay of Plenty region.
Anya's unique ceramics are in private collections worldwide, mostly in New Zealand, the United Sates, Australia, Japan and the UK, and she exhibits regularly. Some of her stunning work was also purchased by the Wallace Art Trust.
See the collection for yourself at The Art Lounge Fine Art Gallery in the CBD at
32 Devonport Road.