It was October 2011, and oil was washing ashore from the Rena. Leigh Pettigrew heard the call for help, and attended a meeting for volunteers.

"There were only a few of us there," says Leigh. "Pim de Monchy from the Bay of Plenty Regional Council asked for team leaders and we all looked at our feet. We didn't want to be team leaders – we just wanted to help.

"But each of us became a team leader. I had about a dozen in my team and we continued for a couple of months until all the oil was gone."

Gary Meltzer took charge of the Tay Street group, Jan Willoughby the Omanu group and Leigh focused on Pilot Bay. Other groups also formed.

After the oil had been removed, Pim invited the volunteers to adopt a beach and form coastal care groups.

"I felt we'd done our bit, and I was ready to have a break," says Leigh. "But I sent an email to the rest and found they wanted to carry on. So we did.

"They'd all been picking up litter as well as oil on their daily turn in Pilot Bay, and to my knowledge, not a day has gone by since where the beach has not been cleaned."

Although members of his group also cover other areas, Leigh's focus has remained on Pilot Bay, with approximately 20 members on a daily roster system.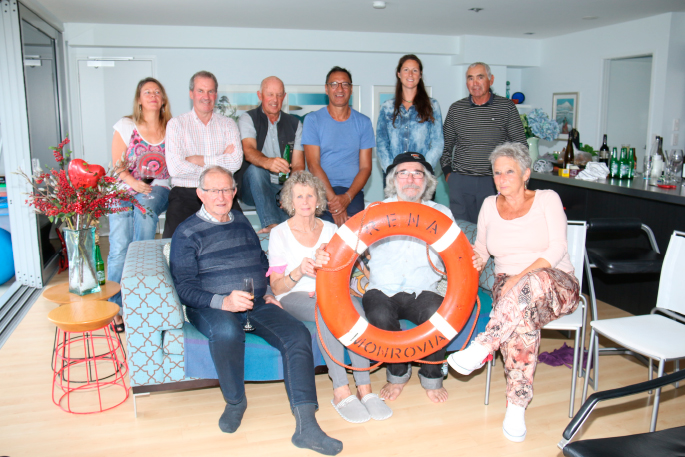 "My philosophy is to keep it simple, and do a small job well," says Leigh. "People comment on how beautiful the bay is. It is beautiful, but few visitors realise the degree of pollution which washes ashore and the daily effort to keep it clean."

Logs and large branches that land in Pilot Bay are cut up and taken to the dump on Leigh's ute.

They also pick up plastic, glass, cans, dead animals, soiled clothing, nappies and condoms.

"We've rescued penguins, seagulls, an oyster catcher, three shags and saved two seals."

Some six years on, Leigh decided it was about time to have 'a bit of a celebration'. He invited everyone over.

"It's an extremely easy group to lead," says Leigh, "as everyone does their own thing, in their own time."

He takes pride in watching local community members take responsibility for their environment. The importance of what they do came home to him when he was in Antarctica recently.

"One of the scientists had carried out an autopsy on a dead humpback whale, and counted 40 plastic bags inside it," says Leigh.

"Residents like Leigh who would like to help look after one of our beaches can get advice and material support through Coast Care," says Pim. "It's a programme funded by local councils and DOC to support community efforts to look after our dunes and beaches."

For more information, call: 0800 884 880 and ask for Chris Ward or Paul Greenshields, or email: coastcare.west@boprc.govt.nz