Jason Butler is a second generation circus performer and juggler. He also calls himself a dyslexic clown. I find that hard to believe, particularly when he glides past me, adeptly juggling three balls whilst riding a unicycle.

Rowan Ford Dawson, on the other hand, was upside-down on one hand when I first met him. Linking his 'Circus in a Flash' with Jason's 'Butlers Circus Warehouse', the two have joined forces and are making circus spectacular in Tauranga.

"My father was working for Whirling Brother, Ridgeway's and other circus companies," says Jason. "After he had a family, he'd go and see his old mates when they came to town and we'd get free tickets to the circus, so I was immersed in that culture from an early age.

"I started training when I was 16, doing juggling, street performance, unicycle and rola bola balance board. I failed miserably through school, but in terms of being funny I was the class clown."

Rowan's circus career, however, started after he broke his collarbone riding a bicycle.

"I was 23," says Rowan.

On recovering, he headed down to Wellington to see some friends.

"There was a guy who unicycled along with my friends, and I realised I wanted to learn how to do that," says Rowan. "There were no handle bars to fall over. I met the local unicycle gang. They'd jump over bollards, do grinds, jumps, balance tricks and flips. I'd ride three days a week with them."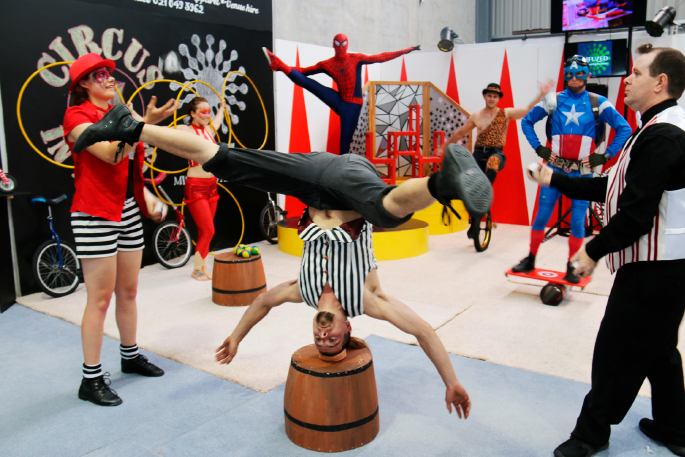 His new friends took him to a juggling festival where he was immediately wowed.

"I spent the next year getting fit and in shape so I could audition for Circus School in Christchurch."

He completed the two-year diploma, simultaneously working as a presenter on 'What Now'.

Jason, meanwhile, had also been supporting himself while honing his skills.

"Being a full time circus entertainer in NZ is rare," says Jason. "For the first five-to-six years of my career I had a part time job, but we've got to the point now where this is our income and this is what we do."

He has toured NZ for over 20 years, covering a range of work from street performance up to corporate events. He has also secured a contract with a promotion company that manages charity work up and down the country.

"We do 25 locations nationwide, four times per year."

Jason and his wife Shan have three children and a granddaughter and decided to start up a space in Tauranga for training the next generation of circus performers.

Meanwhile Rowan met his wife Tessa while busking in Christchurch, discovering they lived in the same apartment building. When her business moved to Auckland, they moved too, establishing and building up their 'Circus in a Flash' circus company over the next five years and employing others.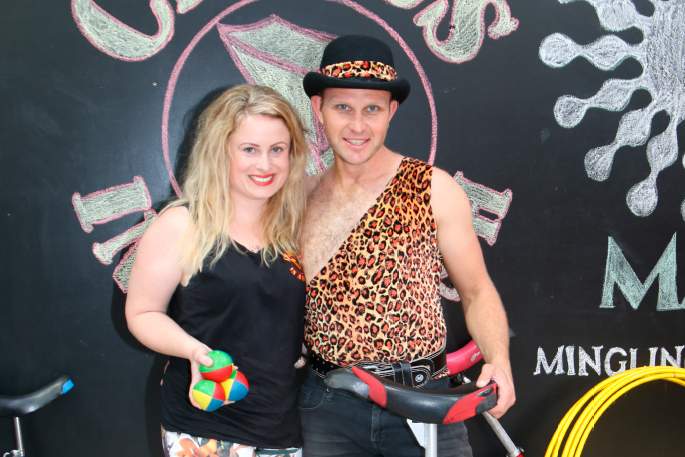 "We wanted to buy a house and realised we just couldn't do that and have the lifestyle we wanted in Auckland," says Rowan. "We moved to Tauranga and have a great house and garden."

Living in Tauranga over the last two years, the couple continued to grow their circus company while travelling between centres.

"It's a journey back and forth. I got here last night from Auckland, then I take off again straight after this for Auckland, and return for my son's birthday. Then I'll do the Bethlehem Baptist volunteers dinner, back up to Auckland on Tuesday, then back here to do three different jobs on Wednesday."

Rowan was a clown doctor at Starship Childrens Hospital for about six years, and has worked with both children and adults with disabilities.

"I love what I do, I love making people happy."

Joining forces with Jason was a natural step forward.

"Circus in a Flash came into the picture, and we subcontract to each other quite frequently," says Jason. "Rowan was doing the network business meetings. I book him for events and he books me for events.

"I've been working with Jason for the last five years on and off," says Rowan. "He's been juggler clown man and I've come with the acrobatics."

Jason secured a commercial building in Windermere.

"It's a great venue to run classes, and is also available for drumming workshops and fitness people," says Jason.

"We'll have hoop classes, an introduction to unicycle, juggling, acrobatics and mixed circus skills. The parkour boys come in and practise their somersaults in a safe environment.

"Companies can also come in and do a team building exercise. Learning to juggle is about setting small achievable goals and then adding in the next step, just like in business."

Tessa creates costumes, with the performers often sought after for events. The faces are familiar - Batman, Superman, a Christmas elf, Christmas fairies, Captain America, a circus strong man and many more. Often a performer can be two or more characters in a single day or event.

"We have about 40 performers," says Tessa. "But they're all over. They might be away three years studying circus, so when they come back we support them with work as much as we can. Circus people move around a lot. We'll wait while they train, and hire them out on weekends."

Separate circus companies but working together - it's a team enterprise. Both are big on mentoring and both believe in investing in the next generation of performers.