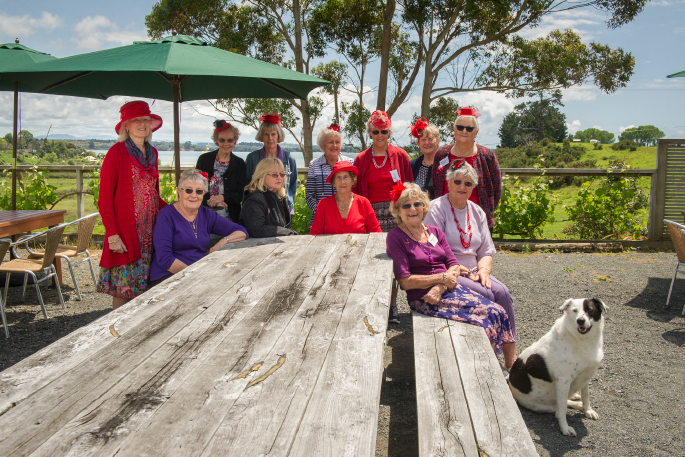 The word 'motoring' came to mind when I drove out to Te Puna to meet the Red Hat Dames. I had plucked my red hat from my growing hat collection and set off to meet them over lunch.

Crossing the Wairoa Bridge I found myself motoring through rural countryside along grassy tree-lined lanes to the Cider Factorie, which is tucked away at the end of Oikimoke Road. Pulling into the car park, I was faced with a stunning view of Tauranga Harbour and, of course, the Red Hat Dames, who were ready to enjoy lunch as part of their outing.

"We're not an association," says Ann Andrews. "We're just a friendly group based at Carmel Country Estate Retirement Village in Ohauiti. There are loads of activities going on there, and we're a group that mostly go out on outings."

They sit around a large table, some wearing hats and others fascinators. Cider Factorie owners, Simon and Rowena Pearce, clearly enjoying this colourful addition to their day, take lunch orders.

"Te Puna is known as the green belt of Tauranga," says Rowena. "We have an opportunity to produce a menu that is primarily sourced from a 20km radius of our venue utilising the produce grown or produced in this area."

On their road alone are venison and tomato growers. Nearby a garlic grower, lettuce grower and Heilala Vanilla that feature in desserts.

Also avocado, olive and apple trees.

"We were mindful of this when we repurposed this place and developed the idea to open the restaurant onsite," says Rowena. "It's a great way to support and promote our little community. This place is rustic and rural and embraces our background in wine making."

They ran an e-bike open day in November, so that people could come in, have a play with an e-bike and get ready for the cycle trail which is planned to go past the end of their road.

Getting people out of cars and on to bikes so they can link up from Omokoroa and stop in for lunch while riding sounds wonderful.

The Red Hat Dames are certainly enjoying their day out.

During the morning, the group had already been to the Begonia House in Cliff Road.

"Then we looked around the Rose Garden, which was fabulous. After that we went and had a look at Nautilus Café then we came here to the Cider Factorie."

Anne Rowlands ran the group before Ann Andrews.

"Joan Spick started the group," says Anne Rowlands.

"Before me, Annie Duff and Helen Sanders were running it," says Anne Rowlands.

The group has about 17 members and has been running for 11 years.

"They don't come all the time," says Ann Andrews.

"We go out every month and just have fun, that's what it's all about."

She tells me about the many activities that take place at Carmel Country Estate, where she says has about 200 residents. A staff member Chris McNab drives the mini-bus for their outings.

"We do have fun, we really do," laughs Ann.