The premises at 70 Maunganui Road has seen many a diner come and go since its construction over 40 years ago, but it's safe to say it hasn't housed anything quite like The Fat Cow.

Run by Jorge Arizaga, a Mexican native who moved to New Zealand six years ago, he's been working in hospitality since the age of 15.

Jorge explains that his aim for The Fat Cow is making food as much of a social experience as it is culinary. Meals in Mexico, he says, are all about sharing and socialising with friends and family.

Described as a restaurant where "carnivores and vegans can dine in harmony", The Fat Cow offers a unique and ever-changing menu of Southern smokehouse-style meats, sides and prime cuts.

The menu also offers vegan fare, including pulled pork (jackfruit) tacos and vegan mac and cheese.

A range of local craft beer and cider complement the menu, including a pilsner aptly named 'The Beast', which is described as a smooth brew that balances out any serving of meat and is only available at The Fat Cow.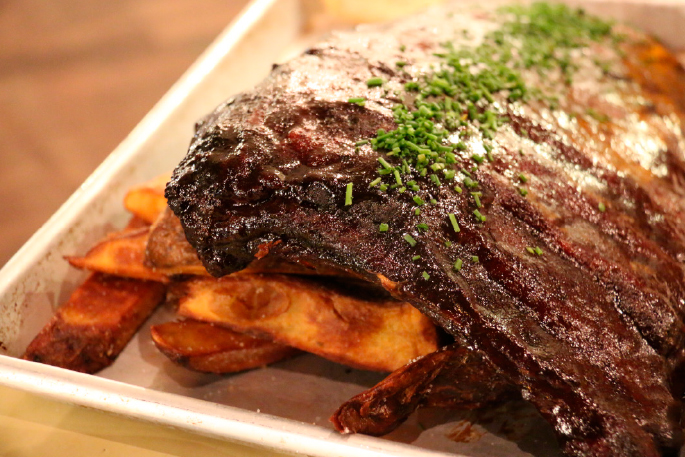 Their meat is sourced from freedom farms nationwide, and smoked for up to 12 hours in a custom-built smoker onsite. This means that Jorge's day starts at 8am, and over 12 hours later he is still at work in the kitchen.

Hard work breeds success, as they say, and judging by the amount of people raving about The Fat Cow, they are right.

The constantly revolving menu is transported to your table on a wheeled chalkboard. This particular night, the options range from smoked salmon to a full side of Carolina style pork ribs.

"Choose your favourite meat and sides, and build your own meal," our waitress explains. After a moment or two of indecision, we decide on the ribs and the pulled pork, accompanied by potato fries, kumara fries and mac and cheese.

The pulled pork is light and juicy, and goes perfectly with the rich, creamy mac and cheese.

Both the potato and kumara fries are chunky and perfectly crispy. The star of the evening, however, is the ribs, which are smoky, sweet and quite literally fall off the bone.

Ribs can often be a messy affair, but not here – no cloth napkins, finger bowls or extra plates required.

The short-but-sweet dessert menu featured churros and pumpkin cake. If only there was room! In the past I've also spied appearances from lemon and blueberry crumble and caramel flan.

Yes, I admit it - this isn't my first foray with The Fat Cow, nor will it be my last. In fact, I'm already looking for an excuse to go again.


Subscribe to our weekly Newsletter
Email: