I didn't think I'd find such a world-class, classical musician living here in Mount Maunganui. Born in England, Chalium S P Poppy is an exceptional choral conductor and bass-baritone who has chosen New Zealand as his home.

Musicians of this calibre are rare in any age, and would be expected to live close to concert halls in London, Vienna or northern America.

And yet here he is, conducting the Chancel Choir at St Peter's, and also conducting Scholars Pro Musica – a chamber choir, which is the only auditioned early music choral ensemble in the Bay of Plenty.

He started both choirs.

On arriving in New Zealand Chalium had intended to retire from music.

"I'd done music full-time in Canada and I was seriously burnt out," he says.

"I came here and was exhausted, and said 'I just don't want to hear another note'.

"I was looking for a change in direction and was thinking of going to university to study literature or law.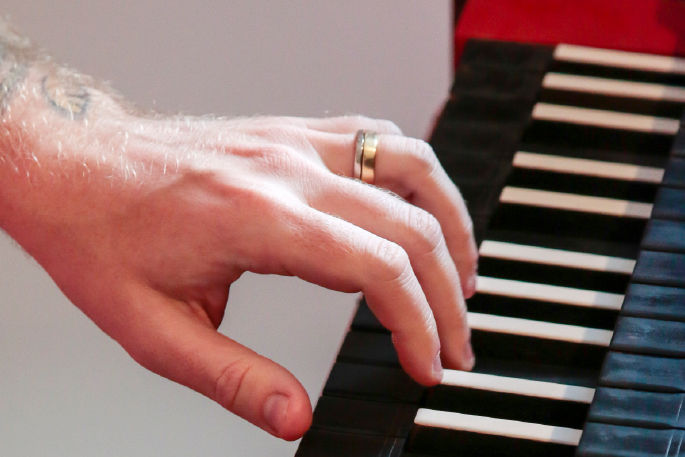 "When I first arrived here, there was this beautiful stone church around the corner from where we were housesitting. I thought 'that's where I'll go on Sunday morning'."

He joined the small congregation at St Peter's at the Mount.

"They had no organ and no choir and the services were quiet, serene and solemn.

"Being an Anglican cathedral choir boy growing up, I thought 'this can't be'."

"Something just tugged at everything that was Anglican inside of me.

"I think the jewel in the crown of the Anglican Church is its very rich musical heritage.

"So I raised my hand and said let me raise funds for an organ. Let me design an organ. I will play it. So the organ went in.

"Then I thought I could probably piece together a choir from people within the community."

Beginning nearly nine years ago, his first choir, the Chancel Choir at St Peters, had six voices.

"And it just grew. Now we have beautiful choral services and the choir sings regularly. We do choral evensong which attracts Presbyterians and Catholics. Everyone loves to come to choral evensong at St Peter's. And we've attracted some brilliant organists like Judy MacDougall, and Hilda Bester who came from Nelson Cathedral."

He decided he also wanted to start a chamber choir dedicated to informed performances of early music with an emphasis on stylistic excellence.

"The chamber choir Scholars Pro Musica sort of grew out of the Chancel Choir. I was starting to work with and familiarise myself with singers who wanted to create music like Handel's Messiah and big choral works which use a different kind of choir.

"So I started Scholars Pro Musica seven years ago."

Chalium runs twice a day from his home down the beach to the Mount, up, around, then home again.

"I had to go to hospital. They said 'you've got to change your lifestyle, you're a ticking time bomb and you won't see the better part of 40'. I hadn't had a heart attack, but it was bad.

"I decided to make some changes. I began running and now I'm fighting fit.

"Going up the Mount is the best; it's the best workout. You can work yourself into a sweat. When I first started obviously all I could do was walk it. And huff and puff.

"And then I worked up to a run."

How does he find time for this?

"I wake up in the morning and that's my priority. It's become my lifestyle. I never want to go back to being like I was as this just feels so much better.

"I used to have poor eating habits. I'd skip breakfast and lunch, and survive on coffee.

"And then have a normal dinner at night, and go to bed. Quite often eating dinner would put me to sleep. I was told by my doctor that if you're tired after eating then you're getting diabetes, so fortunately I managed to reverse that."

Setting goals both personally and musically, and striving for and achieving them, is at the heart of Chalium's love of excellence.

Scholars Pro Musica, known for stunning concerts throughout the year, has a repertoire that spans the history of choral music from early sixteenth century to contemporary. The choir has received international accolades for the New Zealand premieres of choral works by Henry Purcell, Jean-Phillipe Rameau and Michael Haydn.

This year, the choir will be collaborating with orchestras for concerts in April, August and November performing works by Handel, Holst, Parry, and Elgar.

And, of course, the highly popular community sing-along Messiah event in September, followed by carols events later in the year.