Film directors Antoinette Wilson and Jordan Osmond are living in a five-acre food forest in Katikati. They met Andrew Martin, the owner of the property, while filming their documentary Living the Change in 2017.

Near the main house, Andrew has a small studio which Antoinette and Jordan live in and work from.

Andrew was overseas when I visited, and they took me on a walk through the food forest, accompanied by Andrew's dog.

"Five years ago this was all grazed paddocks," says Jordan. "Andrew's planted the whole lot and chosen natives and food perennials."

We round a bend following the grass walkway through a mix of NZ natives and fruit trees.

There's a cabbage tree, a fig tree, a carob, manuka, kawakawa, pittosporum and a pine nut.

Swan plants provide resting pads for monarch butterflies, and amongst the trees tuis and magpies can be heard. Brown shaver hens and Araucanas - a breed of domestic chicken from Chile - can be seen through the walnuts and feijoas.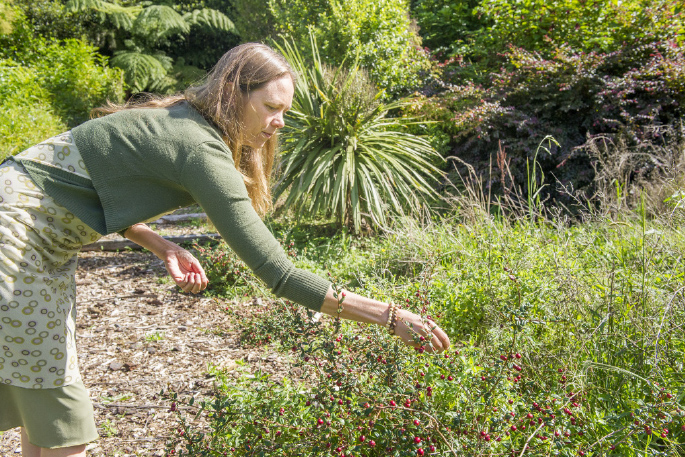 "We made our first short film in NZ here, about Andrew and this property," says Antoinette.

"He was working in high finance in Australia when he saw a documentary called A Crude Awakening in 2007."

On the short film, Andrew talks about the impact the documentary had on him.

"They were talking about depletion of oil," says Andrew, "and that got me interested in energy.

"Permaculture kept popping up as a solution so I started researching it, and realised it was an integrated approach to how we're living.

"At the moment, our current society has a fragmented approach. Everything is compartmentalised and separated, whereas permaculture is a holistic approach to living.

"It integrates food, environment, your lifestyle, and taking care of people, the planet and natural resources.

"That really hit home as one of the solutions for moving forward."

He had felt himself being drawn into a materialistic world.

"It was the wanting more and more stuff," says Andrew. "The consumerism lifestyle can be contagious. 'The more money you have the more happy you are' just doesn't work."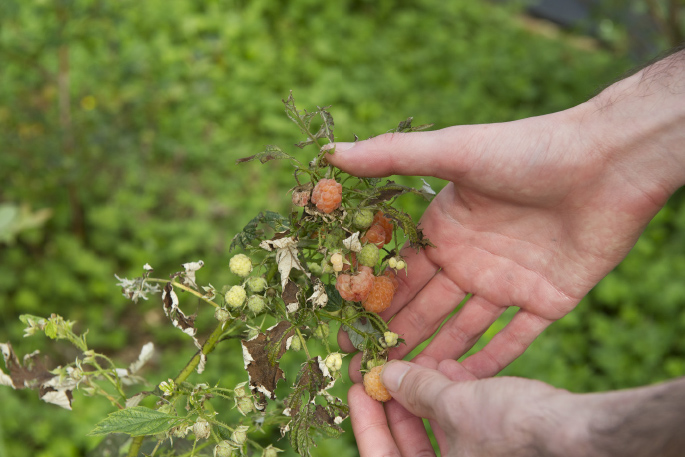 "He realised that resilience in the future was going to be in perennial food crops, healthy soils and more trees," says Jordan. "He's basically living that, so was a very interesting subject for us to film."

A food forest is different from a vegetable garden or an orchard. In a traditional garden, rows of vegetables are planted in a plot. Fruit trees may be nearby and there may be a separate herb garden.

A food forest or forest garden turns this traditional system on its ear.

Vegetables, herbs and fruiting trees are planted similarly to how they would grow in the natural world. Usually they are designed with seven different layers, as opposed to the single layer found in the conventional garden.

The layers are the canopy consisting of fruit and nut trees. There's the lower tree layer, which has dwarf fruit trees, the shrub layer, which has plants like blueberries and raspberries, the herbaceous layer, where perennials, herbs and leafy greens grow, the rhizonosphere where root crops grow, the soil surface for cover crops and the vertical layer which includes vines.

It's based around the idea that natural forests flourish well and produce ample food without any sort of human interference.

As we continue strolling, Antoinette points out that the farmers around the property can't believe how much wildlife and birdlife is present. She and Jordan had gone up into the Kaimai Range to record bird noises for their documentary but found they could hardly hear any birdlife there.

The path winds through hazelnut and avocado trees; tamarillo plants; peach, pomegranate and apple trees; blackberry and raspberry bushes; Chilean guavas, blueberries, and grape vines.

A rooster crows and near the house we come past the main garden with kale, spinach, silverbeet, beetroot, bok choy, rhubarb and zucchinis.

Antoinette reaches to pluck from the mint, sage and silverbeet growing behind a rustic fence which is draped with passionfruit and edged with lavender. I find a tea plant, which she tells me gives green and black tea. A banana tree is close by.

She still has her dancing shoes from when she was dancing tango in Buenos Aires, way back before she met Jordan in Australia.

"I started Happen Films three years ago," says Jordan, "filming my first documentary called A Simpler Way: Crisis as Opportunity, in Australia.

"Antoinette was involved in that, as a subject in the film, and came on board to help write it."

A year into making Living the Change, they went and stayed in a friend's shipping container in Raglan and wrote the story over two weeks.

Key topics explored in the film include energy, waste, food systems, economic issues and conscious consumption. "We didn't really set out to make a feature-length documentary," says Antoinette. "We actually planned to make a series of short films.

"And then we kept meeting people who had really interesting things to talk about on the bigger issues, like Andrew and his food forest."
Subscribe to our weekly Newsletter
Email: