Karam Hood points to the photograph of Rangiwhakaehu Walker hanging on the wall in Moana Moko. As he motions to her his eyes grow larger, softer, as if a happy memory has come to mind.
"That's my grandmother," he says, and his voice drifts off. "She got her kauae [chin tattoo] when she was 80. She was the be all and end all for us, she holds a huge place in my heart."
Karam is a taa moko artist, a teller of tales who uses skin for pages and a tattoo gun for a pen.
The 34-year-old self-taught artist has practiced taa moko since the age of 18 and is one of eight cousins who established Moana Moko in the Historic Village back in 2010.
Taa moko is a taonga that Karam treasures greatly, and one that offers him an opportunity to connect with people, to receive and learn their stories, to translate them into ink carved in flesh.
"The better the story the better the moko," he says. "It has to tell a story, it has to mean something, that's how I would define the difference between moko and tattoos that use Maaori designs.
"I love what I do and I do it every day. In the past I've worked factory jobs, kiwifruit, AFFCO, the-nine to-fives, all of that. Tattooing and taa moko is what I've always wanted to do."
Karam's facial moko is "the blueprint of who I am" and will continue to grow as he does.
For Karam it's been a journey which began four years ago in Omataroa Forest near Te Teko in the Eastern Bay of Plenty.
"I was tattooed in a tent in the middle of the bush, we took a small generator to power the tattoo gun," he remembers. "It felt really natural and 50 minutes later my nose was on."
There are three creatures which adorn his nose – a kiwi on the bridge of his ihu, a weta on one nostril and a spider on the other nostril – which represent Karam as a father, husband, and artist.
"With kiwi, after the mother lays her egg she'll leave the nest to look for food, so the father stays behind to protect the egg. That really resonated with me, I just want to be the best dad I can be.
"In Maaori culture, spiders are the epitome of the perfect artist, the way it spins its web. But their web also provides protection and sustenance for its family.
"And weta, when they burrow into wood or dirt, they create perfect spirals. That's the ultimate test for an artist, to create a perfect spiral."
Up until the age of five, Karam was raised by his grandmother Rangiwhakaehu, a respected educator and founding pillar of the Koohanga Reo Movement in Tauranga during the 1980s.
He was one of the first students to attend Te Koohanga Reo o Hairini which his grandmother helped to establish, adding he was as fluent speaker of te reo Maaori during this time.
After turning six he moved to Te Puke and would attend mainstream primary and intermediate schools. But from full immersion to "Maaori classes maybe once a week" took a toll on his reo.
It was during high school that Karam says a fire reignited inside of him.
"I went to Tiipene (St Stephen's) in Auckland which was a Maaori boarding school. It was there I started asking myself who the hell am I? Why can't I speak my own language? All those bloody questions.
"It was these years that sparked my search for identity, culture and language."
A multitude of meaning are layered upon on each other in Karam's moko.
He points to the patterns on his chin, saying they represent his whakapapa down his mother and father's side, his physical characteristics, the balance of the masculine and the feminine residing within him.
One of the big meanings his moko holds is the revitalising of Karam's reo, he explains.
"It's kind of like me reclaiming my language. It's also about the stuff that comes out of my mouth, that it should be truthful and when I say something do it; all those kind of things."
His moko also pays homage to his grandmother and her hapu Ngai te Ahi Marae in Welcome Bay, saying over the course of history the marae's wharenui has burned down and been rebuilt several times.
"One of our proverbs is 'We shall always rise back from the ashes' and I used the phoenix to represent this for the patterns of my moko that are on my cheeks," says Karam, as he extends his arms out like wings.
"Like the phoenix, my language shall rise from the ashes."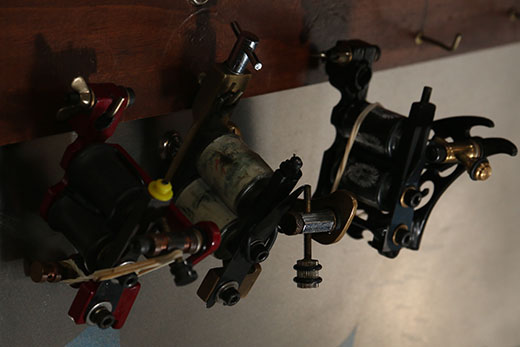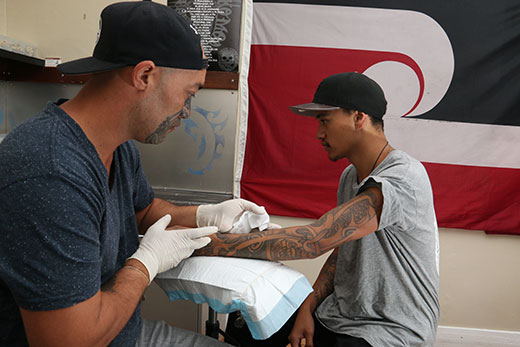 Karam tattooing Moana Moko apprentice Trident Whaiapu.
Subscribe to our weekly Newsletter
Email: