Eyes shut, she stares beneath her eyelids out to the ocean. Face calm, legs crossed, hands on her knees – Maxine Orange is a picture of peacefulness.
But meditation for this yogini is not just relaxation – it's when she feels most inspired and beneath those closed eyelids is a whirr of "colour and beauty" that's led her on a journey she never expected.
The 23-year-old entrepreneur is the founder of Littlebabe Eco Yoga Mats, mats made from sustainable materials and with an earth-conscious focus. It's a culmination of passion projects for Maxine, who "got serious" about the practice of yoga when she was 20.
"I have tinkered with it in my teens and it helped me feel fit, but in my twenties it brought a whole new peace and calm into my life – and now I feel like I am yoga."
She practises every day, be it a 10-minute session while the washing is on, or a three-hour intensive session. Her goal? To be in the moment, to find "mindfulness".
"Once you adopt that idea, you are aware of your actions and transcend into the moment. Every way you are moving your body is intentional. I like to do things well and with purpose, and yoga allows both."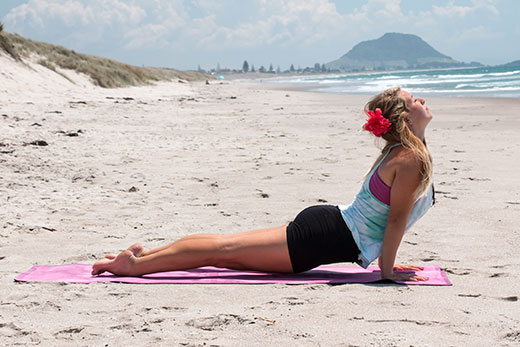 At this moment finding the calm has been important for Papamoa-born and based Maxine. As well as being in her final year studying occupational therapy, which she hopes to incorporate with yoga, her small business has increased at record pace. Currently sold out of all her eco-conscious yoga mats, she's embarking on the next phase with new designs and state-of-the-art sustainable materials in her new line.
The idea began as a conversation between herself and partner Dave Wylie, who owns Vitality Organics.
"If we are going to do anything, it needs to be benefiting the earth – we don't eat meat, dairy products, don't use plastic bags and that may all seem extreme but we are living our lives in a way that isn't doing harm.
So what is an eco-conscious yoga mat? Maxine explains:
"Traditional plastic mats, or PVC, are filled with nanoparticles of plastic that will never break down. "Ours are made from plant-based materials, with bases that are 100 per cent tree rubber.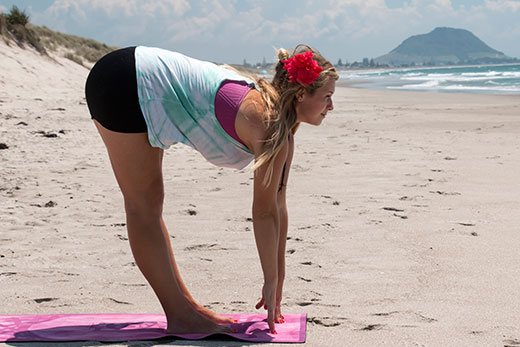 "The trees are grown in a renewable farm that just need to be tapped, which is great because they don't need to come down. The tops of the mats are made from either a vegan suede or microfibre, with inspiring, colourful tops that use water-based ink."
Although currently made in Taiwan, with materials sourced from the most sustainable origin through Maxine's dedicated team on the ground, she's got big dreams for the future of the business in New Zealand – provided it is the most earth-conscious way.
It's a step in the right direction for those who practise yoga, she says, and are passionate about protecting our world.
"I think it is in all of us to protect what we know to be true – the wonders of the natural world around us, and it's innate to want to protect and live your life in a way that hundreds of years from now our future generations can look at and admire those same things.
"It's a respect that was born inside me and will always inspire my work."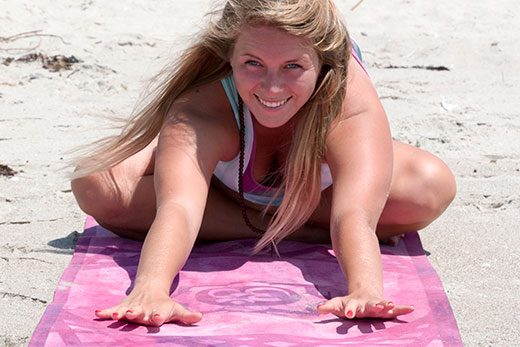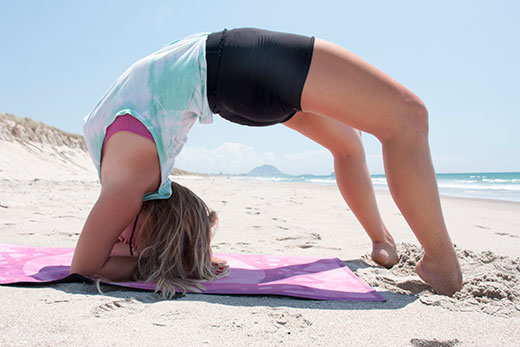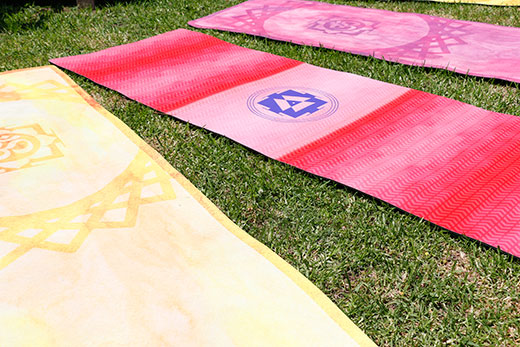 Subscribe to our weekly Newsletter
Email: