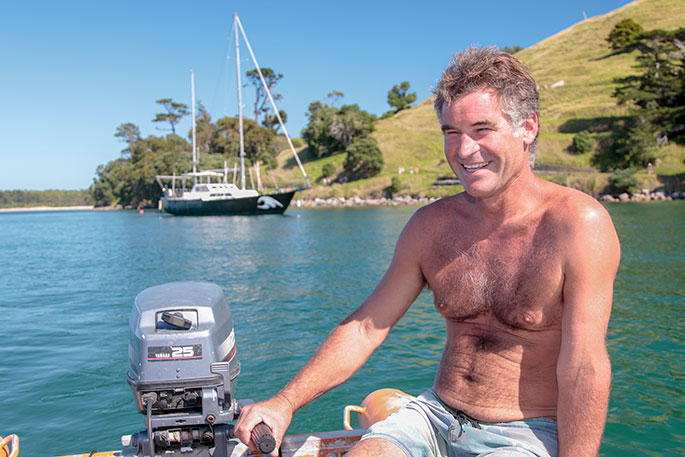 Click the image above to watch the video
I was in Pilot Bay on the evening in late January when the Wave Rider, skippered by Mike Welsh, quietly slid past and into its mooring near the old jetty.

Mike had been looking for a yacht that he could sail around the world, or on an adventure up to the islands.

"I had been watching the Gemini Galaxsea sit in the hard stand in a very sorry state for about three years, when it came up on TradeMe, so I went and had a look at it.

"It was bad, but it had the potential to be a cool yacht. And it was definitely in my price range."

The reserve was scrap value as the previous owner had abandoned it in the hard stand.

Mike put an autobid on, and then hovered over it.

"No one outbid me! The auction finished at 9.30am. Maybe no one bid because of the time of day the auction was finishing. Or maybe they were scared because it was in such bad shape?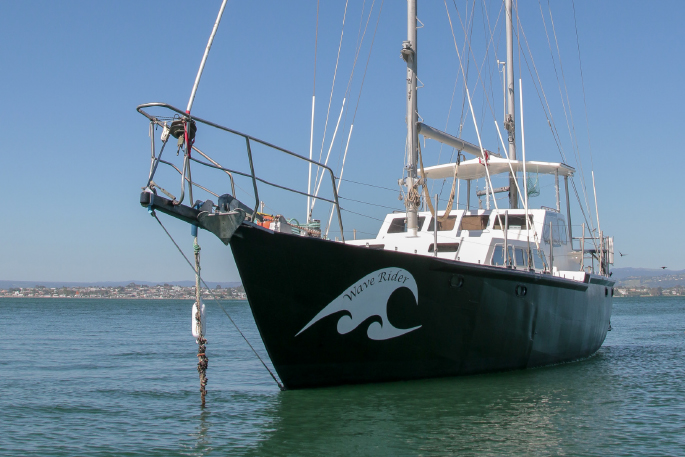 "It was scummy and rusty everywhere."

Mike says of winning the auction, "That was an exciting moment, even though I was worried about how much work I had ahead of me.

"I was planning to do only what it needed to stay afloat, and then go and have some fun.

"But things didn't work out that way."

It has taken more than 3,500 hours for Mike to get Wave Rider to this mooring from its previous cradle in the docks at Bridge Marina Travel Lift.

The 18m ketch, Gemini Galaxsea, was built in Papua New Guinea in 1979. Previously owned by skipper Graeme Butler, it formed part of a peace flotilla of boats that went to Mururoa Atoll to protest the French nuclear testing.

Following that Graeme ran dolphin tours from Tauranga until the operation became one of the dozens of businesses affected by the Rena disaster in 2011.

Mike discovered that most of the damage was caused by the boat leaking internally from the deck. "It had so many leaks around the deck fittings, hatches, and side windows. Everything on the deck was leaking and caused the rust.

Basically, it was leaking from the inside out.

There wasn't anything that didn't need fixing.

"A regular daily occurrence was removing rust by the bucket-load. Sections of the hull were so rusty, that there was no option but to remove large parts of the hull and deck."

One thing led to another, culminating in massive holes in both sides where he'd cut out the rust.

"I had great friends helping me. Mike Casey, James Rae, and Rusty. We started fabricating new steel to go into the holes which ranged from 50mm square to about one and a half metres. I wasn't too concerned that it was going to bend or break as we'd left the main support structure, and the main deck."

A marine engineer by trade, with solid experience as a motorhome builder, Mike ended up replacing about 15 percent of the boat's steel over the next eight months. The costs started mounting with the sheets of steel costing around $300 each. Then there were the cutting wheels, grinding discs, and welding rods. He managed to take on an engineering contract fitting out Float Fitness, which helped finance the boat.

"When you get all the fabrication done and the steel welded in, it's a satisfying feeling that you've saved something from being cut up," says Mike.

"At the same time as the fabrication, we did a lot of modification, especially in the deck area."

All the hatches were relocated to more user-friendly areas, and he opened up the wheel house to the rear deck, creating greater inside-outside flow.

Once the engineering stage was completed, it was on to sand blasting, priming, and painting – the most expensive part of the job.

"The boat went from being an ugly rusty thing that should have been chopped up 10 years ago, to being almost brand new again.

"That was a nice feeling."

Mike ended up putting a special type of epoxy over the steel, and five coats on the inside of the hull. "Linkup Paints came on site all the time, giving us advice and guidance, and providing the best product for the job.

"This project would have been impossible without the support from Bruce and Lucy Goodchap at Bridge Marina Travel Lift."

Still a lot of interior work remains, before the newly renamed Wave Rider can sail off-shore.

Mike and his partner Bronya researched how to correctly change a boat's name. Sailors consider it good form to conduct a renaming ritual.

"Bronya smashed a bottle of champagne on the bow," says Mike. "And we had a virgin pee in the bilge, just to make sure."