Mike Stott is ready to rumble. His Lysaght Llamas team won the 2017 Cooney Lees Morgan Lunchbreak Battle and this year they're back to defend their 'world' title.
"I want to call out Chris Lowe from CMW Geosciences," says Mike, eyeballing CMW's team leader Rob Taylor at a confrontation in downtown Tauranga.
"You didn't compete last year, but we don't think you've got what it takes to overcome our Llamas.
"We've been in training camp behind closed doors for months, priming our minds and bodies to compete in the most prestigious casual lunchtime business competition in the Bay."
Hosted by Sport Bay of Plenty, the Cooney Lees Morgan Lunchbreak Battle is an annual fun free event designed to encourage Tauranga businesses to get out from behind the desk and get active for up to 45 minutes during their work day.
This year there is a new format, more zany games and even more prizes on offer.
Sport Bay of Plenty recreation advisor Michelle Barns says you don't have to be 'sporty' to enter as the focus of the activities is on having fun and meeting new people.
"But," she cautioned, "you will get sweaty – the aim of the event is to keep teams moving in some way for the whole 45 minutes."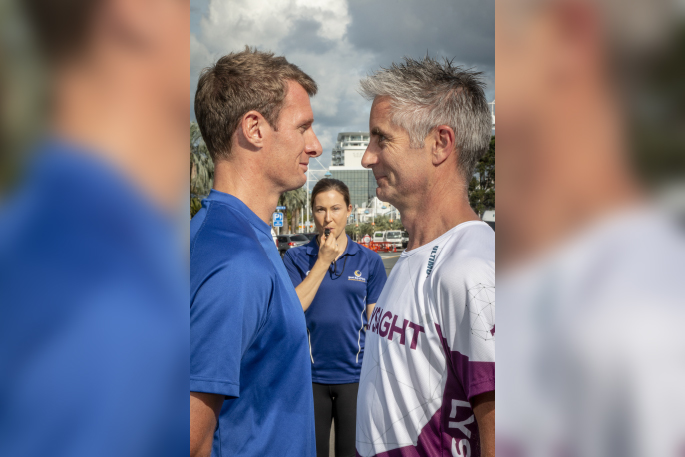 Local businesses are encouraged to enter teams of three into the event, which runs over three consecutive Thursday lunchtimes, and go head-to-head with other organisations in a series of physically and mentally challenging games and activities.
"Studies show that physical activity during the day, in whatever form, is proven to boost your mood, increase productivity and enhance your focus," says Michelle.
"With most of us spending up to eight hours a day seated – including during our lunchbreaks and when we get home – this event is a quick, easy way to break up the day, chat to your co-workers and even meet new people from other local businesses.
"Your bosses will thank us for it!"
Michelle says the 2017 event was extremely popular, with 40 teams from Tauranga and Mount Maunganui competing for the top spots. However, this year a few changes will mean an enhanced experience for all.
"Following feedback from our participants, we have made a greater focus on head-to-head competition," says Michelle, "and due to the changeable nature of autumn-winter weather, we have moved all events indoors to Queen Elizabeth Youth Centre on 11th Avenue.
"We've also got some new games, as well as a return of Clash of the Corporates for those who have unfinished business."
"We know we're ready, and more importantly you know we are ready to take you down," growls Mike fiercely at Rob. "Just like we did recently in our inter-office competition. Come on CMW, come at us – we know you want redemption."
The two businesses have a twice-yearly inter-office competition called the Heptathlon of Mediocrity where they compete in an evening of ridiculously silly challenges and events for the glory of the Golden Survey Peg Trophy.
"We have won every time so far," says Mike.
"So there is a very healthy competitiveness between the two companies.
"Hence why we have called them out for this."
Rob Taylor fronted up to Mike's stare in Chris' absence.
"Last year may have been a lucky year for the Lysaght Llamas, but that was then and this is now!" declared Rob. "With a clean slate of new challenges and more importantly new rivalry, CMW are here to herd these Llamas out of town."
The Cooney Lees Morgan Lunchbreak Battle will be held at Queen Elizabeth Youth Centre, 11th Avenue on Thursday, May 24, 31 and June 7, starting at 12.10pm.
There are three unique challenges: The Week That Was, Clash of the Corporates 2.0, and Curve Balls.
There are prizes for podium finishes in each event, as well as the overall top spots, thanks to The Barrel Room, Barrio Brothers Tauranga, Rye Bar and Grill, Virtual Reality Experience, Tauranga Musical Theatre and Escape Masters Tauranga.
"It will be fun to challenge them in a different situation which is completely non-biased, and what better arena than the CLM Lunchtime Battle," says Mike.
"We have allowed you to have your time in the spotlight," declares Rob, "but it is now time for a new champion, and that is going to be CMW Rock Stars!"
Registrations for this event are capped at 40 teams on a first-in, first-served basis, with registrations closing 5pm, Friday, May 18. For more information and to register visit www.sportbop.co.nz/clm-lunchbreak-battle
Post note:
Motivational work quotes to inspire workers through a week are not dissimilar to motivational sports quotes. A few include: 'sometimes you win, sometimes you learn', 'everything you want is on the other side of fear', 'the harder you work, the luckier you get', and 'without sacrifice, there can be no victory'.
Pro wrestling challenges include 'I am the best there is, the best there was, and the best there ever will be' and 'Feel the BANG!'
It will be interesting to see what challenges the teams lay down when they go head to head in the rounds of lunchbreak battles.
Subscribe to our weekly Newsletter
Email: