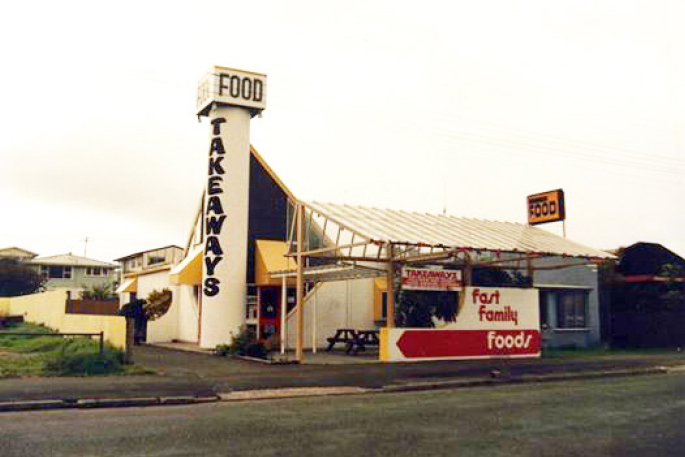 Click the image above to watch the video
An iconic building dropped off Mount Maunganui's cityscape recently. Built in 1977, The Hop House started off life as The Cream Can, a built-for-purpose ice cream parlour.
It was a well-known New Zealand franchise, and similar buildings featuring the unique design popped up in cities and towns around the North Island.
The Maunganui Road building was the last one still standing. Until now.
I remember when it was built. The excitement of an ice cream parlour! I also remember jumping on one of the Hutt Valley trains with other tertiary students on Friday afternoons after our study was over for the week to go treat ourselves to pancakes and ice cream at a local parlour.
These days it would probably be a fruit smoothie.
The Cream Can at the Mount was popular with locals and holidaymakers alike, trading as an ice cream parlour for a while before becoming a steak house, and then a takeaway bar.
"It stayed as a takeaway bar for quite some time," says Dave Stanway, who showed me a photo of that era. "And then morphed into a pub-type environment which I believe may have been called 'Our Place' which was a pokies/kareoke bar.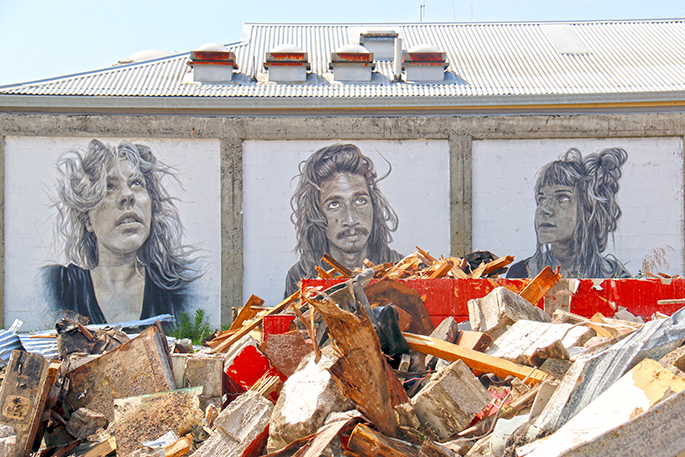 "It was that for at least 10 years, having a long run in that place. And then Major Toms was set up by three iconic surfies at the Mount. I think that was around 2000."
An eclectic bar with a fun and young vibe, Major Toms became a notable music venue for alternative bands. As well as hosting some of New Zealand's most up-and-coming musicians, all sorts of other entertainment was also offered, like dress-up nights, trivial pursuit evenings and album release parties.
People enjoyed these good times.
"We bought it in 2014," says Dave.
"Turned it into The Hop House and by the time we closed we had a pretty big reputation New Zealand wide for being an excellent purveyor of quality, real batch-brewed beers."
The Hop House also became one of Tauranga's most popular quiz night venues and again attracted musicians and fans.
In 2016, Mount Maunganui's BSW Warbrick, aka Space, painted a mural on the low wall curving down from the building, in the outside garden fronting the road. Phoebe Robinson, aka Jeremiah, painted a long mural against the wall of The Social Club, showing faces looking across at the Hammerhead Shark mural on the opposite side.
Nearby, the Mount Social Club and Satori Lounge are popular destinations. Lucas Fleury ran the Armazen restaurant and bar from 2009, changing the name to Mount Social Club in 2014.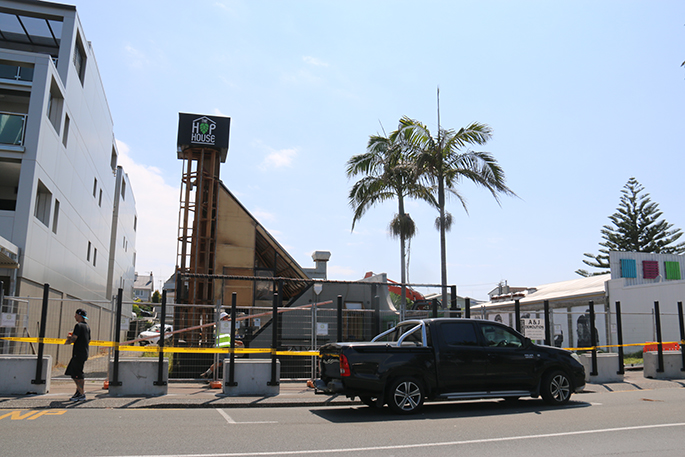 He's given it a full make-over using mostly recycled and reclaimed building materials, fitting it out with funky, up-cycled furniture. It's not only a restaurant and tapas bar, but also an events venue with live music every Thursday, Friday, Saturday and Sunday afternoon, from acoustic musicians to full bands and DJs. Arguably one of the best places to go listen to Tauranga's top jazz exponents.
As the tattoo parlour building and The Hop House came down, it felt like all the mural faces were looking over the scene with a 'what about us?' expression. Their eyes seemed to follow the demolition crew as they went back and forth with their equipment. An uncanny experience as the tower finally toppled over.
In June 2017, Dave Stanway decided The Hop House would celebrate the demolition with a party and to let everyone know they were headed over to the Tauranga CBD to establish the business again, with a new name – The Barrel Room in Wharf Street.
The Hop House had one final soirée, which they called the 'Hop House Funeral - Down With Corporations'. The free gig featured five bands who had rocked the 2mx2m stage and filled the venue to its rafters with mean local music over the years – Super Narco Man, Dead Recipe, Joe's Van, Spoonfed and Mini Simmons.
At the time, local musician Dylan Israel felt the demise of The Hop House would be a huge blow for the music community, with local musos having fewer options for places to hold gigs in.
"The Hop House and its previous incarnations have been a staple of the gig diet for musos for a few years, for sure," said Dylan prior to the last concert.
"What made it so well-loved was the fact the venue encouraged original music – that's what made it so popular with the local musos.
"So we wanted to get all of our friends' bands who've played regularly at The Hop House for one big, massive and final hurrah."
The new building at 297 Maunganui Road will include four retail tenancies and two penthouse apartments. I feel nostalgia and a sense of loss and hope the new building rising in its place won't be a box. Please give us a building we can again fall in love with.
Subscribe to our weekly Newsletter
Email: