With the redevelopment of the Phoenix Carpark underway, Mount Mainstreet manager Ingrid Fleming has moved her office a few metres away across the road.
She's used to change and growth, and developing distinctly New Zealand events.
"Back in 1995, my ex-husband and I started an event company called Event Promotions," says Ingrid. "Based in Taupo, it grew into the largest of its kind in New Zealand, at the time."
Their first Taupo event, a beer and food festival, involved a huge marquee.
Geographically strategic, they pulled in people from Wellington, Auckland and the Hawke's Bay for the Auckland Anniversary weekend.
Three nights of festival were planned – a Bavarian night, a New Zealand rock music night and an Irish night with two different bands playing each night, as well as themed food and staff dressed appropriately.
"We had to go through a lot to make that happen," says Ingrid. "Council thought it was going to be a big piss-up in a tent and we'd be on national television with riots down the street."
After convincing the local council it would be a great event for Taupo, they secured 10 boutique breweries from around the country, as well as Lion and DB. Then the Wednesday prior to the event a cyclone was predicted for the central North Island.
"A lot of people that would have come, didn't," says Ingrid.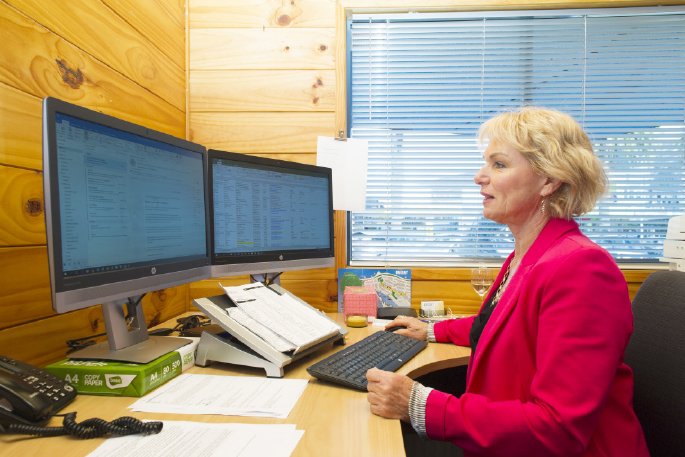 "Although it was a great success for those who came, we didn't have the gate sales we hoped for, so lost money on it. Fortunately we were working on sporting events at the same time that were operated in that same year.
"We decided to diversify the Beer and Food Festival into a New Year's Eve festival."
The couple quickly realised by focusing their energy on sport, they could build events such as The Great Lake Relay, The Day Night Thriller mountain bike event and The Tough Guy and Gal Challenge to name a few.
They developed six events, growing the company over 13 years.
"We were both very passionate about the company," says Ingrid.
"What we loved was we were encouraging people to put on their sports shoes, get out there and train, and work towards a goal.
"Their lives become healthier, happier, and more productive. They came and had an awesome time with their teams, enjoying the camaraderie. We loved that."
Ingrid ran a luxury boutique lodge in Taupo for three years before relocating to the Bay, taking on a one-year maternity leave contract at Baypark as a business manager.
She later accepted the position of manager of special events, applying her expertise to developing the Jetsprint event, firstly completing a feasibility study to establish whether the stadium could hold water.
"I loved it because it was the craziest event idea in New Zealand or the world for that matter," says Ingrid. "I was absolutely passionate to want to make it work.
"Along with Jetsprint BOP we went for gold and managed to work the budget.
"It was absolutely brilliant.
"And we didn't have a cyclone warning!
"It was mayhem, carnage, crashes and jet sprints flying out off the track.
"People loved it."
Bay of Plenty Jetsprints won the right to host the event again the next year after 15,000 spectators turned out to watch the world's first V8 Jetsprints held inside a stadium arena.
And it won New Zealand's Best Emerging Event title for 2014.
Following this role, Ingrid helped the new speedway promoter for a season and grew the demolition derby sponsored by Sun Media.
"We held an FMX show on the same night with over 7000 people in the stadium.
"A huge success for speedway."
Over two years ago, when previous Mainstreet manager Peter Melgren passed away, Ingrid stepped in as interim manager before securing the permanent position.
"I was very happy to be given the role because I love Mount Mainstreet, and I love the Mount.
"My role is to bring as many people into Mount Mainstreet as possible and to make sure that all the members are happy.
"Listening to them is very important."
Ingrid also manages the cleaning contract for Mount Mainstreet, with two friendly cleaners job-sharing the seven-day role.
"One of the most common comments from cruise ship passengers is how clean the Mount is. The presentation of the street is really very important to me. And to everybody here."
Recently Ingrid's Mount Mainstreet office in the Phoenix Carpark was sold to make room for the new park. Relocating to an office across the road, she's as busy as ever though, with ongoing promotions and planning ahead.
"Keeping hold of our established events but diversifying a bit into new territory."
An example is the Bargain Bonanza event, previously called The Garage Sale event, which will be transformed into a food event involving every cafe and restaurant along the street.
Her role involves administration, financial management, promotions, marketing and events, member relationships, and communication with everyone, including the Tauranga City Council.
"The directors of Mount-based events liaise with me, and we talk about how we can help each other," says Ingrid. "I send them all a welcome message from Mount Mainstreet to forward to their competitors and supporters.
"Letting them know there's good shopping and great food here, and you can walk everywhere.
"We're a world class destination. Harbour on one side and ocean on the other.
"It's pretty special."