Sue Matthews, the chair of Paengaroa Community Association, believes it will be nearly ten years before children in the Paengaroa area can play at their own skatepark.
"It might be their baby brothers and sisters that benefit from it," says Sue.
"We want to get the skatepark up and running before the kids get married."
Western Bay of Plenty District Council is amending its Reserves and Facilities Bylaw 2012 and holding community open days in Katikati, Waihi Beach and Paengaroa.
"Because council's coming to Paengaroa as part of the bylaw review around reserves use including leasing the land for grazing horses, council staff have offered to open the consultation up," says Sue.
"They also want to discuss playground equipment that needs upgrading in the Paengaroa Domain by the toilets, and we've added in the skatepark consultation."
The District Council has already constructed Richard Smith-designed skateparks at Omokoroa, Te Puke and Kaimai School.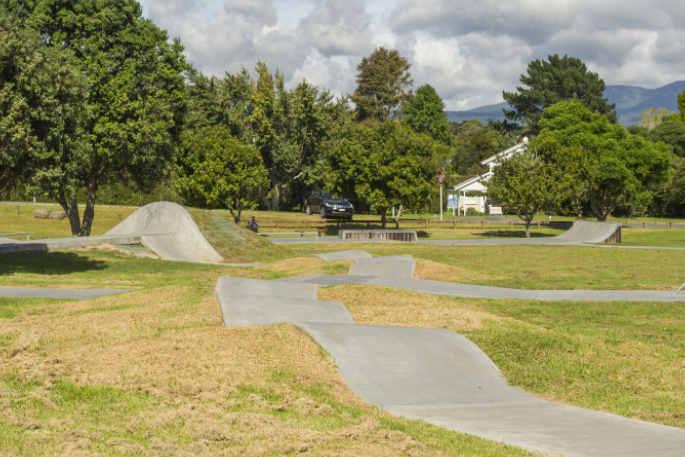 "We've downloaded some of Richard's designs and will use them to get people talking about it," says Sue.
Ramps, peanut bowl and a half pipe were just some of the items that a group of Paengaroa youth have on their 'top list' for a skatepark.
The Paengaroa Community Association's February meeting saw 40 people assembled in the local hall. On the agenda were three items – parks and reserves, history boards and a skate park.
For Oliver McKenzie, Vann Vercoe, McLeod Tiger, Samsyn Turua, Quintin White, Dan Turua, Jasper Plaistowe, Cade White and Liam Rogers, the third item is the main one they are interested in.
"I think a skatepark is important for Paengaroa so that they don't destroy the school," says Jasper, aged 10.
"It's going to be very good and kids will have a lot of fun there," says Oliver, 9. "There needs to be a peanut bowl for kids to practice, and a BMX track."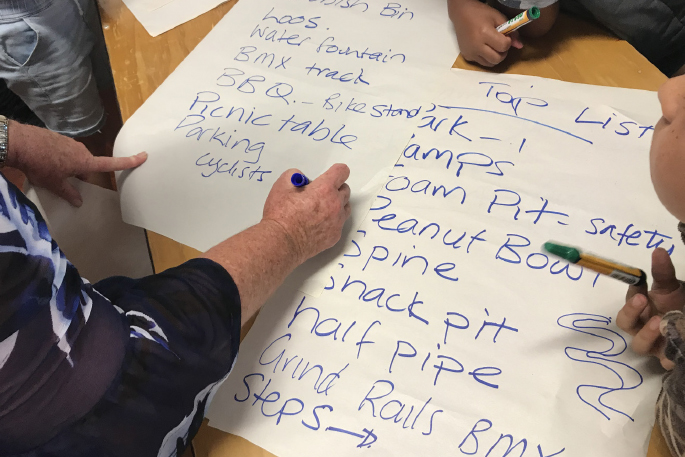 A foam pit for safety, a spine, grind rails, a picnic table, BMX track, rubbish bins, barbecue, water fountain, parking, toilets and cycle stands are also on the wish list.
The Paengaroa youth have also come up with ideas for raising funds, including a concert for young people - "not old fogies" - a cupcake sale, a gala in the domain with stalls and chocolate selling.
The sum needed is at least $50k.
"I think it's great that all these kids are looking at building a skatepark," says Grant Dally, who is a Western Bay District Councillor for the Maketu-Te Puke Ward.
"A lot of these projects come about because the community itself decides this is what we want to do, and then they go out and raise the money, come up with the plans and just do it.
"Council supports it. We've had a really great response to the Te Puke one when it was built. We're actually working on stage two of that one, and we've just put one up at the Kaimai School.
"In Te Puke we got $50,000 from TECT, and a contribution from the Community Board, council reserves and development budget. All of these little communities can access TECT Funding, and with what TECT are doing, and the direction they're heading with their set up, it will be great for these community developments, as there will be so much more money to put into them."
Subscribe to our weekly Newsletter
Email: