Recently, Tauranga had a visit from The Singing Cowboy – Jock Hume – and I met up with him in Greerton Village.
"I thought you had gone into retirement?" I joked with him. I knew he'd planned to finish performing in February 2017.
"Oh yeah, I put great effort into trying to retire but it wasn't enough," says Jock. "I'm afraid that after three months, I was bored.
"Music has always been with me, it's a part of me. I started this job in 1970, some 48 years ago. I knew I'd found what I wanted in life. The family was happy, I was happy, and I made other people happy."
He boasts an extensive repertoire of country songs, including classics from Jim Reeves, Slim Dusty and Charley Pride.
The country and western musician was recognised for his talent in 2005 when he received an "Unsung Hero" certificate from the Variety Artists Club of New Zealand.
"So why did you go into retirement when you were so happy doing what you love?" I ask.
"I was just so disillusioned with the way the country was going," says Jock. "The phone wasn't ringing, there was no mail coming in and nothing was happening. So I thought 'I've had enough, I'll give up'.
"But giving up was the most fatal thing to do. I realised that I'd be lost without my music. I went out and did bush walking, watched movies, tried swimming, went on tours around Auckland and visited art exhibitions, but music was always there in the background."
He decided to don his cowboy hat, pick up his guitar and head out to sing once again.
Jock doesn't use a mobile phone or email, so he's only contactable by landline phone before 10am, because he's out busking every day.
"I go busking all over New Zealand," he says. "I've been here before, busking in Greerton on Saturday mornings.
"I haven't been here for a little while, so it's really nice to see Greerton again and everyone here is very nice to me."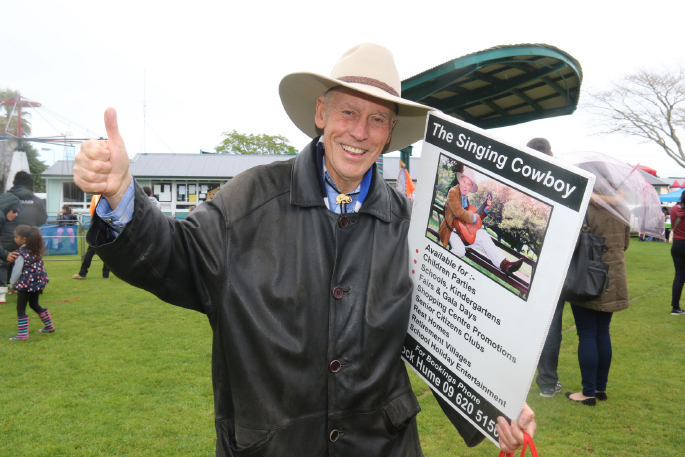 He'd arrived in town by bus from Auckland.
"It was a terribly rough bus trip," he explains. "I've never known a bus driver to travel so fast. They were cutting corners and had to break suddenly, with motorists cutting in front of him.
"All my gear went flying.
"I'm the big seven-oh now," says Jock.
"I started when I was 23, and that was in 1970, so 48 years later I'm still going."
He sure is.
Subscribe to our weekly Newsletter
Email: