It's her clients' reactions when they see their newly re-designed home that gives Refresh Renovations owner Sharon Giblett the most satisfaction. Her recent transformations of a bathroom, ensuite and toilet are great examples.
"The spaces were small and dated," says Sharon. "It was an opportunity to freshen and modernise while maintaining the style and character of the 1970s house."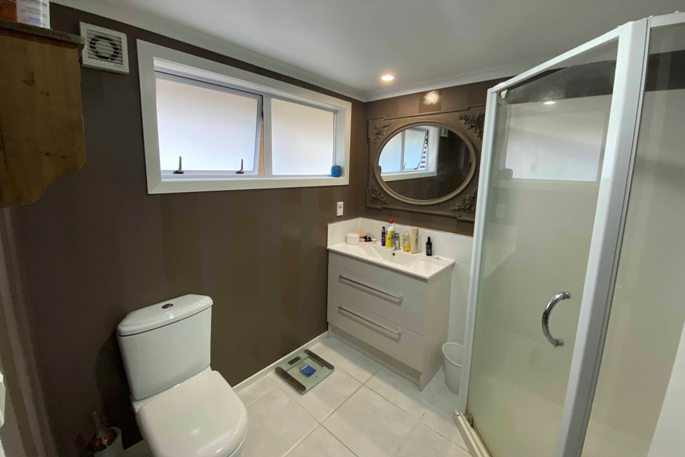 The ensuite before the renovation.
Homeowner Julie Kirkland had already attempted to lighten up the spaces in her Maungatapu home. "There was a window in the bathroom that looked into a garage, so it let in more dust than light.
"We had tried painting but to be honest, they were rooms that I had grown to hate."
Design partnership
She turned to Sharon to help with her 'grand ideas'. "Sharon pulled me into line," laughs Julie. "She kept our budget in mind and had clever ideas for how to achieve what we wanted to.
"She even thought of details that we'd forgotten like a mirror demister, light switch placement and ventilation."
"Design is a partnership," says Sharon. "It's about asking the right questions to understand how a client uses a room so I can provide them with a space that's functional, logical, and beautiful. "Julie had a clear idea on a feature wall and her vanities. Together we chose white subway tiles, fixtures and brought in an element of luxury with the free-standing bath."
In love with curves
They also changed the shape of the shower. "I needed some convincing on that," says Julie. "In fact, I had stipulated in the brief: 'no round showers' but Sharon showed me in-store and then when I saw the 3D render of the design, I thought it looked amazing.
"I'm in love with the curves and it's so easy to clean."
It's an example of how Sharon's clients benefit from her years of experience. "In smaller rooms, the round shower creates the illusion of space and the sliding doors don't encroach on the rest of the room. I offer smart solutions."
Sharon cleverly draws inspiration from her clients and their homes. "Quality and creativity are important to me but I don't want the reno to look out of place.
"One client was a keen golfer, so I chose tiles with dimples like a golf ball. He loved them."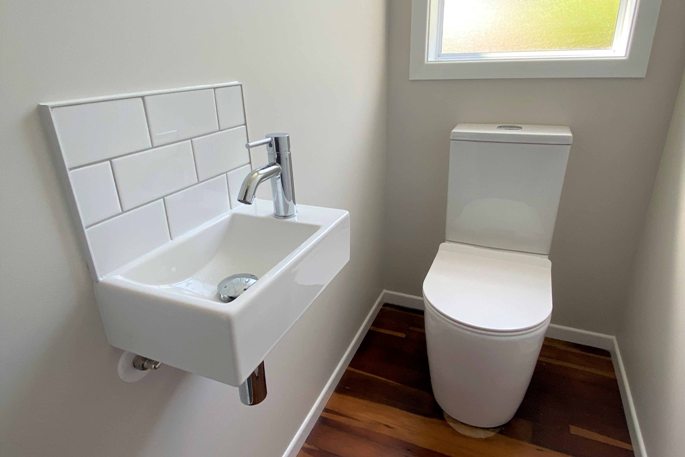 A separate toilet was also freshened up as part of Julie Kirkland's renovation. This is the end result.
Communication
Communication was key for Julie and husband, Ian, who had access to the work schedule throughout the project build.
"From start to finish the project ran smoothly. Sharon's professionalism, attention to detail, and problem-solving ability saw the project completed on time.
"The quality of the finished product has genuinely exceeded our expectations," says Julie.
Sharon takes pride in creating spaces her clients want to spend time in. "The big smiles when I've made their home more functional and more beautiful…I get a real buzz from that.
"I'm changing people's lives; and I love what I do."
Subscribe to our weekly Newsletter
Email: