Community patrols are about much more than just driving around the 'hood.
Two nights a week, on a Thursday, Friday or Saturday, members of the Mount Maunganui Community Patrol will pair up and drive the streets as the 'eyes and ears' for the police.
Allan and Maureen Forbes are stalwarts of the patrol, with 36 years of volunteering between them.
Allan started 20 years ago because he wanted to volunteer his time to something worthwhile but he's stuck with it because it's enjoyable and he never knows what is going to happen on any given night.
Allan says there's a bit of excitement and anticipation at the start of a shift as they wonder what they might come across.
He's seen a lot in his time and laughs about the nights they've been parked up at downtown the Mount with patrons exiting local bars and jumping in the back, mistaking them for a taxi.
Aside from the occasional case of mistaken identity, the team drive the streets keeping an eye out for suspicious activity and help prevent crime.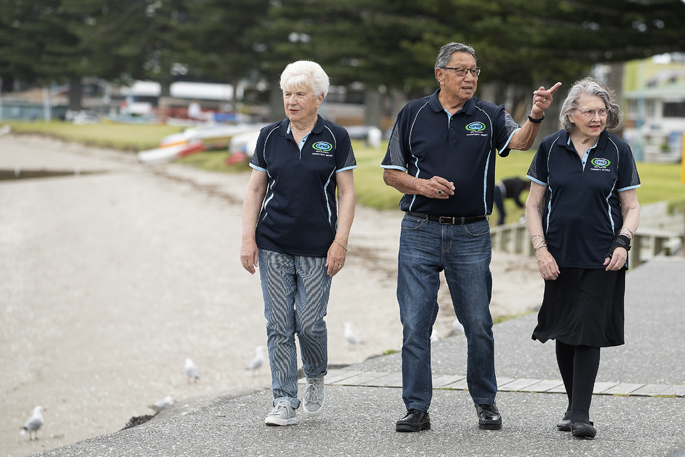 Long serving members Maureen (left) and Allan Forbes with Zoe Richmond. Photo John Borren.
The car is decked out with lights and a police radio so sometimes they are the first on the scene. They don't leave the vehicle for safety reasons but relay information to police until they arrive.
Mount Maunganui Community Constable Mefi Taele says they wouldn't get that information otherwise.
He says not many people would volunteer their time in the way that they do because there is a bit of risk involved.
Patrol member Kelvern Parker says once you've been doing it for a while - in his case it's 15 years - you get a feel for things that might be out of the ordinary.
It can be as simple as recording the details of a car that has different number plates on the front or back and that information can help with recovering stolen vehicles, he says.
Sometimes their job requires more than observing and reporting.
One night, Kelvern and his partner were the first to arrive at an accident where a car had hit a power pole and lines were down on the road, they coned off the area and diverted traffic until police arrived.
The 13 members of the patrol all enjoy the camaraderie and the hours they spend together as well as the satisfaction of knowing they're helping make the community safer.
Maureen says they have fun while doing it too.
"The main thing for us to remember is that we are volunteers, so not to take ourselves too seriously."
The team are always on the hunt for new members as well.
Subscribe to our weekly Newsletter
Email: