His pecs are twitching like agitated headlights. First the left, then the right. Left, right, left, right, quickfire – the body builder's party piece.
Peter O'Brian has big pecs and his tight T-shirt is either fighting to contain them, or advertise them.
"Am I still in shape?" he asks. "Feel that."
'That' is a bicep and it pops when he flexes. I didn't feel, I poked. Not only bulging but hard as steel. "Three per cent body fat and ripped," says Peter.
The sculptured 60-year-old body's not too different from the day some Indonesian filmmakers spotted him, wanted him, pursued him and made him world famous in Jakarta.
He became 'Rambu' – a localised, cut budget, down and dirty take on 'Rambo'.
Do people recognise you in Tauranga? "Nuh – pretty much unknown to everyone in New Zealand." But in Jakarta, taxi drivers, bar keeps, people in the street and shopping malls all knew and worshipped Peter O'Brian or 'Rambu'. That's 'Ramb-u' not 'Ramb-o'.
"Drive by the better cinemas, there'd be a movie hoarding for 'Intruder' and mine would be the main face." Tauranga's Peter O'Brian up there in bright lights with the Stallone bouffant, not his own, the 'jubey' lips, oiled biceps and a murderous bit of firepower.
The lips, apparently helped land him the role. "They thought I looked like Stallone and even thought I was Stallone."
"I've got his snarl," says Peter. The snarl gifted to the actor by a difficult forceps birth. Stallone turned that defect into a trademark and zillions of dollars in seven 'Rocky Balboa' movies. Peter turned his likeness into eight 'Rambu' movies but a lot fewer dollars.
Personally, I thought the likeness was in the big bug eyes. "Yeah?" asks Peter. "But his are blue, mine are brown." Possibly, but bug eyes are bug eyes aren't they? And, anyway, the Indonesian entrepreneurs thought O'Brian was Italian Stallion enough and muscled enough to be their rip-off 'Rambo'.
Peter was no actor, not then. There had been no school productions, no drama clubs. But there had been plenty of drama. "Fighting and womanising mainly." He enjoys the joke.
So it was straight off the street and into the movies. Movies like 'Intruder' – genre, dramatic thriller. The synopsis says Peter is Alex Trambuan and known to his friends as 'Rambu', a lone vigilante and former police officer who takes revenge on the gang who killed his wife.
One critic described 'Intruder' as "a bizarre rip-off and unique interactive blend of live comedy, high-stakes bingo and the best in terrible action movies".
Indonesians obviously construed that as a four-and-a-half star recommendation because they filled the cinemas to see Peter. Another critic saw "classic Indonesian trash cinema…totally action-packed". And pointed to a bizarre dialogue – lines like "Sometimes I lie awake at night and think about my destiny".
The critiques were richer and thicker than the plots of the movies themselves. Like this one.
"This movie delivers on every level, though any resemblance between Rambu and a certain 1980s action hero is totally coincidental, despite him pulling on a red bandanna, strapping on a massive gun and running around shirtless."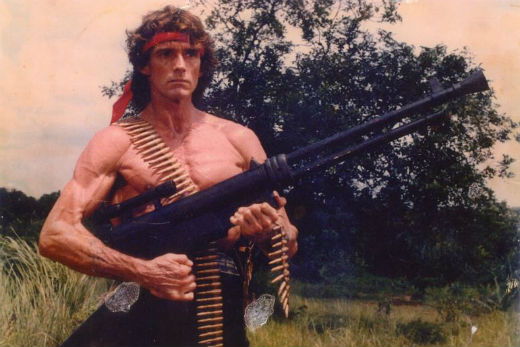 Peter back in the day in one of the 'Rambu' films.
Peter was also described as a real-life New Zealand-born English teacher-turned-actor staging a cinematic private war on a pair of white-suit-wearing, cocaine-guzzling, sexually deviant crime bosses. "As a tug-of-war for power unfolds, Rambu takes action using his wits, martial-arts skills, greasy massages, and some truly mysterious boomerang balls. Be warned."
Up went the "sold out" signs around the cinemas of Jakarta.
Not bad for a 30-year-old non-thespian Kiwi just two stopovers into his OE.
"My travel mate Craig was breaking my balls on this one – 'what about our world trip?' he said. 'What about me?'" Peter told the producer there had to be room for the two of them. "It was that or nothing." Peter suddenly had a manager and Craig had a job.
Peter spins a wonderful florid yarn – if you have the time and space. Here are some abridged versions.
Peter was auditioning for his first movie – it was a fight with one of their best Chinese martial artists. "They clapped their hands and said: 'Stop – sign a contract'." He was photogenic, he was ripped, he could fight and so became a leading man.
He did his own stunts. "I jumped out of a chopper from 38 metres and landed unconscious in a lake." A lake beset with black magic, "it ate a soul every year".
"The water just spat me back out and I came too amongst the bubbles and sunlight. A brilliant shot and one take." Apparently the locals who witnessed the stunt lifted him from the lake and carried him chanting back to his digs. Movie hero was real life hero.
The next day there were some young boys watching him do press-ups. "They started doing press-ups, they wanted to be like me. That touched me so deeply I almost cried."
Did eight C-grade Asian dramatic thrillers make him rich? "At that point of time, where I was and with the money I had in my pocket to do the world trip, I certainly became a rich man." But today there are no trappings of a film star, he lives in modestly opposite Memorial Park. "Sin has been expensive," he explains. "I squandered my money, gave it away, drank it. But I enjoyed it."
That leads to Peter's 'I swear on my children' story.
He got hooked up with "some mad soccer freaks" en route home to see his seriously ill mother. "We commandeered the drinks trolley on the plane and I ended up comatose in the Sydney transit lounge and missed my flight to Auckland. "A down in the gutter, filthy drunk, shameless son when his mother needed him." But suddenly there was hope from hopelessness.
He couldn't afford another ticket, got little sympathy from airline staff and so resorted to some advice from his sister Sonya. "Call out to Jesus, he will rescue you," she had told him.
Peter called out. "The plane came back based on that prayer. It landed, I got on and we left."
The reporter throws down his pen and rolls his eyes with all the disbelief of an unbeliever. "I swear on my children," insists Peter O'Brian. "I can't explain it. Amazing miracle."
But he got back. He got to see his mum. "Eight days later she vomited blood, choked and died in front of my eyes."
After the prodigal son became a Christian he was offered another movie role in Indonesia – to play a really bad guy. "But I had to choose who I wanted to serve. So no more violent movies, no more sex scenes. I wanted to influence young people in a good way."
The movie happened but not with Peter O'Brian.
And that in turn caused another minor miracle along the way. The man who failed school certificate was presentable, spoke well and had good business skills and became a teacher at an English language institute and then an international university.
He lectured business communication, organisation and management here in Tauranga after returning to NZ with his two children. Now he mixes his time between Faith Bible College and mentoring.
It's no longer 'Rambu' making things happen at the point of a gun. "I can do all things through Christ who makes me strong," says Rambu-quoting Philippians.
And he's thinking about acting again, another movie. But no sex or violence of course. "I might just do that."
It could be the life and times of Peter O'Brian – a story of madcap larger than life adventures, a story of redemption, the shameless son who turned good.
Peter O'Brian's Rambu movies 'The Stabilizer', 'The Intruder', 'Forceful Impact', 'Jungle Heat', 'Double Crosser', 'Lethal Hunter', 'Triple Cross' and 'Time Game' are up on YouTube.
Subscribe to our weekly Newsletter
Email: