If you ever want to know what's going on in the world – or in Tauranga at least – it pays to take a drive past the Welcome Bay Vet Clinic on Welcome Bay Road to see the cat road sign out front.
This week, for example, you would have seen two cats in love representing the engagement of Prince Harry to American actress Megan Markle.
Last week it was a cat resplendent in koru designs and a pounamu around its neck to recognise the Ra Whakangahau kapa haka festival at nearby Waipuna Park.
Vet John Drummond has been erecting the quirky signs outside the vet clinic for about 15 years – about as long as he's been putting up his impressive Christmas light display.
The Christmas lights have been put up this week and John is aiming to have them working by the weekend.
It's a big job – probably about three full days' worth according to John – but the reality is he couldn't stop putting them up each year even if he wanted to.
"If I'm a little bit late people come and say 'you are putting them up, aren't you? I'm really looking forward to it'. People start to worry if I don't do it. In some ways I'd like to stop it but I can't really."
He began putting up the lights after a neighbour started the trend. He made an aluminium frame to attach the lights to, but says his early efforts were "a bit of a mess".
"The following year they came out with rope lights and they worked really well. The last one I added by the front door, the dog cocking its leg on the pole, is really popular with the kids. A lot of them pose next to it with their leg cocked."
In the early days John's daughter, Amy, and son, Andrew, used to dress up and hand out lollies, which added to the bottleneck outside.
The kids have grown up now, and there are broken yellow lines on Welcome Bay Road to prevent the bottleneck, but John's Christmas lights are still the talk of the town.
His quirky signs on the road outside the clinic are also hugely popular and he often receives comments from people on the clinic's Facebook page, as well as those who drop in to say how much they brighten up their day.
John designs and makes most of the hand-painted plywood signs himself, with some help from his daughter Amy on the more elaborate ones.
He has about 40 signs, some of which can be adapted for other occasions – such as the two cats in love which is usually wheeled out on Valentine's Day.
He also has signs for Halloween, Guy Fawkes, Daffodil Day, Anzac Day, Melbourne Cup Day, Christmas and a back-to-school cat that was recently adapted to wish local students good luck for their NCEA exams.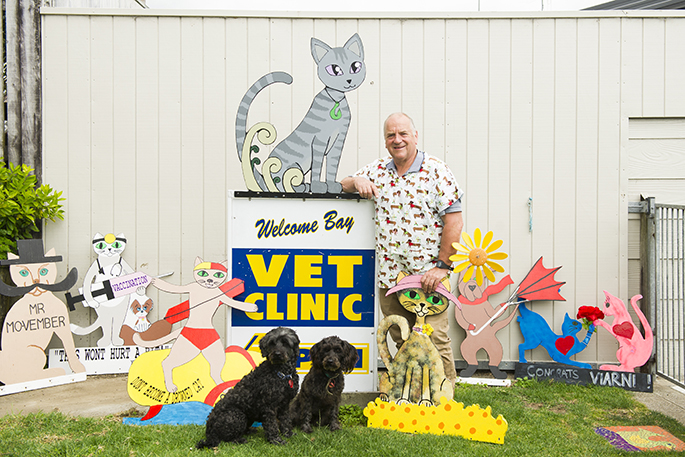 Vet John Drummond has been putting his quirky signs out on Welcome Bay Road for the past 15 years. Photo: Nikki South.
He has a cat to support Movember and two 'rainbow' cats celebrating marriage equality.
There are signs representing various sports, including rugby, hockey, sailing, speedway and surf lifesaving, and signs to remind owners to get their pets' teeth cleaned or vaccinations updated.
"For the Anzac cat we had an army soldier, but someone came in complained that the navy and air force were also involved so then we had to tack on extras. That one's quite heavy to carry out," says John.
The Melbourne Cup cat, riding on the back of the horse, also provoked a bit a comment recently.
"A few comments on Facebook questioned our conscience in supporting horse racing," says John.
The Ra Whakangahau cat was a special request from a local school principal involved in the festival so John is open to designing more cats in future. Watch this space.