Kevin Jeffares has been robbed in Rio, robbed in Buenos Aires, robbed in La Paz and stranded in Caracus. The 80-year-old has certainly had his share of scrapes and high excitement.
He's jumped out of aeroplanes - "an adrenaline rush, at least until the parachute opened," he says. He's also been white water rafting and zip-lining in Costa Rica – a flying fox 700 metres long, 100 metres high and all done at 95 km/h.
Some of the excitement has been foisted on him, some of it planned and paid for.
"As long as I am doing something that grabs me," says the thrill-seeker, "I don't mind spending good money on it."
So no-one, absolutely no-one, including his kids, was the slightest bit surprised when Kevin saw a newspaper ad in February and declared: "I've gotta do that!"
What "grabbed" Kevin this time was a half-hour, 750 km/h romp in a decommissioned military jet fighter – a taste of G forces, 50 degree banking, low-ish level flying, vomit-inducing loops, a buzz and buzzing the control tower. And from Tauranga to Rotorua in six minutes flat – the bus trip would take one hour 35.
So when Kevin's four score years clicked over recently, he decided to give himself a nice present - a $2990 present at that. "A lot more than I expected," admits Kevin, "but if it's something I want to do, then I will do it."
"It's pretty intense," says Craig Mossman, CEO of Fighter Jets. "It's not a case of chugging around the sky in a light aircraft." No, chugging would not have grabbed Kevin.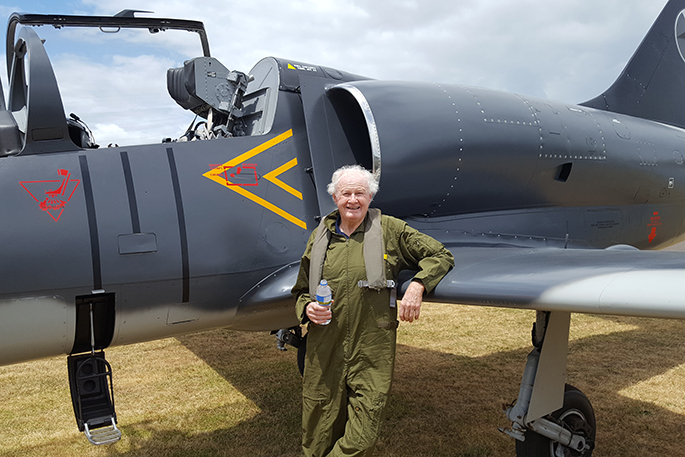 "The aircraft's red line is 900km/h, but it will tap out in straight level flights at 750." That's fighter jet speak for quick.
So Ken pottered out to the airport, climbed into a khaki flight suit and levered himself into the passenger seat of the L39 Albatross – a Czech-developed high performance jet trainer. "It was bit cramped," he says. "It's not first class, not even economy, so I'm glad I'm no bigger than I am."
Let's remember Kevin's 80 – many of his peers are grumpy mobility scooter jockeys who have afternoon naps and play indoor bowls. Kevin's tanned, lean and fit with a wicked boyish smile, and he's looking for yet another way to challenge his time on this planet.
His career path goes someway to explaining his personality and lifestyle. He joined the navy at 16, fixed radios and radar, ran a coffee bar, ran a nightclub, ran a taxi and a motel, then lunch bars and a laundromat in Sydney. Life has been interesting and varied.
And he would be playing golf if it wasn't for his dicky shoulder. That's another thing; he shot a hole-in-one on Sunday, February 27, 1966. It was the first card he submitted for a handicap and he remembers it well.
"I've had nothing since though," he admits, although he's been within six inches. And that's the likeable thing about this man – despite his age, he doesn't discount the possibility of another ace one day.
But back to jet fighters. Kevin did consider the top gun flight, the full aerobatic thrill. His doctor gave him a warrant of fitness, but Kevin opted for something called "The Thermal Recon" – a low level blast over the lakes.
He wasn't frightened and didn't feel sick, but he did lose perspective of where he was a couple of times. "I shouldn't have looked up at the sky during the rolls."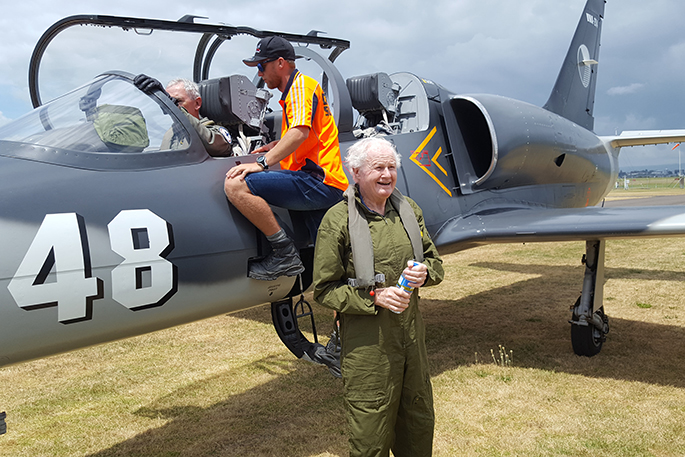 "And with some of the drivers I have travelled with, I have experienced more G forces in a car."
But as far as an experience, the L39 Albatross blast was right up there for Kevin. And the enduring memory will be trees. Yes, trees.
"It was amazing to see how much forestry there is around Rotorua, and just how much has been cut down and replanted. You wouldn't get to see that otherwise."
Even at 750 km/h and just shy of $3000.
The L39's powered by a rear fuselage mounted, single turbofan engine - a Soviet made Ivchenko Al-25TL which we're all familiar with, of course. It had Kevin Jeffares purring just like the engine itself. "The plane sounded beautiful. It was very quiet in the cockpit – powerful without the noise."
Kevin Jeffares is only 80, and still has many miles and many more adventures to run. So what will "grab" him next?
Perhaps the Inside Passage – a sea route from southeastern Alaska to western British Columbia – a more gentile experience with bald eagles, sea lions, porpoises and whales. Or maybe the Trans-Siberian railway?
Kevin Jeffares suffers from terminal wanderlust. "There's just so much to do and so many places to go," he says.
When The Weekend Sun told him the L39 was built in the Czech Republic he answered: "Been there, just this year."