Joy Oliver's Whakamarama living room is testament to her passion for horses.
There are photographs of her competing in eventing, paintings and ornaments of horses, a 'Horsaholic' sign and a coffin decorated in some of her winning rosettes.
A coffin? Joy, 76, is a former member of the Katikati Coffin Club, and has got hers all ready to go, complete with her former riding colours of black and red, winning rosettes and photographs dating back to when she rode horses as a wee girl, and some of her retired horse Hal's old horseshoes for handles.
Joy featured in the pages of New Zealand Horse and Pony magazine this month after setting a special world record. She is officially the oldest rider in the world to still be eventing at 95cm level.
"My horse could probably jump higher," says Joy, "but I look at those big jumps now and think 'I don't even know how I did that'.
"I used to do 1.05m but I've lost my nerve for doing higher jumps. If I get stressed I'm not enjoying it."
Her eventing horse is Grady, "posh name Cool Jazz", an 18-year-old former racehorse with dazzling white colouring.
"When I was little, I always wanted a white horse. Once I got one (Hal is also white), I wished I hadn't because they're awfully hard to keep clean."
Joy says she enjoys one-day eventing mainly for the social side of it. Her horse truck includes a bed and small kitchenette and she often takes her dog Smudge along with her.
"You get to know so many people from all sorts of backgrounds. We share meals and sit around drinking wine and telling lies."
Joy says she is "addicted" to jumping and cross country is her favourite eventing discipline. "You've got five or six minutes to do 25-30 jumps and they're all yours."
Joy says many older people tell her they are too old to ride.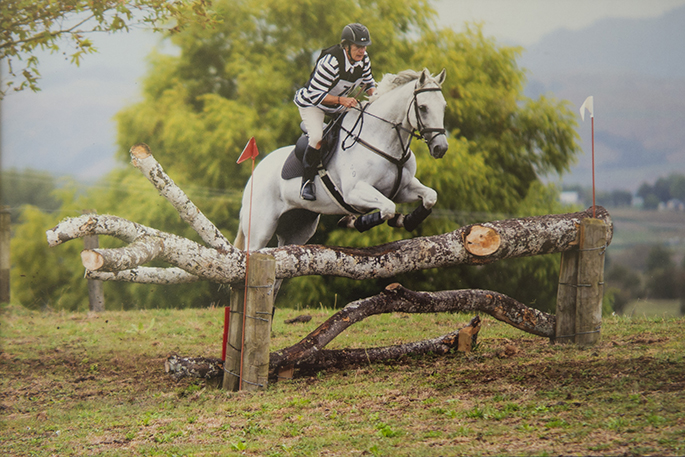 "I say 'but you're not'. If I can do it at 76 then they can too. You don't have to compete, you can just ride for pleasure." She recommends joining an adult riding club for those keen to start again.
Joy grew up on a farm in the Wairarapa and has been riding a horse since she was three-years-old. She and her siblings rode their horses to school and, with floats and horse trucks unheard of in those days, would also ride along the roads to and from pony club events.
"The traffic was a lot more animal-friendly in those days," she says. "Nowadays, if you go on the road you take your life in your hands. People don't slow down."
After leaving school Joy took a break from horses and didn't take up riding again until she was in her 40s. It was a trek from Tauranga to Gisborne with her 65-year-old aunt that reignited the passion.
"We mostly rode the back roads and while we took tents, we hardly used them because people invited us to stay in their shearers' quarters. It was great."
On her return she joined the Tauranga Adult Riding Club and has since competed in numerous one-day events, including 52 with Grady.
In her younger days she would compete in events throughout the North Island every few weeks, but these days limits her travel to events between Auckland and Taupo.
'It's a disease," she admits. "You get such a buzz."
Joy has also had to battle with real disease – bowel cancer in 2016 followed by a heart valve replacement – which took her away from the eventing scene for 17 months.
But the horses helped her back to good health, she says.
"Riding is great therapy. If I'm having a shit of a day I just go for a ride and feel better."
When she's in training for an event, Joy will ride three or four times a week – "I need to practice my dressage" – but otherwise rides for fun, including taking Grady to Tuapiro or Waihi Beach for a ride on the sand, or riding on her 10-acre block.
While Joy's riding injuries have been few and far between over the years – a few broken arms and ribs – friends recently shouted her to an air vest.
It's a relatively new safety feature for equestrians that looks similar to a life jacket. As soon as the rider is thrown from the horse, the airbag inflates and protects the rider's neck, back, chest and tail bone.
"I think they're great, but after getting one I fell off at the next two events. I told my friends they jinxed me," she laughs.