It was a high tea in a hair dressing salon – a hair dressing academy to be precise. There were tiny cakes, cucumber sandwiches and lashings of pink.
Pink in the hair, pink in the clothes, pink on the tables. Even the handrails on the entranceway stairs were dripping in pink.
It should have been an occasion to raise a few coins for awareness and education, and to advance the frontiers in early detection, treatment and support for breast cancer.
But it was strangely subdued, because Donna wasn't there. Donna Waterson, the boss, was having chemo.
Breast cancer is no respecter of time, occasions or people. The insidious disease marched uninvited into the 'Hair to Train' salon on March 1 and turned everyone and everything on its ear. Cancer is no respecter of feelings either, and it has stayed a long and unwelcome stay.
"I woke up on March 1 and said 'white rabbits'," says Donna, "but it didn't work." She hoots at the irony, because that was same day she was diagnosed – grade three aggressive. And there was only anger and tears.
"I kicked the walls and I punched things, because I was gutted," she admits. "I was pissed – really, really pissed." Her immediate thought was that she would take her son out of school, travel for a year and then go back to Whangamata. "Then I would take a pill, and that would be me. I would be out of here."
But then she found a friend. A friend that in the beginning left a metallic taste in her mouth, gave her nausea "like morning sickness times five million" and made her burp like a wharfie in a bar.
Before the chemo, she felt like the cancer was eating her, consuming her. But the chemo stopped that, and she started fighting back.
On March 1, Donna Waterson was one of eight New Zealand women diagnosed with breast cancer that day. Her story is one of 3000 each year – the number of New Zealand women tagged by the rogue gene.
Donna disengages there. "Statistics? I do not want to know," she says. "My sister told mum they were going to give me some statistics and they weren't great. If it's 30 per cent then that's shit, so worry about things you have control over."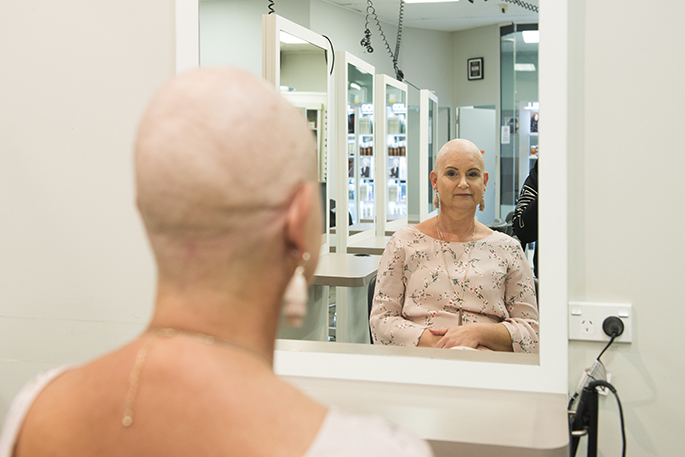 It's not denial. She's an upbeat, vivacious and driven business woman living with a demon and won't be distracted. "I get up, put on my face, put on my wig and go to work. I have a business to run and a mortgage to pay. I can't just stop."
On the other hand, the statistics, the patterns and the history can't be ignored. Because together they have conspired against Donna, putting her at "high risk".
Her Aunty died of breast cancer, her sister Joanne has been living with cancer for four years, and two weeks ago Donna's mother was diagnosed with breast cancer.
"I have two different kinds of cancer in my lymph nodes, exactly the same as my sister," she explains. "It's the same boob as my sister, and the same grade as my sister. Identical."
Now they're being tested for the BRCA2 gene mutation, which can be passed from either parent and affect the risk of cancers in both men and women. Some women with the gene have had pre-emptive double mastectomies simply for peace of mind.
And this is how a simple community newspaper story about a business – the 'Hair to Train' professional hairdressing academy – holding a half-hour, mid-afternoon fundraising high tea, evolves into a story about one woman's personal battle with a scourge that claims 600 lives a year.
"I will tell you a funny story," says Donna. "This will make you laugh."
No, I don't think so, it probably won't make me laugh. Is there anything funny about the big C?
"We were all in the car when they rang with mum's diagnosis. They confirmed it was cancer, grade one. We all cheered, fantastic, we were so excited. Most people confronted with breast cancer are all 'oh my God!' and devastated."
But with cancer, there are degrees of bad news. "It was grade one," says Donna, "so it meant mum doesn't have to go through chemo. She was operated on last week and they got it all – the margins are clear and she just needs three weeks of radiation. We are all so grateful."
I share their relief, their delight. But I still don't think I will ever laugh at cancer.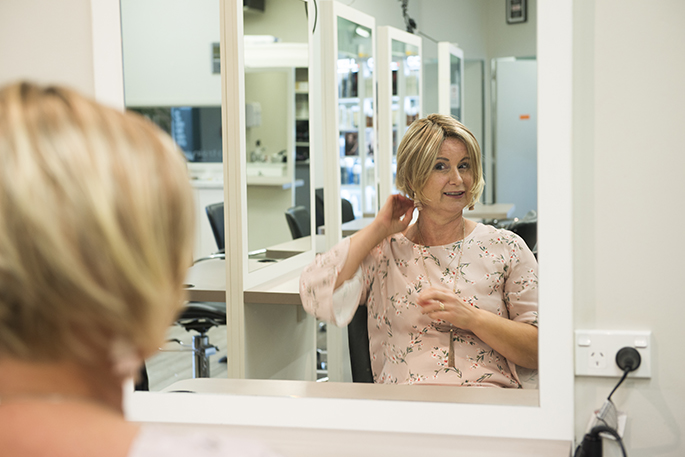 "You can't sit around bemoaning the fact," she says. "We would all start crying if we did, and we probably wouldn't stop. We just put on our lipstick, put on a smile and off we go."
When The Weekend Sun meets Donna at the academy, she's holding court in a sophisticated and elegant smoky pink head scarf. The long and wavy tresses have gone – a cruel blow to someone in the hair industry. "I get hair envy now, but you just have to go with it."
But she does have a tip. "First thing, get your eyebrows tattooed," she says, amidst more hooting. "It is honestly the best thing I ever did.
"I looked haunted – I looked like I had cancer. But eyebrows are such a defining part of your face and when you lose your hair, you end up with a big nothing."
So her advice is get the eyebrows tattooed and then deal with all the emotional issues and everything else. Now that's a marginally funny C story.
And there's also an upside. "It's changed my life for the better," she says. Because of her workload, she didn't believe she had many friends. "But when I put progress reports on Messenger, I ended up with all these girlfriends – people I had forgotten about." Those people included a woman she trained with 30 years ago. Now they're in touch every day.
"I go to movies, I go to lunch, and instead of making excuses, I make time." There's more of an investment in her wider family.
And then there's Jo. "She's doing all my chemos with me because I did all of hers with her," explains Donna.
Down the track there's a mastectomy in September.
"And a tummy tuck," she says, "which is handy – an added bonus. It means I can carry on eating mince pies and doughnuts. They take fat off my tummy and rebuild my boob before six weeks' radiation."
Then there's the flowers. Home is like a botanical garden. Some die, but then another bouquet arrives. And every day is a birthday. There's endless presents, with special people giving special gifts to a special person.