If you're any good at charades or Pictionary, it might be a good idea to brush up on these skills before heading off on an overseas holiday.
In Portugal, for example, only about 30 per cent of the population can speak and understand English.
My husband and I discovered this when the water pump in our camper van blew and we needed to find a new one.
Our knight in shining armour came in the form of a taxi driver with a passion for rugby and our beloved All Blacks.
With much waving of hands and a few simple sketches, he took us to a small parts shop in the centre of Lisbon, ordered the part, send us away for a coffee while it was sourced from across town, and returned us to the campground with the water pump and an overwhelming appreciation for his hospitality.
Portugal may not be on many people's to-do list, but it offers plenty of beautiful scenery, beaches, history and architecture and, of course, it's famous national drink - port.
We entered the country from the north-west into the Peneda-Geres National Park after a week of partying at the Sanfermines Festival in Pamplona, Spain, famous for its Running of the Bulls.
It was a Sunday and the park was full of families picnicking, so we found ourselves in the middle of a traffic jam.
It was nice to get back to nature and suck in some fresh air after the crowds at Pamplona, and we spent the next few days indulging in activities such as horse riding and kayaking.
From there we headed to Braga to visit the hilltop Bom Jesus do Monte sanctuary, the present version of which was built in 1722. It features six chapels, each decorated with terracotta sculptures depicting the Passion of Christ, and is dominated by a huge stairway with almost 600 steps.
The good news is you can skip the stairway and take a funicular, or elevator, up the hill.
Porto was our next stop, the second-largest city in Portugal and home of port wine. We visited a port wine lodge for a taste test – I still love port to this day – and took a river cruise on the Douro, taking in its many stately bridges.
On foot, we visited the Sao Bento railway station to check out its 20,000 ornate azulejo tiles dating from the early 20th century.
Many depict countryside scenes, but a large composition covering an entire wall is dedicated to the 1140 Battle of Valdevez and features knights on horseback.
Apart from the great peri peri chicken, the food in Portugal is nothing to write home about. My husband foolishly always tries a traditional local dish, which in Porto was cod bread soup. Think flaked fish and stale bread in a coriander broth with a poached egg on top. Hmm.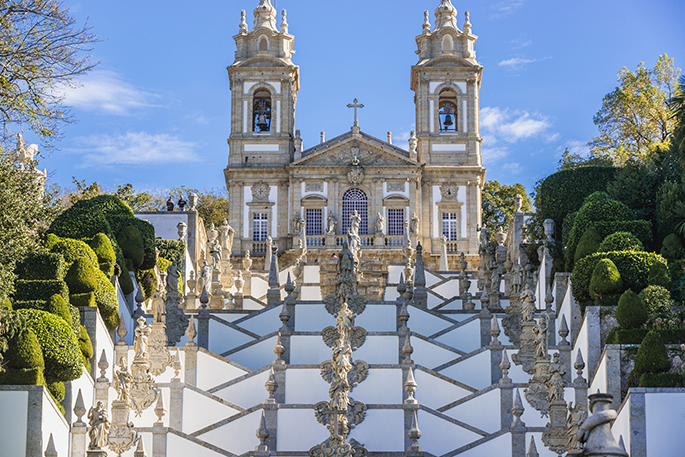 The Bom Jesus do Monte sanctuary in Braga.
The town of Obidos, north of Lisbon, is encircled by a fortified wall and is a stunning example of preserved medieval architecture. You can walk both the entire perimeter of the town walls and the labyrinth of cobblestoned streets below, which include quaint whitewashed houses and some lovely gift shops and cafes.
Lisbon is Europe's westernmost capital city and the only one on the Atlantic coast. It is also older than London, Paris and Rome by centuries.
Trams are the best way to get around the city and 40 of the 58 trams are vintage streetcars – great for posing for a photo!
The Torre de Belem is one of Portugal's most famous monuments and a UNESCO world heritage site. The Gothic tower was built to guard the entrance to the harbour and features stonework motifs dating from the 1500s.
A walking tour of the city will also take in the Jeronimos Monastery and the Discoveries Monument, in honour of Portugal's brave explorers and seafarers who, during the 15th and 16th centuries, were considered among the most accomplished in the world.
Lisbon is considered to have some of the best nightlife in Europe, including discos, bars, nightclubs and fado houses. Fado is described as "soulful and haunting" folk music with the singers accompanied by guitars, violas and bass.
After Lisbon we were ready to hit the beaches on the Algarve coast, but not before stopping at Evora to visit the Igreja de Sao Francisco with its skeleton-adorned Chapel of Bones, or Capela dos Ossos.
Five thousand bones exhumed from the city's graveyards in the 16th century are intricately cast into the cement from floor to ceiling with skulls lining the roof and walls, watching visitors from every aspect. It is both spell-binding and incredibly eerie.
The Algarve coast is a popular European holiday destination, with glorious beaches and buzzing nightlife. I spent many an hour in Lagos lying on the beach by day and sipping cheap cocktails in the numerous bars by night.
We ventured out on a fishing trip one day, collectively bringing in a 'haul' of 25 fish, which sounds great but not when the fish are only as big as the palm of your hand. Our non-English speaking skipper wouldn't let us throw them back, nor accept our offer of taking them home to his family, so dinner was fish bites that night. Still, it was better than cod bread soup!
Portugal is one of the safest and least expensive countries in Europe with a balmy, year-round sunny climate. July and August are hot and busy, so possibly the best time to travel is either March to early June (spring) or September to October (autumn).