Last week The Weekend Sun shone the spotlight on three of our long-established theatres, each with their own fixed abode.
This week we look at some of the area's newer theatre groups, who are making use of other locations around the city – both inside and outside.
Enter stage right
Late last year, Stage Right Trust burst onto the scene with a pitch-perfect production of 'Blood Brothers'. Trustee and co-founder of Stage Right, Toni Henderson, says they brought the show together in six weeks of intense rehearsals, mostly in her lounge.
"It was a handpicked, high-calibre cast that allowed us to do that," she says.
Unlike other theatre groups, Stage Right doesn't have a building they own/rent, in which they can put on shows. Instead, they have the flexibility to pick a new space each time, depending on the show.
"For 'Blood Brothers', it was Baycourt's X Space, which we chose because of its intimacy," says Toni. "We look at each production and determine what the best venue is."
Baycourt is a favourite, she says, for its professionalism. In September, Stage Right will be presenting 'Shrek: The Musical' in the main theatre. It's a big production for the fledgling company, but Toni says they are well-prepared.
"It's the New Zealand premiere of this musical, so we can't borrow costumes or props from a previous show.
"However, we're very fortunate to have the support of experienced performers, crew, and technicians, so it's not as if we're starting from scratch."
Although their first two shows are musicals, Toni says in the future they may do non-musical shows, as well as hosting workshops for actors.
"We want to have a training and development focus too, so that more experienced theatre participants can pass on their skills," she says.
Summer Shakespeare
Auckland's Pop-Up Globe Theatre has been staging Shakespeare for a few years now, but Tauranga also has its own Shakespeare show over the summer period.
Summer Shakespeare Tauranga was formed in 2015 by new arrivals to Tauranga Nadine Vyvyan and Pascal Tibbits, along with local acting stalwarts Dylan Frewin and Gin Mabey.
Their first show was 'Twelfth Night', directed by Dylan and performed outside on the green at the Historic Village (where the new TECT community hub is being built).
"We put a lot of effort into getting 'Twelfth Night' off the ground, and were fortunate to receive community funding from the council," says Nadine.
"We used a shipping container as a storage area, and our green room was a marquee. It was a real adventure in that first season, and a magical experience for the audience, watching a show under the stars."
Two subsequent productions – 'Much Ado About Nothing' and 'The Taming of the Shrew' – have been staged on the cobbles at the Village Radio end, with the historic buildings providing a fantastic backdrop.
"It's something we want to be a fixture on the local arts calendar," says Nadine. "We had around 750 in the audience last season, and more than 800 this year."
Auditions for this summer's show, 'The Merchant of Venice', will be held in spring, with actors of all ages and experience levels encouraged to get involved.
"We've had a lot of high school students, so it's a great platform for them to discover more about performing Shakespeare. They're always supported by our more seasoned team members, making it a fantastic experience for them."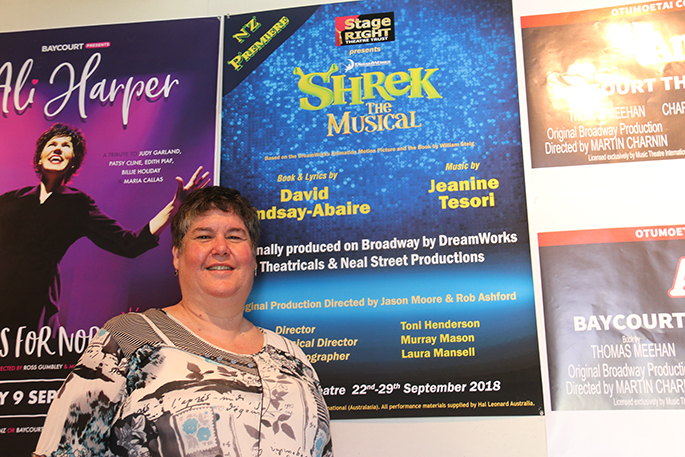 Stage Right Trust co-founder Toni Henderson.
Classics outdoors
With the beautiful summers we have here in the Bay of Plenty, it's no surprise there is more than one company bringing theatre outdoors.
Twice as Good Productions staged their first play – incidentally, Shakespeare's 'A Midsummer Night's Dream' – at Te Puna Quarry in 2015, and followed that with 'As You Like It' in the summer of 2016.
"The cast and crew were very multicultural," says artistic director Suzy Sampson. "We had actors from the UK, France, Argentina, Chile and India as well as locals and students from various colleges in the Bay.
"The experience was a great learning opportunity for all – some of the young actors went on to participate in the Young Shakespeare Company and travelled to the Globe in London to perform."
This year the company shifted location and swapped Shakespeare for a more recent satirist, performing Oscar Wilde's 'The Importance of Being Earnest' on the lawn at The Elms.
"We're definitely planning on doing another open air theatre production there next summer, after the enthusiastic response we received," says Suzy.
As with all local theatre, Suzy says it's funding that presents the biggest obstacle to putting on shows.
"The first year was funded entirely by myself, but the second year we very kindly received funding from the local Creative Communities Scheme," she says.
"This year I was not able to secure funding from any source, so once again took on the scary burden of financing the production entirely on my own.
"I feel there would be more going on in the arts if those that wished to provide the community with that kind of experience were better supported."
What wasteland?
So there you have it - a snapshot of local theatre in Tauranga. And that's not counting the high school productions or the touring shows that come to Baycourt and other venues around the city. Culture abounds in our region – all you need to do is get out and look for it.
To get involved with these local theatre groups, email the addresses below:
Stage Right Trust: stagerighttrust@gmail.com
Summer Shakespeare Tauranga: nadinevyvyan@gmail.com
Twice as Good Productions: info@twiceasgoodproductions.com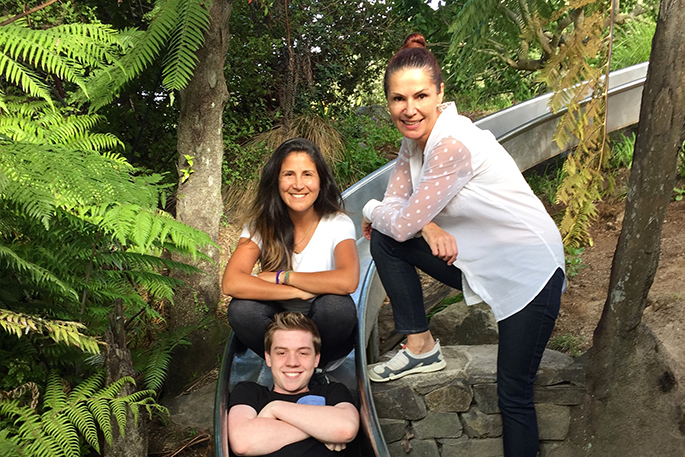 Twice as Good Productions artistic director Suzy Sampson, right, at Te Puna Quarry with actors David Simes and Loreto Rojas.