They're called the 'book end generations' ­­– toddlers and the elderly – and they frequently never meet.
But at Bethlehem Views retirement home in Tauranga, the older and younger generations meet once a fortnight. And they love it.
Studies have found that interactive programmes with preschool children bring greater smiles and conversation to older adults.
Diversional therapist Sue Ball put out a shout on Facebook about 18 months ago to see if there were any mums who would be interested in bringing their children in for regular visits.
Vanessa Howell was looking for an alternative to the traditional coffee group and rounded up a group of like-minded friends and their children.
The 'Mums and Bubs' visit Bethlehem Views every second Friday, bringing with them their favourite toys and books. The children play, the mums chat, and the retirement home residents can either opt to sit back and soak up the atmosphere, join in the playtime fun or even enjoy cuddles with the babies.
May Cameron, 93, enjoys cuddles with Vanessa's nine-week-old baby Hazel, calling her "our baby" and gently running her fingers through the baby's fine head of hair.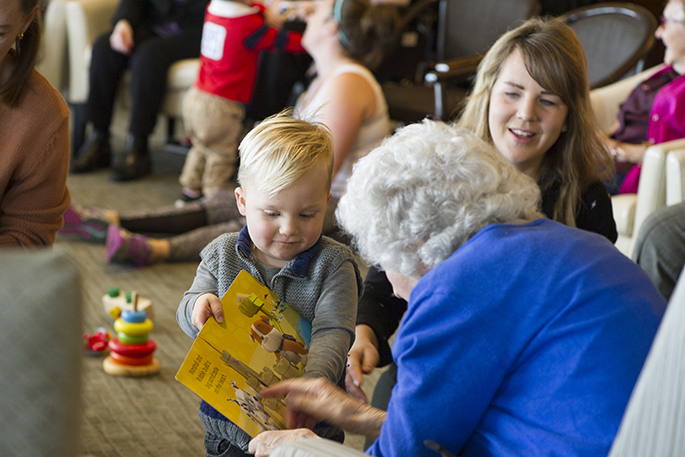 "She's got more hair than most of the men here," she jokes.
She has watched Hazel's older brother Forest, nearly two, endear himself to the residents over the past 18 months.
"Forest was crawling when we first started coming, so they have seen him progress to walking," says Vanessa.
"Everyone gets to know the kids and see them grow. I think they just enjoy watching them."
Vanessa says a few of the residents will offer parenting advice, and many will share stories about their own parenting experiences. "I love hearing their stories."
Mum Amanda Ferrari also enjoys bringing her children, Lucas, nearly 2, and Madison, seven months, along to Bethlehem Views each fortnight.
The children's grandparents live in Canada and her husband works away at sea, so the social interaction with the residents and other mums and bubs is very welcome.
Sue says the sessions are "a great success" and allow residents to reminisce about raising their own children as well as continuing to be part of the community.
"The enjoyment, the smiles and the pleasure received by each resident who joins in with the group is so special," she says.