Daffodils take Gael Blaymires on a magic carpet ride.
"I see a daffodil and I can still sense, still smell the daffodils and jonquils and snowdrops my grandfather grew on the banks of the Northern Wairoa River near Dargaville when I was a little girl," she says.
When she walked to school, she floated by a sea of daffodils and snowdrops. And when she closes her eyes, she sees vast fields of beautiful golden daffodils. "They just transport me back on a very pleasant trip to my childhood."
It's a romantic attachment to what Gael describes as a simple, common but strikingly beautiful flower – and it's probably why this voracious Te Puke green fingers has planted between 60,000 and 70,000 daffodil bulbs in her garden development in King Street.
It was a two-year labour. "Hard work," says Gael, who feeds on hard work. And right now it's payback. The steep escarpment that rolls across the middle of her property is a broad and spectacular splash of gold and white – the daffodils are in bloom, all 60,000 or 70,000 of them.
Nature is acknowledging Gael Blaymires' good work with a massive yellow and white salute. "Daffodils – I love them, who wouldn't?"
And each bloom, in a way, is a nod to the research into one of the most insidious diseases of the time. Cancer is New Zealand's biggest killer. Every day, 60 New Zealanders will be told "sorry, you have cancer". Daffodil Day falls next Friday – the day New Zealand gives to the cause.
Daffodils give Gael Blaymires a reason to get out of bed in the morning. She was hoping to give others a reason to get out of bed by opening her sea of daffodils for public viewing and raise some coins for cancer research. Nature turned on the blooms, but also made access to the property unsafe.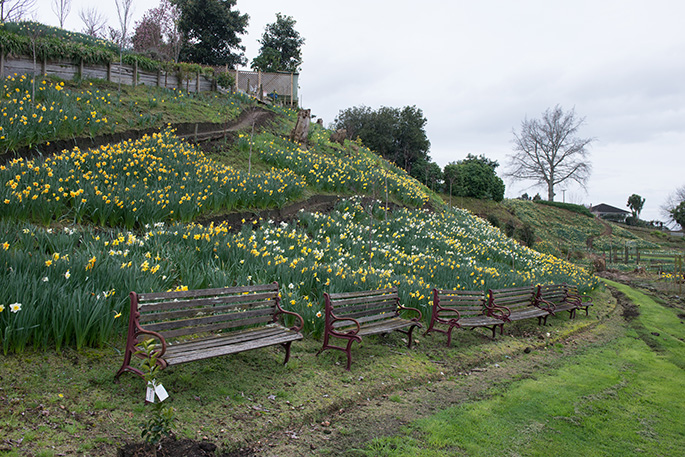 "Next year," she promises. "Next year we will be ready and waiting, and it will be bigger and better."
Gael is a sprightly 77-year-old who prefers a beanie to a bonnet, a woman who trained as a dressmaker but whose personal style these days is jeans, jacket and gumboots.
"I am living my childhood dreams." That's because the first money she ever earned was spent was on daffodil bulbs. She went to Hoanga Primary School – a one classroom school, just outside of Dargaville. "Once a week, a teacher would come from Whangarei for our nature study lessons. He showed us some daffodils. It was just after the war and there was no money, but I did some odd jobs and made enough to buy some bulbs."
Her father improvised some planters by cutting a 40 gallon drum in half. And she would accompany her father when he took the cows out to a runoff about this time each year.
"There was this abandoned old kauri house out there," she explains. "It was surrounded by daffodils. Now I am living in an old rimu villa here in Te Puke, weather worn like me, and I still have my daffodils. I am still buying daffodil bulbs." Sometimes it's reassuring when nice things don't change too much.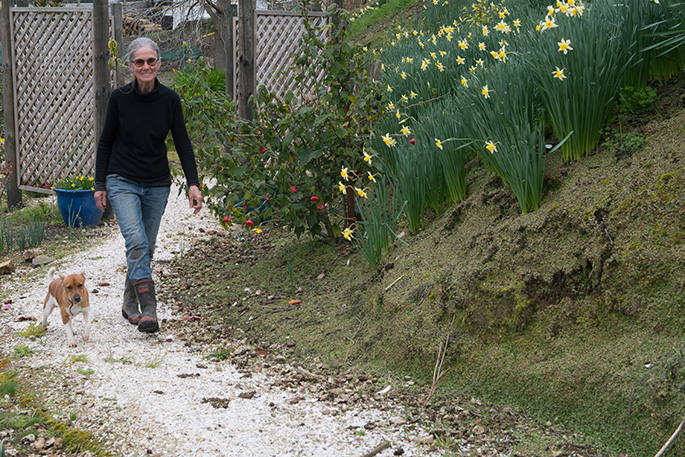 Gael's garden development in King Street, behind the Z petrol station, will be open for the Garden and Art Festival in mid-November. "It's a work in progress," she says. "Everything's planted, my work is done, and now it's up to nature."
But people will see how a vast garden project got started it will be well worth a nosey again next year. And the following year.
Subscribe to our weekly Newsletter
Email: