For one moment, one glorious moment, he was 'Dirty Harry'.
Packing big heat – a Smith & Wesson double-action 44 Magnum long barrel revolver, Clint Eastwood's weapon of choice to subdue any number of vicious celluloid psychopaths.
"You see 44 Magnums in the movies and on TV but you don't appreciate how loud they really are," says Freddy Van Boven. "It's a massive bang – and just how much kick they have."
This from a man who previously hadn't fired anything more angry than an air rifle or a BB gun. And here he was on the Tauranga Pistol Club range making like Inspector 'Dirty Harry' Callahan, big screen homicide cop.
"I saw the movies but nothing could prepare you for this. It's a massive bang and you get thrown around quite a bit."
However, this isn't a Hollywood action thriller, it isn't make-believe – it's a very real, very cathartic and very therapeutic experience for some young people who've been delivered an insidious curve ball.
"Before the cancer I was very sporty," says Freddy. "That was my job – instructor in outdoor adventure."
Then he was diagnosed with osteosarcoma or bone cancer as a 19-year-old. Scary, dark times for a teenager. "It left me with a very compromised left leg. [I] Couldn't run, couldn't jump, nothing." He lost mobility, lost confidence, lost the will – all huge side effects of living with cancer. "You just feel like you can't do anything."
Then last weekend at TECT All Terrain Park, a shooting instructor thrust a .22 calibre pistol in his hand. Then a .38 revolver and a 45 calibre semi-automatic handgun. Some serious weaponry.
"Amazing experience – not so much a sense of power that you would think a gun would bring – just a feeling of excitement." As it was for about a dozen other members of CanTeen, the organisation which helps some special young people through the toughest times in their lives.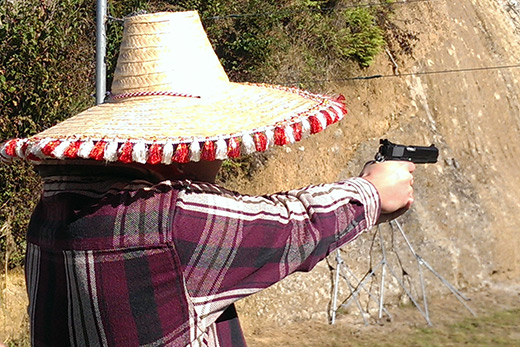 Freddy Van Boven having a very new experience.
Freddy says the immediate impact of a cancer diagnosis is one of loss. "Because they start telling you the ways in which the disease is going to limit you – you won't be able to do the stuff you did before. You realise how much it's going to impact your life."
And it's not a case of being sick for a bit. "Cancer is one of those things that's going to stick with you forever. And you know it's going to stick with you forever."
There's also great uncertainty. For months Freddy faced the prospect of having his leg amputated. It made him feel weak, humbled and not humbled in a good way and very vulnerable.
"So going out and trying something completely new, a new sport, a sport you can do, something very exciting and something quite frightening is very, very cool. It is a great confidence booster."
The Tauranga Pistol Club has hosted corporate shoots before. "But this was something very different and very rewarding for everyone. There were a lot of smiles," says the club's John Peacock.
"When I actually bothered to aim I could hit the target – more or less," says Freddy. "But most of the time I was just so excited shooting these big guns that I had seen in the movies."
Freddy also got his first whiff of black powder last Saturday. He fired off a musket.
"But there was my personal favourite," says Freddy. Yes, of course, the Magnum. Not so long ago the most powerful handgun in the world. "A very heavy weapon, a lot of recoil." So kicks from the gun and kicks for Freddy.
"Going out and doing something like this is so cool, absolutely amazing. I loved it and I will be going back." A young sportsman lost to sport because of a disease may be re-discovered, re-embraced. A 44 Magnum may have given him a new lease. There's even talk of making the CanTeen trek out to the Tauranga Pistol Club's TECT park shooting range an annual event.
"Very, very cool," says Freddy.