With the highly publicised closure of Bauer Media last week, the role media plays in shaping our society, keeping us informed and entertained, has been thrown into the spotlight.
It's also a confronting case study on the effects of COVID-19 on businesses in New Zealand, particularly ones that rely heavily on advertising revenue.
At a local level, the effects are being felt by media company Sun Media, who have pressed pause on their weekly publication, The Weekend Sun, for the duration of lockdown.
But as a result, they are seeking to adapt to the conditions, finding new ways of getting the news out and other opportunities that can keep the business going.
We spoke to the team to find out what impact COVID-19 has had and what changes they have made to their company to ensure its survival.
What impact has COVID-19 had on your business and the way you can deliver the news?
It has put The Weekend Sun on hold for the duration of the lock down and consequently a large chunk of revenue is also on hold during this time.
The Weekend Sun and SunLive work closely together to provide a complementary package to our readers when it comes to news. We are now putting all of our reporting resources into our online platforms.
To ensure we maintain The Weekend Sun brand during the downtime we are boosting the separate TheWeekendSun.co.nz website too. This is to ensure people can still get their 'Weekend Sun fix' of people and local community stories, business news and other specialist content. We have the same flavour of stories, opinion pieces and practical and entertaining lifestyle content all in one place.
These stories are also used in our SunLive platform, but do quickly get refreshed with new content so it's nice to still have a spot where people can go for more of a browse.
Tell us a bit about the decision to stop the Weekend Sun for four weeks – why did this happen and how are you getting community news out now?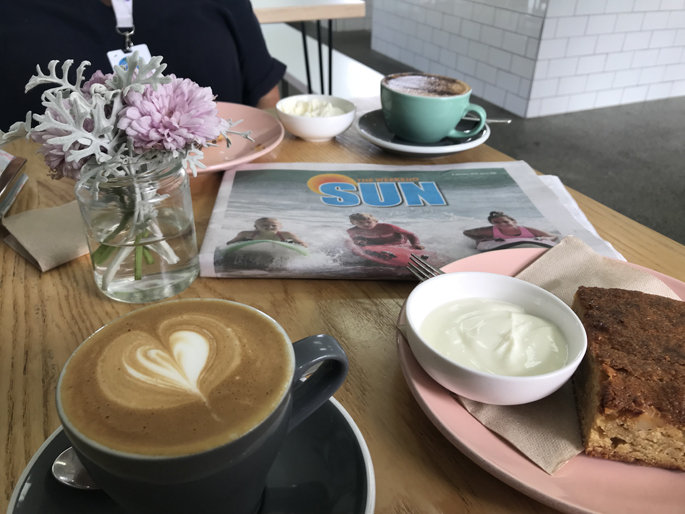 We made a very early decision not to publish over the period of the lockdown. Our first priority was the welfare of hundreds of paper runners and the wider community. We also needed to give our advertising clients certainty over this period. The early decision we made meant we were able to publish a prominent story in the paper before delivery was banned to advise people.
Community newspapers were still included as an essential activity in the first few days of the lockdown. They have since been deemed non-essential, which is debatable. The cost of production and the loss of revenue meant a period of hibernation for the Weekend Sun was also the logical business decision. We will be back as soon as possible.
In this time, we have launched a number of new initiatives to help our online readers and use that audience to leverage advertising. Downloads of our Tauranga City App have more than tripled since we added a new COVID-19 essential services list and we have added new COVID-19 categories to our Sunlive and Rotorua Now websites which also provide advertising opportunities.
SunLive is already the most well-read source of local online news and is the fourth most used online news service in the country behind Stuff, NZ Herald and the Otago Daily Times. Our readership numbers have reached record levels in the last two weeks.
What do you think of the Government's initial decision that community newspapers were a non-essential service?
There are a huge number of people, especially in the older demographic, who do not use the internet and rely heavily on their community newspaper for information and news and advertising from the likes of the Ministry of Health and local councils. However, papers are largely delivered by children and clearly need to be physically placed in letter boxes, so there could well be an issue around safety.
In some instances, like rural publications, there appears to be little risk as they are delivered by rural posties directly into mailboxes, like any other mail. I believe the rules have been changed to allow delivery of news to isolated communities, especially those with limited internet access, which means our monthly Coast and Country publication can go ahead.
There is also an issue in some smaller rural communities that don't have dedicated local news websites but do have strong, news-oriented community newspapers.
There is now many people across the country who have little or no access to reliable news specific to their town or region as a result of the ban on community newspapers.
How has SunLive continued through this time and what challenges has COVID-19 thrown up for daily news gathering?
With the help of strong connections in the community, SunLive has been able to continue through this challenging time. We deliver daily news updates on COVID-19, along with news that affects the Tauranga and wider Bay of Plenty region. Being a digital platform, SunLive has been able to continue working as per normal. While people are working from their homes, we have been able to keep in touch with each other via social media and phone calls.
Before the lockdown, we had a roster put in place so journalists were working different days and different times to make sure there is always someone on to cover the news as it happened.
COVID-19 hasn't really thrown up any daily news gathering challenges for SunLive. We are continuing to get news leads through from the community. The only difference is that we are not able to interview someone face-to-face.
What role does local media have to play at this time in keeping the community informed, entertained, engaged etc and why is it so vital?
It's extremely important to have local media at a time like this to keep the community informed of what is happening in their community.
There is a lot of misinformation reported on some social media sites, which many people take as true. It's our role as the media to publish the correct information and make sure the community is fully informed.
It's also our role to report stories from the community of people who otherwise wouldn't get a chance to share their story.
It is not just all about COVID-19 either and we still have a role to play in providing checks and balances on our decision makers. We still help those who otherwise get overlooked. Maybe someone is struggling to get the help they need from an agency or a charity organisation is struggling because they lose their government funding. It's our job to give people a voice so the community knows they are there and can help and rally for change.
The media is vital to hold people accountable and to question why something has been done a certain way.
Going forwards, how do you think you will adapt to a post-COVID-19 lockdown world?
The Weekend Sun was in a very strong position prior to the pandemic and we have every intention of getting back to business as quickly as possible.
As long as we can deliver papers and produce a product that people want to read then our business will pull out of this. The world hasn't ended, it has just taken a nap.
We have been working with our major suppliers to cut costs and they have been very receptive to working out a competitive deal that will get us all back into business. We will also have a very important role to play in helping other businesses get back on their feet.
This will be a bit like starting from scratch but we know what we are doing. We have been through recessions before and are determined to celebrate our 20th year in style.
Visit The Weekend Sun online or get your daily news from SunLive.co.nz
This story was originally published in the Chamber of Commerce Tauranga website.
Subscribe to our weekly Newsletter
Email: