Ten years on from the February 22 2011 Christchurch earthquake, many Cantabrians who resettled into the Bay of Plenty have put down strong roots and flourished here.
Steve and Aisling Fahey and their three children, Dylan now aged 14, Connor, 13, and Shanna, 10, relocated to Tauranga about two months after the devastating 6.2M quake.
"We decided to leave Christchurch because of all the aftershocks, and not knowing. We didn't deal with it well," says Aisling.
"Every time a truck would go by the house, the kids would run under a doorway because it used to rattle. Their little hearts were going 90 miles an hour. We thought "enough's enough"."
Choosing Tauranga as their new home was a no-brainer.
"When I came over from Ireland to New Zealand, we were living in Auckland. I spent my first Christmas in the Mount and always loved Tauranga. We moved to Christchurch because Steve's mum had cancer at the time, but she's now passed away and we thought "well, let's move to Tauranga"."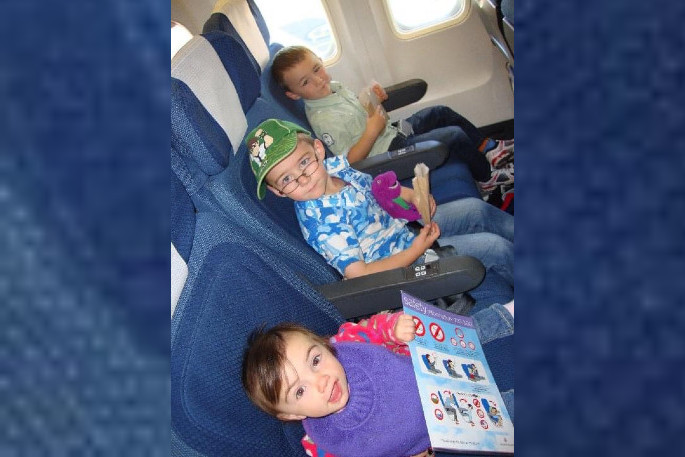 Shanna,1, Dylan,4, and Connor, 3, on the plane from Christchurch to Tauranga. Photo: Supplied.
The couple have set up their own family-run business, Fahey Cleaning Services about five years ago. When they first arrived, Rise Up Tauranga helped them find immediate accommodation, with a single man opening up his home to them.
"We stayed with him in Greerton for two weeks. When we moved out over to Papamoa he came and had dinner with us. He's a lovely man."
The first rental property they looked at has become their home for the last ten years.
"It was close to the shops and close to school."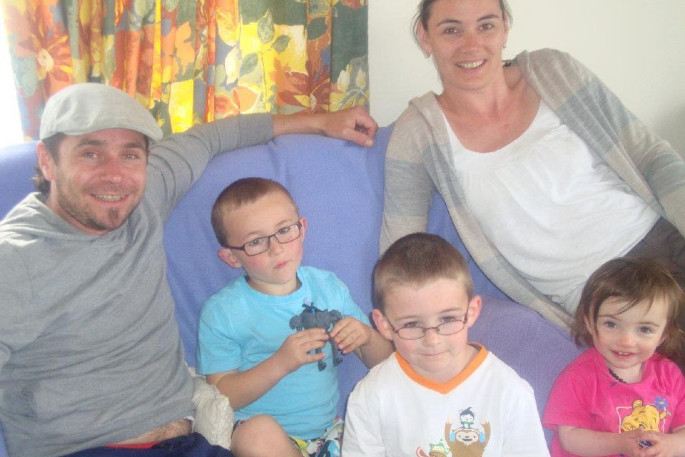 The Fahey family, soon after arriving in Tauranga in 2011. Photo: Supplied.
Steve had arrived first ahead of Aisling and the children, finding work as a milkman, followed by some forklift driving jobs.
"I stayed at home with the kids. Shanna was just young. When she went to school, I worked at Bayswater Retirement Village for a few years, and then decided to open my own cleaning business."
Steve works with her in the business.
"Because we don't have family here in New Zealand, childcare's quite expensive we found, so it suited to open our own business and work around the kids. We work school hours."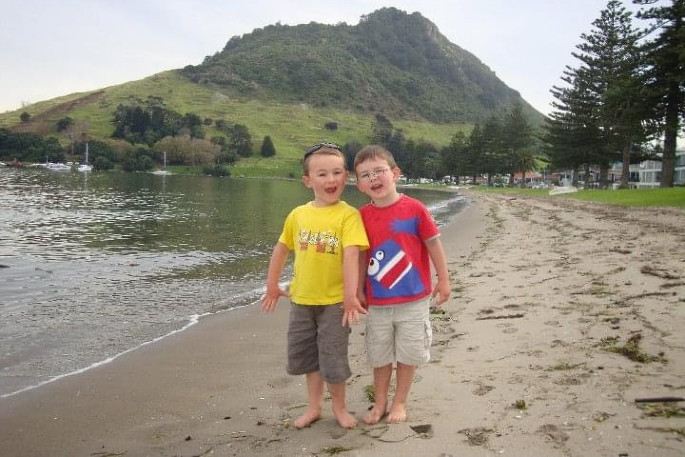 Connor and Dylan, on the beach in Pilot Bay, soon after arriving in Tauranga in 2011. Photo: Supplied
When Steve and Aisling are not working, their focus is on family time.
"It's just been Steve's birthday, so we went away for a family weekend to Splash Planet in Hastings."
She thinks the very young age of the three children – Dylan, 4, Connor, 3 and Shanna,1, at the time of the quake may have shielded them from retaining traumatic memories.
"Dylan does remember it. He was in the sandpit at his playschool when the February earthquake hit. But the other two don't really remember it."
On the day of the quake, Aisling couldn't get to Dylan and Connor who was also at the playschool, as she was home with Shanna.
"We lived in Riccarton. My neighbour across the road took Shanna and me in because our chimney fell off the house. We didn't want to go back into it. Steve was at work, so my father-in-law went and got Dylan and Connor."
The 6.2M quake occurred at 12.51pm and Steve's father finally reached the playschool at 5pm, after having to park his vehicle and walk the rest of the way due to traffic jams and the roads being broken up.
"They were three and four years old. I never really asked him how he got them back to the car."
Steve's father still lives in Christchurch and recently spent Christmas with them.
The family have put down strong roots into the Papamoa community.
"Papamoa is lovely. When the children went to school, they made lots of friends. We like Papamoa and we live right beside the beach."
The three children attended Te Akau ki Papamoa School, with Dylan and Connor now attending Papamoa College. Shanna has one more year at the primary school.
"They love it here, they love the beach and surfing."
Ten years on, the family face normal everyday challenges of life, having put the traumatic Christchurch event behind them.
"You have to get on with life, especially when you've got young kids. You can't dwell in the past. Even though we did love Christchurch, and it's a beautiful city, life changes. You do have to move on."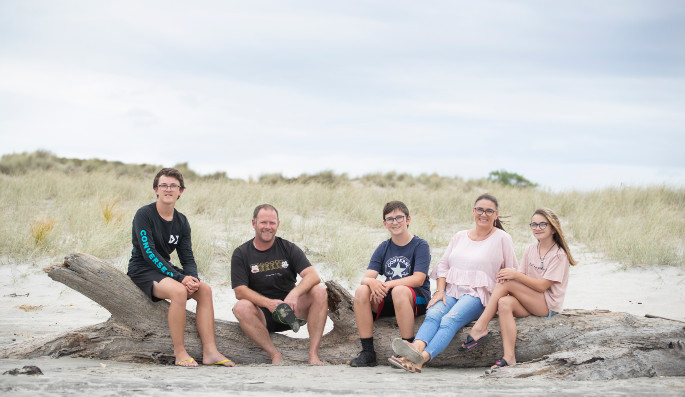 Steve and Aisling Fahey with their children Dylan, 14, Connor, 13, and Shanna, 10. Photo: John Borren.
Subscribe to our weekly Newsletter
Email: