The fabric of Katikati – what it is and where it's come from – is depicted in murals and other artworks around the town.
Sixty nine in all – now make that 71 because two of perhaps the finest yet murals produced in the town are about to be added to this body of work and adorn the walls of Katikati.
They're the two winners in the town's 2017 New Zealand Mural Contest.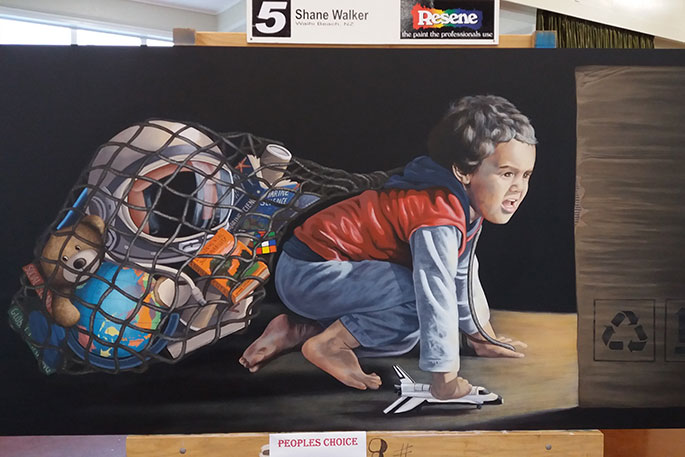 "Generally you see a standout work emerging in the week of painting," says Steve Graveson, president of Katikati's Open-Air Art. "But this year there were three or four I thought were going to be close to winning this."
In the end Australian father and son, Kerry and Jack Nicholson, with their interpretation of the theme 'The Future of our Children' won the competition. In their concept, the pair describe a child looking at the night sky and wondering how to go there; how to get to those distant stars. 'Another child might be struck by the sheer beauty of it all and think 'how I can I paint or even write about this feeling I have'.
The Nicholsons say their mural suggests both thoughts are necessary and might set the children on an individual road to success and make the world a better place.
"One of the judges indicated he would be back from judging in 20 minutes," says Steve. But it took them two and a half hours. "Don't know if it was the theme or increased prize money but certainly the standard was generally way higher."
The People's Choice Award went to Mount Maunganui artist Shane Walker whose work ranges from canvas to large-scale mural work.
His entry depicted a future generation being armed with knowledge. "A child is about to enter the future through a cardboard box time machine. He is pulling a net full of knowledge-bearing books and maps. And armed with the essentials to take on the world – a space helmet and ship – the universe is his playground."
Both murals, painted on 2.4mx1.2m boards, will be kept by Open-Air Art and go up around Katikati, becoming permanent parts of the collection, part of the townscape. But only on a small scale.
"I suppose if we were putting up six or seven murals every two years we would run out of walls," says Jacqui Knight, Katch Katikati's promotions manager.