Click the image above to watch the video
When I started wheeling a piano down to Pilot Bay, I didn't know I would meet hundreds of people, each with their own story. Like a magnet it draws individuals and groups to gather around, listen, play, chat and sometimes sing.
Gareth Morgan came along one evening, rippling over the keys while chatting about his cat Bugsy. Selwyn Ridge School's music teacher Andrea Meredith and daughter Jenna Meredith have played a duet, past Tauranga Mayor Stuart Crosbybusted out a tune he remembered from childhood, and Leilani Taula sung while accompanying herself. My mum plays 'Robin's Return' which I refuse to learn, enjoying instead hearing her play it.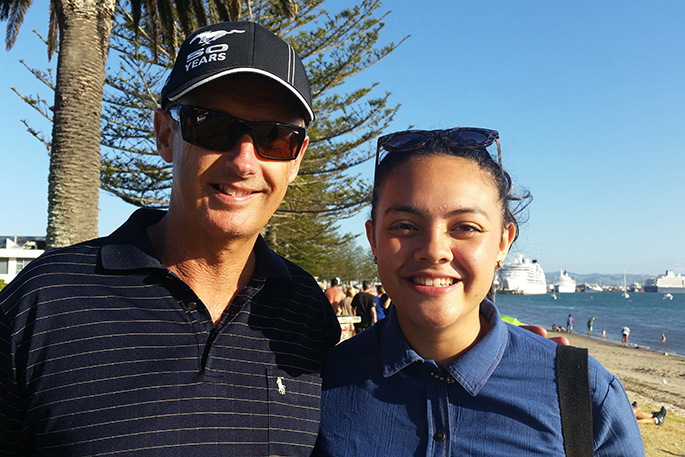 Stuart Crosby and Leilani Taula
There was a guy called Marty who happily strummed along on his bottle 'guitar' with a $2 coin while singing 'Three Blind Mice'. A French mime artist spun hoops in the air. Narin Wetini turned up most nights last summer with his ukulele, singing through a medley of songs including the Glen Campbell classic 'Try a Little Kindness'. There are boogie, jazz and classical pianists, and once banjo player Matt Owens from 'Albi and the Wolves' came by busking his way home.
As cruise ships depart, people gather around the 128-year-old Farrand piano singing 'Now is the hour' and favourites like 'Pokarekare Ana'. Along the boardwalk are tables and picnic blankets.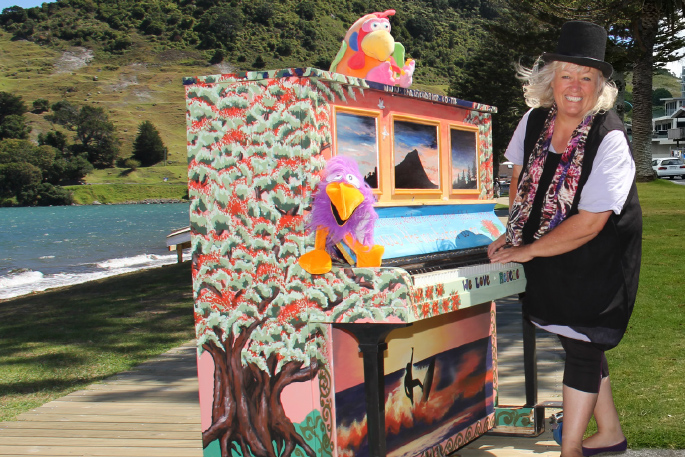 People bring out platters of grapes and cheeses. Or home-cooked meals, and sushi, Turkish, fish 'n chips and curries from Mount Mainstreet. Cruise ships, sunsets, romantic cuddling, dancing - with live music from a range of passing musicians.
Covered with images of sunsets, pohutukawa trees, surfers and seagulls, the piano was painted by eight artists from The Incubator. Bought off TradeMe for $30, photos of it with the backdrop of Mauao have been shared across social media.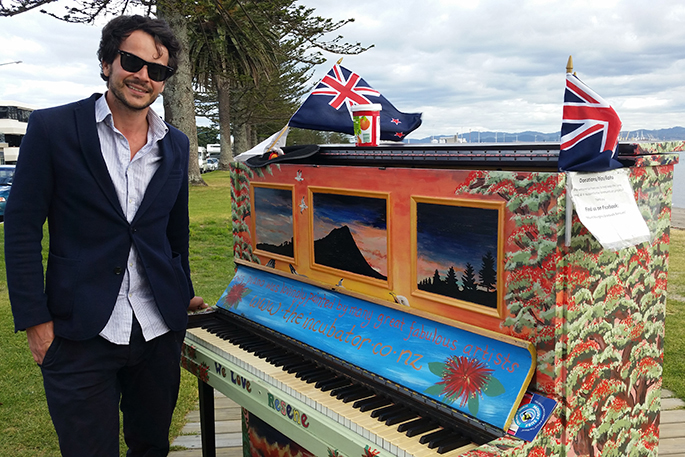 Visitor from Portugal
One February evening in 2015, while wheeling it to its usual spot, a young man pursued me along the boardwalk. From Portugal, he'd seen photos come up on Facebook and made it a travel 'must find' when he came to NZ. Delighted, he snapped a photo and then continued on his way. Similarly, Ian Ritchie, who I hadn't seen since I was nine at Aka Aka School, leapt out of his car one evening, having told his driver to detour to Tauranga so he could go to Pilot Bay and see for himself what he'd seen on social media.
Across the road, the self-proclaimed 'Pilot Bay Piano Society committee' set up food and glasses on a balcony, ready for an evening of live music.
Everyone has a story. There's Shirley who, when she first arrived at the piano, told me how she'd lost her husband of many years. A bench seat carries her husband Ron's name plaque. A young mum with a two-month old baby wandered over, I introduced them to each other, and the next minute Shirley was holding the baby in her arms, a smile breaking out on her face.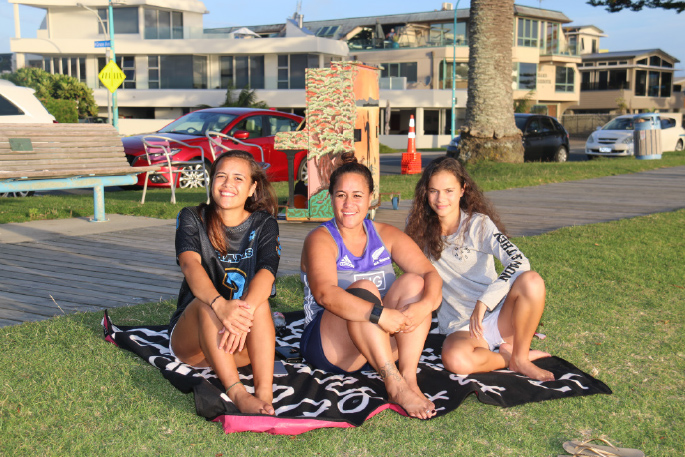 Comfort from loss. Strangers becoming friends. Connections formed and renewed. A lot of simple human connecting happens around a piano. I just play on. And say 'hello.'
This week, Brian and Heather Vincent were enjoying the evening when I turned up with the piano. Brian couldn't resist. He asked if he could sing along. He started off quietly singing the first verse of "How great thou art" and I chimed in, admittedly a bit of key, but wanting to encourage him. He didn't need it, he settled into the song, his strong bass voice growing in volume and resonance. A small crowd gathered to listen. It was an unforgettable moment.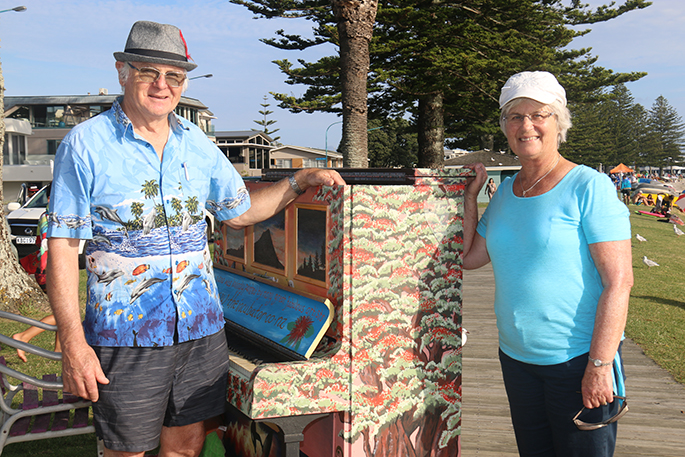 Brian and Heather Palmer
It turns out that he and Heather have a story too. They live in Matua and this year celebrate 50 years of marriage. They have walked a difficult life journey with a family history of Duchenne muscular dystrophy. Their son David was wheelchair bound for most of his 28 years and died in 2002. Both their daughters have sons with this disability - two of whom live in Tauranga. This means three of their four grandsons are in wheelchairs.
Heather was inspired to write It's All Right Mum!, published in 2004. It's full of courage and faith, outlining their belief that the God Brian was singing about was with them and in charge on this journey.
The book, downloadable on Kindle, has touched hundreds of people.
Brian, clearly a gifted singer, mellowed by personal grief and loss, has written several of his own songs and recently produced his first CD, He Guards My Soul.
I marvel at how people rise above broken life experiences. It's inspiring. Winston Churchill once said "We shall draw from the heart of suffering itself the means of inspiration and survival".
People often have so much pain inside them that they're not even aware of. Sometimes I find they start to empty this pain at the end of the keyboard.
A piano also seems to be a simple connection point between the 'haves' and the 'have nots', as people simply meet people and say 'hi'. A homeless person has sat down on the seat next to a millionaire and they've laughed and chatted. And only I've known both person's circumstances. It doesn't matter. Music is a universal language.
People often ask "why are you playing the piano?"
"Why are you smiling?" I reply.
"Because you're playing the piano."
"That's why."
Life is made up of moments and people. Memories created together.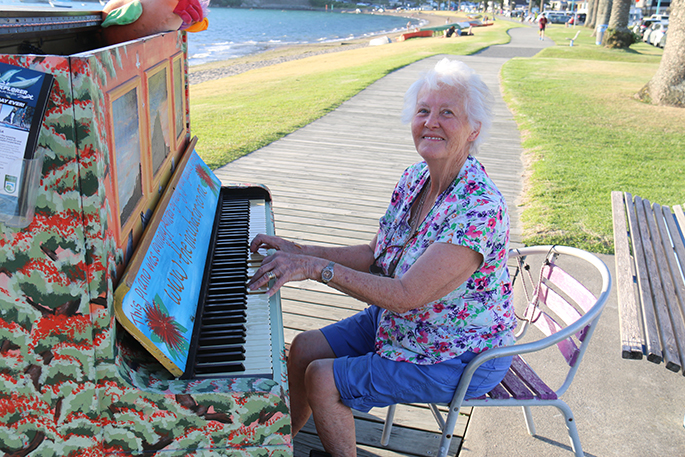 Pat Liddle