The bus driver is venting in The Weekend Sun front office. To anyone who will listen really.
"Do they have any bloody idea?" He's been manoeuvring his big yellow MAN 40-plus seater bus around construction sites, streets down to one lane and tight congested intersections in the CBD all day. And he's grumpy. "We're trying to provide a service and it's bloody impossible. Idiots!" He's looking for someone to blame.
James Woodward has put his hand up. This accountant/engineer should have "a bloody idea." He's the Tauranga City Council's city centre manager, the man in charge of our street scape, how the city centre will look in three, four or five years. But he's been getting it in the neck.
"We hear on a daily basis peoples' gripes," explains James. Gripes about parking and people, both motorists and pedestrians, accessing various places around the city centre.
"We are very conscious of all this and we work very hard with developers, construction companies, and businesses to minimise the inconvenience." After all, this is a city growing, rapidly.
"It's exciting to see change. People want to see change in the city centre – the research and engagement with people tells us that. But to get there we have to have some short-term pain and it's going to be disruptive."
Now that growth is all happening at once, we are feeling those pains. A middle-aged motorist does a right turn out of Willow Street into Hamilton and runs headlong into a road closure.
Another building going up, another closure, another frustration. The exasperated motorist gesticulates, mouths a string of expletives, executes a clumsy three-point turn and exits.
The Weekend Sun sees the frustration, hears about it and even experiences it. "At peak time give way rules and courtesy seem to fly out the window," says one in-house motorist. It's a case of she who dares wins.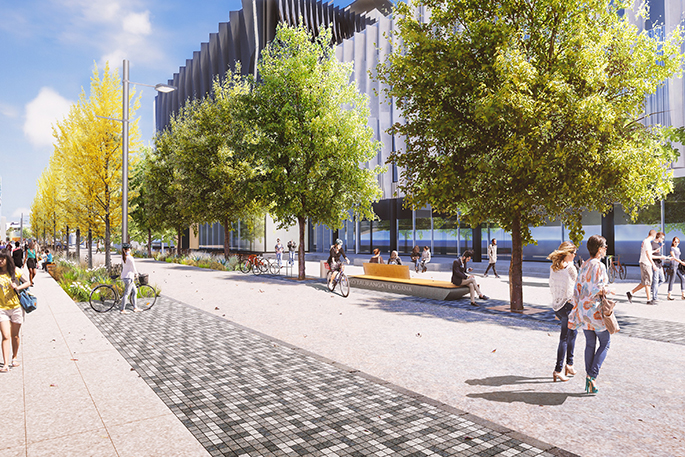 Again there's understanding from the man with the big vision. "I can appreciate if motorists are getting a little bit stressed when they're trying to get in or out of town at peak time." He suggests the teething problems will soon become part of daily behaviours. "That's part of change; it's embedded over time and it becomes the norm."
Now for the pay-off, a $24 million Long Term Plan pay-off over 10 years. "If you fast forward three, four, five years you are going to see really great change; positive change," says James.
It might stick in the craw of many Tauranga people, but James suggests we look and learn from Auckland. "A lot of development there, a lot of investment on the waterfront. Wynyard Quarter has been really great, with positive and engaging public spaces."
Wynyard Quarter is described as a neighbourhood – it revolves around people. New homes, retail, office space, restaurants, theatre and a new hotel, pedestrian and cycle friendly, high-quality street furniture and lush planting. And all right on the harbour.
"That's what we are looking for in Tauranga inner city," says James. "It's not just making it look good, but it's engaging with people so people want to stay longer, and if they stay longer they are spending more. Creating that footpath traffic and vibrancy is really key."
James points to the TCC's spatial framework document – it's a bit of direction in how that $24 million might be spent – to achieve the desired look and feel of the city.
Among other things it seeks to create a streetscape, open spaces and a waterfront that puts the needs and interests of people first.
It aims for an exciting, attractive and memorable heart for the city that attracts inner city living, walking and cycling and use of public transport, and ensures access and a connection to the harbour. And projects will be considered on a case by case basis with those priorities in mind.
To achieve all that we might have to step off a footpath, walk around a barrier or two, back out of a temporary dead end and embrace a stop-go signal person as a new friend. It'll require a mind-shift.
"Changing peoples' attitudes and behaviours is always a bit of a slow process. People are apprehensive about change. I guess it's about looking at the bigger picture and focusing on the end goal and the outcome rather than the short-term inconvenience," says James.
Stop and take a look on Durham Street. Once a grey, soulless thoroughfare, Durham Street is steadily transmogrifying into an urban artwork. "The developers get the message that if they come in and develop then the council will put some skin in the game," says James.
There's Trustpower and now the University of Waikato campus – and down below the street is shaping up as well.
Hopefully between trips, the huffy bus driver will have read The Weekend Sun and James Woodward's grand vision will have helped ease him through the peak time traffic.
Subscribe to our weekly Newsletter
Email: