She was a beautiful brunette and it was her 19th birthday. Her name was Betty May Middlemiss and she was a model milliner.
"She appealed to me as a very nice young lady," recalls Keith Bowen. He worked in hardware. In the modern idiom, Betty was hot. Keith was playing the piano when he caught Betty's eye.
"I was impressed," she says, and it seems he was hot too.
From that first little flutter, it was destined to go all the way to the altar – and it did.
Now after six decades of marriage, Keith's going to marry his sweetheart again. He is going to renew his vows because the chemistry's as strong as ever. He loves his girl and remains committed to her.
Does she still love Keith? "I do."
Keith and Betty will join other couples who've enjoyed enduring marriages at a Celebration of Marriage event organised by the Bible Society next month. It's a chance for couples who've been married for more than half a century to reaffirm their commitment to one another.
Statistically, it's easy to be cynical. Last year there were 20,000 marriages, but more than 8000 divorces – nine broken marriages for every 1000 existing ones.
"There are lies, damned lies and there are statistics" as the saying goes, and according to Celebration of Marriage organiser John Burns statistics about the value of marriage are interesting.
"Generally [married couples] enjoy better-than-average results in health, financial wellbeing and home ownership. And those relationships grow happy, confident children."
Keith and Betty tick all those boxes and they put that down to their relationship being founded on mutual trust, likeminded-ness, oodles of understanding and even more consideration.
Like most relationships theirs was born of raw magnetism. It was in the cool of an Easter evening, 1952. Keith took Betty for a walk around picturesque Te Aroha Racecourse. Te Aroha, place of love, very apt.
Did he hold Betty's hand – up the back straight, as they broke for home. "I know I was well behaved." That was to be expected of a gentleman.
"You got 'round to it Keith," says Betty. "Eventually."
He also proposed – eventually – 18 months later. "We were parked up in a Ford 10 by the rose gardens in Parnell, Auckland," says the charmer of Te Aroha.
He offered her a ring with three diamonds. "I recall she accepted quite readily."
Since then Hillary conquered Mount Everest, there was a Vietnam War, man's been to the moon and computers arrived. Times and attitudes changed, but the Bowens didn't.
Now he's 89 and she's 82, and they've spent three quarters of their lives together. How did they keep it together when so many others have failed?
It seems their vows, the "'til death us do part", weren't negotiable. "We were likeminded in that we decided when we got married it would be for life," says Keith.
"It didn't enter our heads that it wouldn't last," says Betty. "We just never thought like that."
But most newlyweds don't have an escape plan. They're infatuated beyond the possibility of annulment and alimony.
"I suppose…" says Betty.
"But it was simply our plan to be together to the end," adds Keith.
Not for two of their four sons, who divorced and found new partners. Betty struggles with that.
"It is very sad," says Betty. "It was difficult to take. A lot of people are affected. But you have to let them live their lives."
They're still proud, and the boys were right there for the couple when they celebrated 60 years, their diamond jubilee.
Betty puts the success of her marriage down to their being blessed with the ability to confront and cope with issues, to work together and support each other.
"You have to be considerate and strong."
Betty's definitely considerate. "She has been a wonderful mother and cook – she has looked after me with meals every day for 60 years. I have hardly had to cook a meal at all."
"You show your love for someone by doing things for them," explains Betty.
So Keith, how have you showed your love? What have you brought to the exercise?
"I have tried to be a wonderful father. I have tried to be a wonderful example." And he says they reward him with love and respect.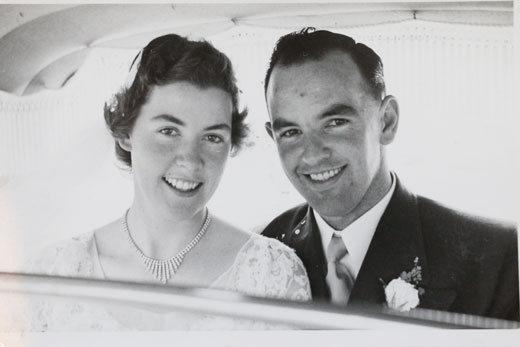 Keith has a "gift", which has been a mixed blessing. "Because as a musician (Keith's an accomplished pianist and organist) I have always been out doing things." Three choirs, the organ at church services and weddings. "I have been giving my time and talents to other people."
Would their relationship have succeeded in today's climate?
"If Betty hadn't been as tolerant and understanding as she has been, she possibly would have said I have had enough of this, tootled off and found someone else."
It amazes him Betty has stuck with him given his absences.
"Well I have to say, when the children were small and Keith would go out so often I found it hard." She wasn't always happy about it. "In fact I growled. So it wasn't easy."
Did it put pressure on the relationship? "Sure," says Keith. "Well yes," adds Betty. And that's as bad as it got. They've had to work to make it work and they've succeeded.
But I ask again: What did Keith bring to this relationship?
"He was the bread winner," says Betty. They had specific roles.
"I always believed a mother should be at home with the family. Keith had to bring in all the money so that was important."
This may seem impertinent, but have they ever looked lustfully at another person?
"That temptation is called sin in the Bible," says Keith. And they have tried their very best to steer away from it.
Faith has been their rock. They met at a Christian festival, they will thumb through the Bible at a whim, they pray together and always bow their heads and give thanks for every one of Betty's meals – all 61 years of them.
They argue. "Oohhh yes," says Betty. They disagree, but never get mad. And when someone has to have the last word, Betty admits to enjoying the privilege.
But despite the difficulties, Keith's absences, Betty wanting the last word and growling, they are ready to commit to spending the rest of their lives together.
Keith turns to the piano and launches into Frank Sinatra's 'I Did It My Way'. The irony is not lost, but the love lingers.
The Celebration of Marriage will be held at the Seventh Day Adventist Church in Moffat Road, 2pm, Sunday, September 13. You can register with Glenys Nairn on (07) 544 2882 or 027 717 0878. Email gordon.glenys@xtra.co.nz
Subscribe to our weekly Newsletter
Email: