Providing a safe haven for homeless and rescued animals is the focus of a pet expo and garage sale in Te Puke later this month.
The RRR - Rescue, Revive, Rehome which is proudly committed to providing love, care and support to hundreds of rescue animals, is run by many volunteers and completely reliant on help with funds.
"We are a charity that relies solely on the generous donations of businesses and the general public," says RRR Secretary and feline manager Liz Proudlock.
"The last six months have been tough with a severe kitten season seeing over 300 sick, abandoned and neglected felines in the mix, 53 neglected and abused horses, and 46 dogs and puppies. That is not counting the 400 battery hens rescued, rabbits, llamas, pigs and goats.
"We need ongoing donations to pay for this care."
To raise the much-needed funds, the RRR is holding a garage sale and pet expo at the Te Puke Memorial Hall from 10am – 2pm on May 29.
"We will have second-hand pet gear such as horse saddles, horse covers and rugs, dog kennels, dog coats and dog leashes," says Liz. "Also kitten beds, cat climbing frames and household goods."
Businesses representing animal products will be displaying and selling their wares.
"We will have guinea pigs there for adoption, visiting puppies, pet grooming, new pet owner clothing, and an adoption board of felines and dogs available."
The fundraising expo will include face painting, a sausage sizzle, and a cake stall.
The RRR Garage Sale/Pet Expo will be held on Saturday May 29 from 10am – 2pm at the Te Puke Memorial Hall. Call 021 077 8665 for enquiries.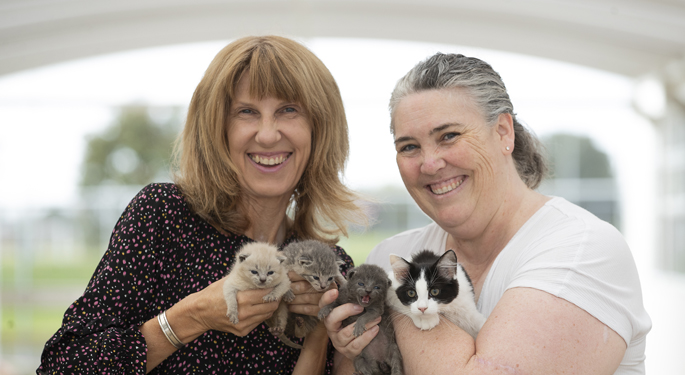 Feline manager Liz Proudlock and neo-natal team leader Simone Donaldson from RRR with some of the kittens that will need homes. Photo: John Borren.
Subscribe to our weekly Newsletter
Email: