The boys from 'The Block' will stay in the Bay! That's right, the charming and comedic Dyls and Dylz will return to the Bay for good once their time on 'The Block NZ' is up.
Mount Maunganui pair Dylan Cossey and Dylan Guitink found fame on the New Zealand home renovation and DIY show 'The Block NZ' on TV3. And they're now characteristically known nationwide for their good nature, their bromance and their stubbies.
The boys have the chance to win 'The Block NZ', with the finals coming up this Sunday.
And despite their success on the show, the pair say there was never any thought of living anywhere else.
"Nah, we're Bay boys through and through man," says Dylan Cossey, aka 'Dyls'.
"We love being home aye bro," adds Dylan Guitink, or 'Dylz'.
The Bay boys had a short production break last week, where they visited the Bay and had some time to chill out.
"It was so refreshing when we came home," says Dyls. "We felt the sand between our toes, y'know, and we went down and had a coffee at our local."
"And good weather," says Dylz.
"Yeah and the beautiful weather, and beautiful people. There's so much friendliness going on in the Bay, so we're attached to the Bay and we're staying there and staying put," says Dyls.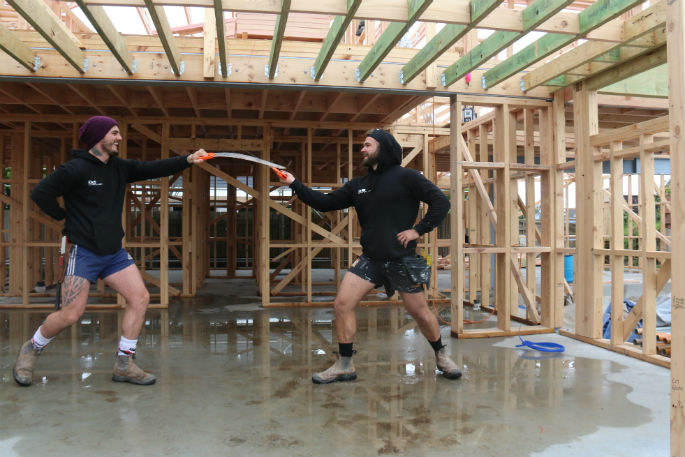 And Dyls says he'll have to decide where to live after the show concludes – depending on if they finish on top.
"If we win any money out of this it's a bit of a conundrum – do I build new or do I go and buy a house in Maungatapu where it's a little bit more affordable? I'd love to buy in the Mount just because I love that beach life – we're both beach boys – but the price is just a little bit ridiculous."
But no matter what, both of the boys are game for a cuddle or a high-five.
"Thank you for all the support that everyone's given us, y'know," says Dyls.
"Orange team fans, we absolutely love you!"
"Yeah hard," says Dylz.
"Please don't hesitate to stop us," says Dyls. "Even if we're having breakfast or something, with friends, holla."
Dylz sums it up perfectly.
"We're not gonna bite; just come and say 'Hi'. Yeah come for a cuddle, you know you guys want one."
Don't miss the 'The Block NZ' live auction finale on this Sunday from 7pm on TV3.