"I cannot explain in words how much it means to me."
A passionate, gifted 16-year-old expressing her connection with music, with her trumpet.
"I love that amazing, freeing feeling of playing," says Year 12 Mount Maunganui College student, Annabelle Stewart. "And how, at that exact moment, the only thing that exists is the music and everything else can wash away."
But it doesn't, not as easily as it used to. The once powerful, intense and stately trumpet is old and tired.
"The valves keep sticking no matter how much I oil and clean them. There is some sort of issue with the slides and the air is leaking out of the instrument." A trumpet bought second-hand two years ago, a trumpet that has given hours of support and joy, is making mischief.
"The water key doesn't work and I have to pull the slide to get rid of the condensation." The trumpet is no longer on song, it can't be relied on to deliver in a live performance, it is a beginner's trumpet, it no longer supports her level of playing, it's holding her back.
And it looks like it sounded the charge of the Light Brigade. There are dents – many of them on the bell or flared end of the instrument. They are not Annabelle's work.
But a new trumpet would a liberating force. She would be able to take up the position of 'trumpet 2' with the New Zealand Youth Symphonic Winds 2017 (cost $700), she would be able to pucker up for the 2017 New Zealand Youth Brass Ensemble ($100 plus transport for seven days), the Brass Bands Regional Competition in Gisborne ($350) , her grade 8 trumpet exam ($293) her grade 5 theory exam ($144) her audition for the National Secondary School Brass Band ($220 plus bus fares to Napier) . So much achieved, so much talent, so little money.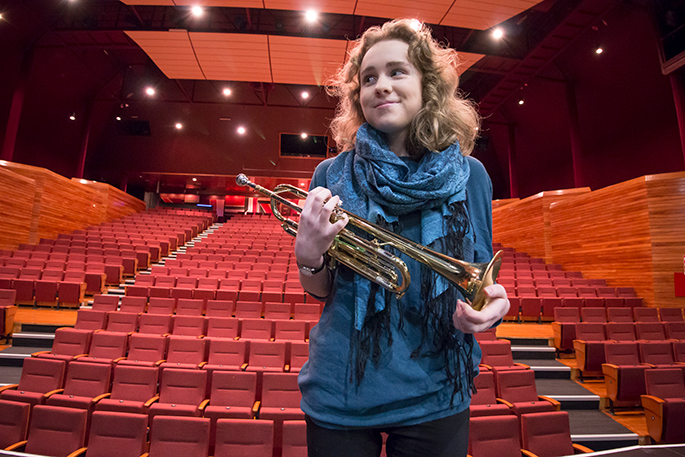 Then on Monday evening she would be at practice with the Tauranga City Brass. A new trumpet would earn its keep. But a new trumpet would also cost between $3000-6000 – a good second-hand one would still cost about $2500 – and it's money a college student doesn't have.
"I have saved $500 from teaching music and busking." Annabelle is not looking for a handout, rather a leg up. And any help would be an investment, not a donation – an investment in a gift and a passion.
Her family is very supportive but there are financial constraints – Dad's a superannuitant and Mum works part-time with some health issues.
"I do have many opportunities open to me but because of money I may have to turn some down. I could miss out on some tremendous learning opportunities as well as developing as a musician and a person."
But the same vision and commitment that saw her learning the violin, recorder, marimba, piano singing and guitar since the age of nine brought her to The Weekend Sun this week with a gracious pitch for help.
Then the old trumpet could go gracefully into semi-retirement after a job well done, having nurtured an interest, fostered a talent and turned a desire for a new challenge into triumphant fanfares.
"I would keep the old trumpet – have it up my sleeve if a music student doesn't have a trumpet."
But why the trumpet? It was need rather than desire. "Even though I was learning the violin and in a vocal group I was bored." Annabelle told her music teacher she needed another instrument to learn, the teacher suggested the trumpet. "Because she only had one trumpet in the school band and he was leaving."
It was about that time Annabelle found her trumpet in a Napier music shop. "It was about $250 and was a kind of birthday gift."
And she was captured. The trumpet which had never been a consideration suddenly became "freeing and flowing with a clear, classical, powerful and ringing sound. Hard to put into words."
Then one day she was talent spotted playing "quite a difficult piece" – Aleksandr Goedicke's 'Concert Etude' at an open night for the local orchestra. Next minute she's in the Tauranga City Brass alongside a mostly mature, senior demographic.
"It's about the music, definitely interesting and a good opportunity to play," says the new kid on the block in the band. "I love all their stories and jokes – they are like a whole extended group of grandparents. I really, really love it."
If you would like to assist in bringing new clarity, new intensity, new reliability to Annabelle's trumpet performance and grow a music career email annabellestewart.2000@gmail.com or call 07 575 4838.