It's a story of struggle, hardship, eking a living, setting a cornerstone for an economy.
No illicit love, no shootouts, devious plot twists – just the raw detail of some entrepreneurs, some labourers, hopes and dreams, plucked from last century and beyond.
Even by the compiler's own admission, it probably won't make the best-seller list.
But that was never the intention. It's a book of important historical insights – the product of one man's tireless research and pulled together for publication by another.
It's called 'Te Puke Flaxmills' and it's about flax fibre – sober in name and nature. But flax fibre was a significant industry in the economic development of Te Puke. That's before Pakeha came along and built drainage schemes and fires and synthetics permanently altered the landscape.
It's about the people who harvested the flax fibre, the processing plants that sprouted as a result of their slog, the fortunes and the failures and the huge impact that simple rope and binder twine had on the region.
'Te Puke Flaxmills' is a resource document, which we who are privileged to live in Te Moana-a-Toi or Bay of Plenty, should have on our coffee table and regularly peck at. It's a fulfilling and fascinating dip-in and dip-out of compendium of facts, photos, diagrams and stories.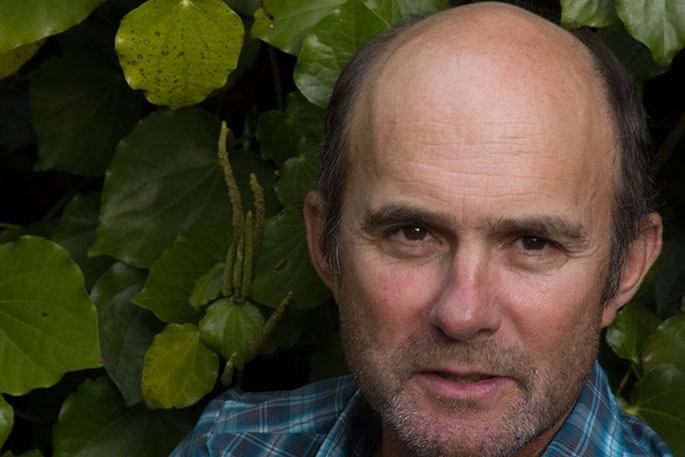 He pulled the book together. Compiler Richard Hart. Photo Leigh Nicolas.
Facts like it took eight tonnes of green flax to produce just one tonne of dressed fibre. And grainy photos of romantic moments from another time – 'Mrs Paterson and Mary Potiki' in their white blouses and lovely bonnets on the banks of the Kaituna upstream from the Paroa flaxmill.
"The research was a complex and inter-connected web of information," says Richard Hart. "But I know Alister would have wanted it published."
When prominent Tauranga historian Alister Matheson died, the bones of his research were gathered up by Richard Hart. He didn't want the effort wasted, nor the work lost.
"It's published now to ensure the material is on record and not left in a bottom draw or file somewhere," says Richard.
The flaxmills have long gone but the book is a reminder of their contribution. Local roads such as Collins and Mends Lanes are named from flax-era personalities. The same gravel roads take us back through history to sites of old flax mills. And the families that toiled in those mills – their descendants remain.
Flax investments were blue chip. Before the great depression there were newspaper articles suggesting 14 per cent returns three years after planting, and 73 per cent returns in the seventh year and thereafter.
The estimates, we're told, were based on government figures and "by well-known managers with conservative, sound values …..and entirely unrelated to extravagant hopes."
The innocuous, rusty corrugated iron farm buildings; the abandoned flaxmills on the banks of the Kaituna River are probably testimony to the folly of those projections.
The high- quality flax was abundant across the entire Kaituna Plains, Te Repo o Kaituna. But after the swampy lower floodplain was extensively drained and burned for farmland in the 1970s and 80s, the wetlands are all that remain.
'Te Puke Flaxmills' is about a little-known but very important part of the history of Te Puke and Maketu. There are the families – the Collins' of Atuaroa. Four of their employees died at Gallipoli.
There's a telltale photo – a grim Jim Paterson standing in front of the charred Paroa flaxmill after a major fire in 1912.
There are tensions and litigations – Mcnaughton v McEwen of 1901 and Chaytor v McEwan and Dalgleish a year later. Stakes were high with disputes over mill, lease and machinery. Real people, real situations, real life.
The book tells us Pakeha were quick to appreciate the commercial possibilities of phormium fibre and between 1820 and 1986 there was a considerable trade in hand-dressed fibre between Maori and European. Much of the fibre was exported to Australia and Britain but after 1840 a small cordage – rope and twine ¬– and textile industry was established here.
Then a machine called a stripper was invented. With its distinctive, high-pitched scream that could be heard for miles it was revolutionary. The machine could produce 250kg or a quarter of a tonne of fibre a day, whereas a Maori worker using a mussel shell could produce just one kilogramme.
Then we learn flax milling was actually a protected industry – there were government subsidies on flax production and import restrictions on jute and other fibres. That enabled 15-20 mills to produce 5000-6000 tonnes of fibre each year.
Much of it was used for woolpacks and baler twine, floor coverings, carpet underlays, upholsterers' padding and fibrous plaster. Those protections were removed in the 1970s when cheaper synthetic materials won over the world.
As the book suggests, there could have been a chapter called hazards and human tragedy. Hazards were everywhere - exposed belts driving cogs, pulleys and cams. A woman called Sarah Pariki, wife of Wi Kawana, was delivering her husband a billycan of tea for morning tea when she got her long skirts tangled in a drive belt. It tore off her arm and left her gasping her last.
Two men at Mr Gray's flaxmill at Paroa were hit in the face by a belt travelling at 2000 revs snapped and struck them flush in the face….."knocked them to the ground, insensible." When they regained consciousness and were bandaged they were put on a horse and rode 29km to a doctor in Tauranga.
The last flax mill in New Zealand ceased operations in 1985.
Richard Hart met and discussed flax milling with the late historian Alister Matheson. "When he died, I felt a responsibility."
The book has been published but Richard Hart thinks it shouldn't end there. "Tracking down flaxmilling artefacts from the Te Puke mills would be of great interest and need to be preserved for historical reasons. It would be wonderful to see flaxmill displays developed at some stage."