Click the image above to watch the video
One evening, while strumming away on the beach piano in Pilot Bay, I caught a flash of red behind me on the seaside seat.

Turning, I discovered a vibrant and exotic sight.

Long lean brown legs, wearing a bright mandarin and gold bodice, a pale orange silk shirt casually draped off the shoulders, leopard skin print shorts, all topped with bright red-orange hair.

Behind the large sunglasses and the broad white-teeth smile, one of the warmest, fun-natured people I've had the pleasure to ever meet.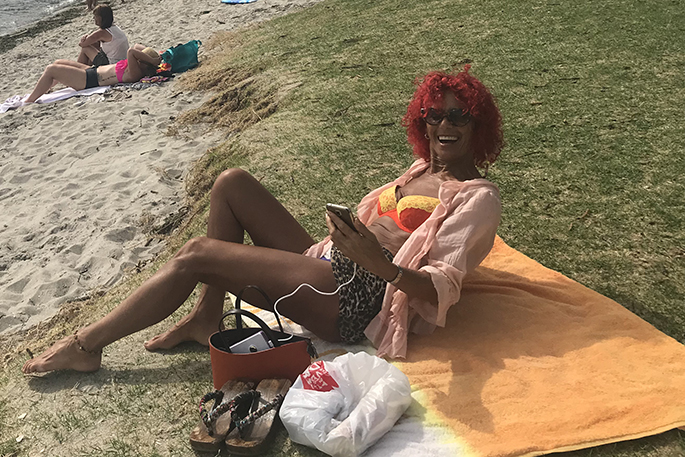 We chatted and I realised this is the iconic fashionista of my youth. Judy Alvos, the stunning teenage entrepreneur who, along with her husband Tony Alvos and Bryan Potter, won a NZ Trade and Enterprise export award in 1981.

Their company, Expozay, has been one of NZ's most iconic and successful international fashion businesses. Judy still has about three- quarters of the original swimwear collection, which has been sold into high-end US department stores including Bloomingdales, Macys and Saks Fifth Avenue, and worn by the likes of Raquel Welch, Lorraine Downs, Rachel Hunter, Delyse Nottle and Kylie Bax.

Some of the collection is also stored in the Tauranga Museum Collection, waiting to be displayed.

Her life, though, hasn't all been about fashion.

At age six, her father strapped Judy and her seven-year-old sister into the front cockpit of his Tiger Moth at Tauranga Airport and took them into the air to do acrobatics.

"I guess that's where I really began to use my imagination," laughs Judy.

At age 14 she was hawking off hand-made boardshorts and bikinis to Australian surfies like Tony Alvos on Mount Main Beach.

That was over 50 years ago.

"I had three jobs actually," says Judy.

"I was an usherette at the Mount Regent, I worked for my dad in his Tauranga shop and I made miniskirts for my girlfriends."

Multiple streams of income at a very young age.

Her Tauranga home evokes an island beach retreat.

Swing seats hanging amongst palms and magical fairy lights, surrounded by a bursting vegetable garden, with pots and sculptures peeking out from behind the lush growth.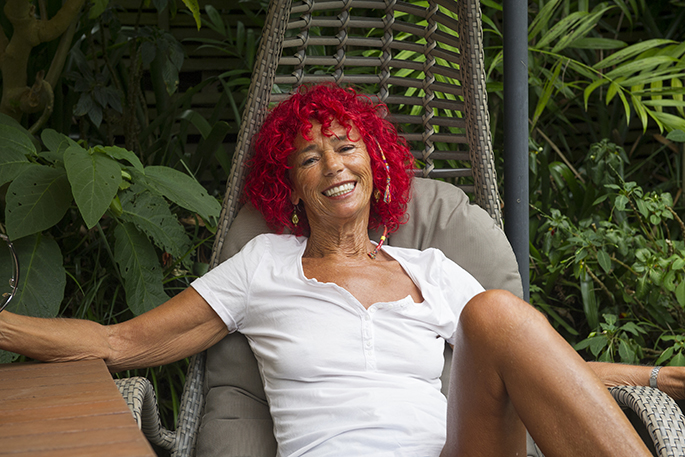 Inside is a cork curtain, tapa cloth hangings, tiger-themed cushions, a couple of Kristian Lomath paintings and a wall covered with award certificates.

Numerous Benson & Hedges Fashion Awards from the1980s and 90s for swimwear, lingerie and sportswear carry the slogan "Where Dreams Turn to Gold".

"I was looking forward to seeing my teacher at my school reunion so she could congratulate me," says Judy. "But she wasn't alive."

Her teacher had rapped her knuckles many times, tipped her desk upside-down, ridiculed her and put her in a high chair with a dunce hat on.

"I was a dreamer. I wasn't interested in what they taught me at school."

I could imagine Judy turning up at the reunion, a lithe panther in a hot orange pant suit, wearing her deer fur platform shoes and a whimsical hat.

She was sent to a Catholic boarding school at 15, but ran away to Australia where her sister was living.

"I was the only non-Catholic!

"I was sent there to learn elocution, but I was gutted my parents did that.

"I felt so isolated."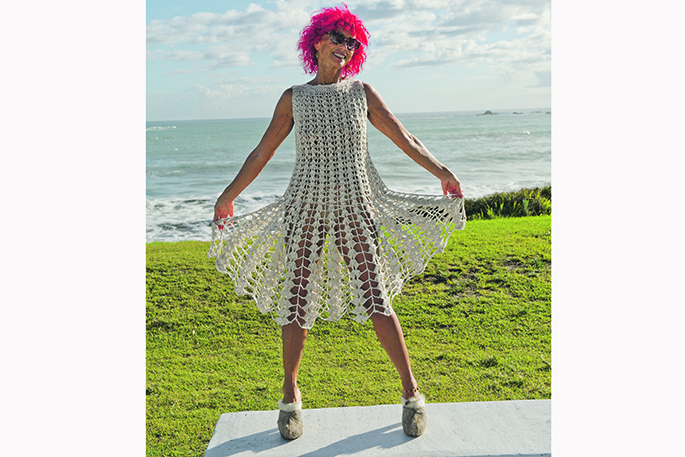 She didn't see her parents again for five years. At age 17, she met Tony again.

"We went over to South East Asia.

"I was working for the Australian Government doing uranium mining in the Northern Territory."

They travelled for about 10 months, returning to Australia with Tibetan boots, clothing and products they'd sourced.

"That was the kick start really," says Judy. "We brought back puku shells from the Philippines for the Australian surf shops. People loved them.

"People say peacock feathers bring bad luck and I say 'no way'. When you can get a thousand peacock feathers for 75 cents each, that's not bad luck, that's using your brains. They went into interior design stores."

Her creative imagination and knack for what people wanted helped drive their fledging business forward.

"It grew really fast after that. We came back to NZ. I started making bikinis on Tony's parent's front verandah."

She'd kept the off-cuts of the fabrics they'd made into clothing, turning them into small bikinis. An immediate success, this soon became a main product line.

The brand Expozay was born.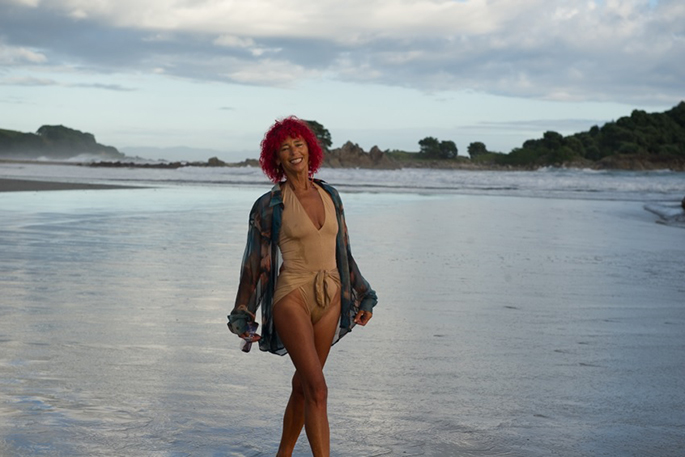 'Savage' swimsuit
There were more than 30 sewing factories in Tauranga, so they tapped into that workforce and found artists Graeme Bell and David Warriner.

"We screen-printed about a thousand units at night. We'd lay them out on our cutting table, six of us running with the backs and fronts of bikinis and little tiny bra tops and lay them all out to dry in layers.

"Graeme would come in the next morning, put his stencils over them and airbrush them.

"They were all done by hand."

The fast-growing demand meant scaling up the business, acquiring technology and learning new printing processes.

They flew 15-year-old Rachel Hunter down from Auckland for a showing for their Australian agents. One of the pieces she modelled was Gigi. This was also worn by Raquel Welch, and shown on nationwide US television.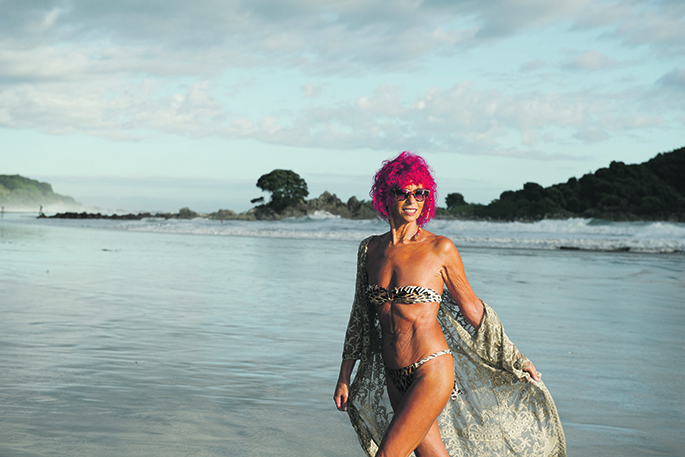 'Gigi'
"We ended up selling 85,000 Gigis," says Judy, "and also 85,000 of the Pleat Lotus. That was back before we had Xeroxes, internet, faxes, cell phones.

"There was no communication except a phone call to France or New York in the middle of the night."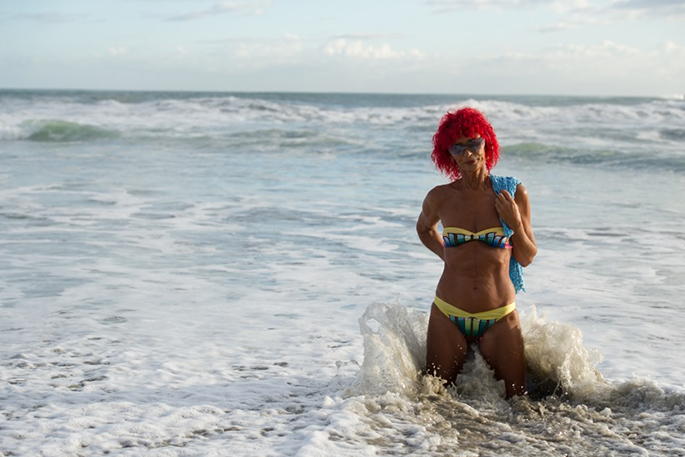 'Pleat Lotus' worn by Judy Alvos
Seventeen years ago, her brother and his partner were brutally murdered.

"I lost 15kgs, my boobs and my butt, and couldn't sleep or work," says Judy. "I decided because it was so dramatic, I had to study something to take my mind off."

She studied nutrition, light frequency, colour therapy, cannabinoids, nutraceuticals, oils, and tested her brain out doing a seven-hour brain-a-thon. She won a trip to Texas, completing her glycobiology papers. Then she won a trip to the Bahamas, again through her glycobiology study.

"That's what happens when you have a Gold Card, you have all this time on your hands. I don't play golf, it's too time-consuming, it takes me too long to find where I hit the bloody ball."
(Photos by Nikki South, video by Rosalie Liddle Crawford)