Margaret Parker surprised herself. She was totting up how far she'd walked recently, and it came to more than 6000 kilometers in the last five years. "That's not bad, is it?" she asks.
When most of us are struggling to do our regulation 10,000 steps a day just to stay fit, healthy and alive, Margaret Parker was walking the equivalent of the length of New Zealand five times in as many years.
She must be an athletic, runny, walky type? "Oh God no, look at me," she says. "I am not built for sport."
Slight but sprightly, elegant and sophisticated, and belying her three score plus ten years, and two or three more.
Margaret says she's built for endurance – she can keep going. And going. And going. And she did. Even when confronted by demons. But we will get to that.
"When I was in my early 40s, everyone was doing marathons," says Margaret, "and I thought 'I could do that'." She did, albeit a slow-ish one, but she did it. Then Margaret and her late husband Terry cycled from Picton to Christchurch and Eastbourne to Greytown before cycling was trendy.
But now, when Margaret steps out for walk, there's a chance you won't see her for the best part of a month. And when you do see her, she will have clocked up the best part of 1000 kilometers. It started while in Europe when they "did a few walks" in Portugal.
The bug went untreated and Terry and Margaret did the last 200 kilometers of something called the Camino de Santiago – camino being 'the way' or long-distance walking trail, in this case a walk to find 'a sense of spirit and accomplishment' according to the blurb. There are many caminos and they're a popular way of seeing Spain and Portugal.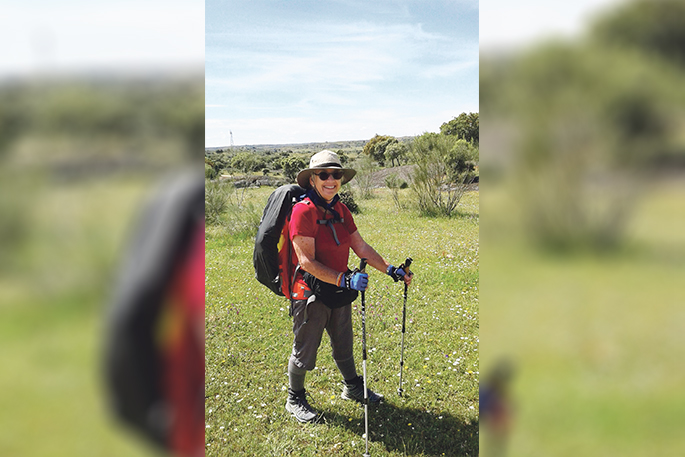 Then Terry and Margaret walked across England – 300 kilometers from St Bees to Robin Hood's Bay. Then from the source of the Thames to London. "Boring! It was all flat," says Margaret, who knows a good walk. "I don't like hills, but hills make a good walk."
When husband Terry, a former Royal Navy sailor, was diagnosed with mesothelioma, the insidious asbestos disease, Margaret told him she was going to walk the Portuguese Camino for him.
But even without the deadly disease, Terry was over long-distance walking. "Thank God," he jokingly remarked to his wife. He would be dead and so wouldn't have to do the walk. "He was spared – the sod!" she says. "He had a sense of humour that man."
Terry died in 2014, but the pilgrimage proceeded – 610 kilometers from Lisbon to Santiago. "It was a lovely walk, sort of in memory." And it was also cathartic.
"It helped me deal with the grief," she explains, "because you can walk through a pine forest and howl and carry on and no one knows." And did she? "Oh, yes," she admits. And Terry would have heard, he would have known. "And then you think, that's good, I am ok."
It's the solitude thing she says – being alone with your thoughts, walking and watching. "It's peaceful and you have no responsibility, except to yourself, to get to the next stop off where you can eat and sleep. It's a real freedom."
There would be four more caminos, and her own personal life dramas.
"Eight years ago I was told I had five years to live," says Margaret. "Non-Hodgkin's lymphoma." And the day she went into remission with that, she says she was diagnosed with another cancer, and yet a third. "Once you get one you tend to get more," she says. "So they lopped off bits here and there." But she's as tough as teak and still walking three years beyond medical expectation.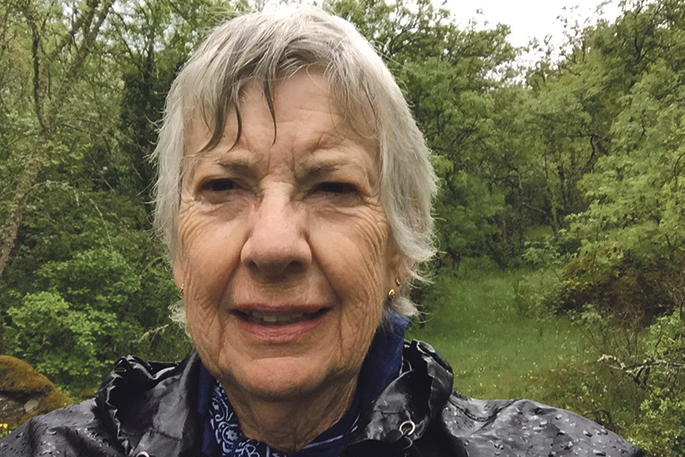 "When I have my semi-regular catch-ups with the oncologist, I sometimes ask if the walking helps. And he always replies in the affirmative." And it's good for the head. "It shifts your mind from thinking 'oh woe is me'. If your head is in good space, the rest of you will generally follow." So Margaret follows her head.
And her head has led her to some interesting places. "My favourite walk is Seville to Santiago," she says – a little outing of 989 kilometers that runs parallel to the Portuguese border. "There are some fascinating towns like Merida, which has fantastic Roman ruins, the best Roman ruins outside Rome itself.
"No-one is at the ruins, and they're fabulous." She also detoured to Getaria and the Cristobal Balenciaga Museum – the dress designer who dressed Jackie Kennedy. "Beautiful," she insists.
Not so beautiful, according to Margaret, is the food. "Good Spanish food is a myth," she says of her experience on one camino. "We dubbed it white food," perhaps because of its blandness.
However, another expedition, the Camino Del Norte, brought a different experience. "Your traditional paella and octopus," she says. "Lots of good stuff."
Margaret is 73, turning 74, and she's got stuff to do. "They say you have to get things done before you are 75, because that's when peoples' horizons start shrinking."
But there are no signs of shrinkage here. Margaret's hanging up her roadies for a time because at Christmas, she's dropping by the Falkland Islands – the rugged and removed British backwater in the south Atlantic, before heading to the Arctic Circle via Mongolia.
"Then I might walk again in 2020," she says.
She has some words of advice after five caminos, across five years and 6,000 kilometers: "There are so many companies into the camino business now. They will carry your bags, book your hotels and charge you three times the door price. You can do it easy or you can do it hard."
Margaret does it hard. "It's the challenge. Can I do it?" She is always thinking she won't finish. "Then two weeks out, I think maybe I will finish. I will do it."
And she does do it. Now she's sitting in her Otumoetai apartment, high above the rippling and sparkling Waikareao Estuary, with French Boxer Cooper snuffling at her side and contemplating another wee walk. Maybe.
Subscribe to our weekly Newsletter
Email: