"Some diners thought that because nine and ten-year-olds were cooking, they'd be getting fairy bread and sausage rolls."
But 'executive chef' and senior head teacher Ben Brock and his Ruapehu Restaurant crew of 150 Greenpark School kids defied the doubters and wowed the critics with a tantalising eating experience – pumpkin or leak and potato soup, vegetable curry or beef lasagna, chocolate brownies and lemon drizzle cake.
Diners judged with their wallets. They paid what they thought the meal was worth. "When we were given the first $50 note, I was shocked and surprised."
And after a week of shocks and surprises, Greenpark School's restaurant turned over $2500 for a school trip – far more than they ever expected.
"It might have been easier to hold a sausage sizzle, a garage sale or a mufti day, but not as much fun," says Ben of an enterprise he was warned off.
'It's fraught with difficulties' they told him, 'everything and anything could go wrong'. But it didn't, and 150 kids spent a day having surf lessons at the beach as a result.
"It just made education and teaching more exciting and more 'real life' for everyone," he says.
Nothing breeds success quite like success, so this year, Greenpark is boldly rebranding the Ruapehu Restaurant and lending a touch more cultural flair and sophistication to the menu.
The whets are rustic vegetable soup and pork sliders with homemade coleslaw, a 'very Moroccan' vegetable terrine with couscous or chorizo, and broccoli pasta with cheese sauce.
The popularity of the Brownie ensured its return – the only item on the 2017 menu to do so – and there's also lemon curd cake.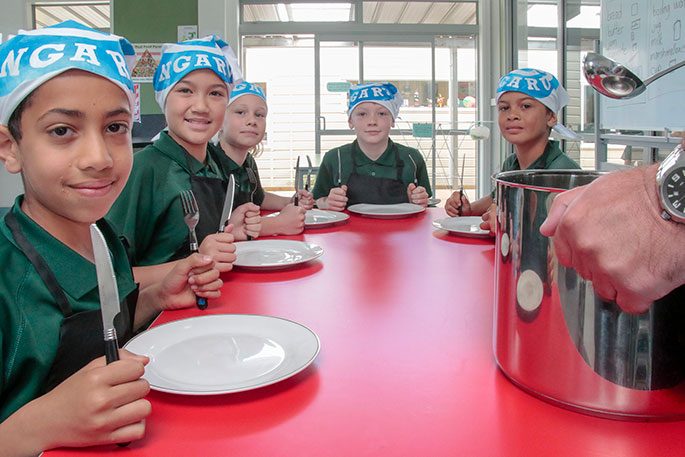 There was confusion over the name Ruapehu – the peak is 250 kilometres away and can't even be seen from Greenpark School's flash kitchen. So Ruapehu becomes Ngaru.
"It's Maori for a wave you can surf," explains Ben. "The idea is that surfing is relaxing and we want Ngaru to be a relaxing place where people dine."
Ngaru follows on from a dinner party held at school where kids brought prepared food from home and invited teachers as guests.
But they wanted to make it bigger, brighter and bolder, and when they opened their flash new kitchen facility, a restaurant became a natural progression.
"The idea of kids running a restaurant means people don't have very high expectations," says Ben. "If you achieve greatness you have been very successful. But if you achieve the expectations of the kids then you have also been successful, so it's a no-lose situation. And you make money – so it's win-win."
But this is not just about the restaurant. There's a whole term's worth of learning involved, including all of the writing, reading and math that's been based around this venture, as well as the menu, the provisioning and budgets.
"It's been a full learning experience," says Ben, "and the kids who did it last year are still talking about it. They are really excited for the 150 kids involved with this year's restaurant."
Ben was a deputy principal in England, then a principal here in New Zealand before deciding his calling was in the classroom with the kids. "That's what I love about education here," he explains. "The UK is far more prescriptive, but here we are able to take what we need to teach and be more adventurous in how we apply it."
The Ngaru Restaurant opens on Monday, but unfortunately it has been overwhelmed by its own success. It has been swamped with bookings from parents and the local community. "We could have filled each table ten times over," says Ben. "We can't open to the general public - we don't have the space."
Fortunately, this reporter has scored himself a booking for a special dining experience. He will report back with his critique. Also, fortunately, 150 Greenpark kids will be getting a special beach experience before Christmas.