Gloria Robinson was washing 'thousands' of tennis balls in the washing machine some 40 years ago.
"It's a wonder my machine ever went after I had finished," she says.
But you won't find her in the laundry room at Mount Maunganui Tennis Club nowadays.
As the new joint club patron, with husband Allen, the couple are looking forward to the official opening day of the 2015 season with newly renovated club rooms fit for a King or Queen.
Originally situated at the base of Mauao, Mount Maunganui Tennis Club was created in 1921. However, it wasn't until 1963 that Gloria first stepped onto the courts – not with a tennis racquet in her hands, but a pushchair.
"I used to push Denise [eldest daughter] in the pram down to the courts on Adams Ave, which was my first involvement with the club."
In 1967, the original tennis courts were demolished to make way for The Domain camping ground and new tennis courts were laid at Blake Park.
"When the tennis courts were laid at Blake Park we had an old pavilion to use as the clubhouse," says Allen. "We called it the Chook House because it had wire netting everywhere to keep the birds out. It was an old shack with a little kitchen."
A few years on, the club purchased a house that workers on the dams on the Waikato River once lived in and moved it to Blake Park to become the new clubhouse.
It was in the early 1970s that Gloria first started playing tennis and, alongside Allen, introduced the Business House Tennis competition to the club a few years later.
"I never played in it, but Allen always played and often was late home," says Gloria. "He always said someone had to put security on."
Allen became club president in the mid-1970s and has been club captain and junior co-ordinator, as well as playing interclub competitions for 30-odd years.
In the 1980s, the old clubhouse was bulldozed and replaced by the combined netball and tennis pavilion there today.
Gloria became president of the club one year later and was awarded life membership in 1988, along with Allen.
After many years on her feet playing interclub tennis in Tauranga, Whakatane, Rotorua, Taneatua and as far as Opotiki, Gloria has since retired from the game due to a couple of hip replacements.
"So now I enjoy playing cards once a week down at Club Mt Maunganui," says Gloria. That, as well as becoming honorary club patron with Allen.
"We hope to be able to give the club's history to a lot more people in the future."
To celebrate the 2015 tennis season and its newly refurbished clubrooms, Mount Maunganui Tennis Club is hosting an open day on Saturday, September 12, from 1pm-3pm. All ages and fitness abilities are welcome.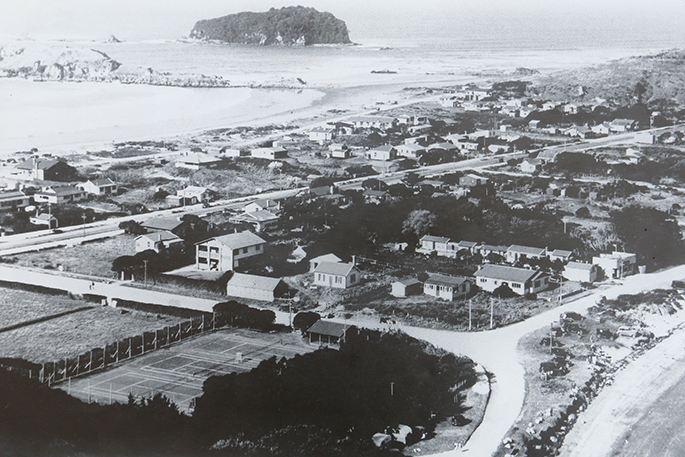 Mount Maunganui Tennis Club in the 1930s at its original location.

A bird's eye view of the new tennis courts at Mount Maunganui Tennis Club in 2015. Photo: Jahl Marshall.