Local kindergarten Kids on Nineteen all dressed in red last Friday – not just for Valentine's Day, but for a fundraiser they were holding for Heart Kids.
Two of the kids that attend the kindy are heart babies – they have undergone surgery for their hearts at a very young age and their families have used Heart Kids while doing so.
Heart Kids is all about supporting families, to connect them with other families that have children with heart issues, and just supporting families in any way that they need.
Jess Melville is a teacher at Kids on Nineteen and it was Jess's idea to do something to give back to the foundation, because she says they really supported her when her daughter Shelby went through it all.
Shelby was diagnosed with a very rare heart condition, where an extra bit of tissue in her heart caused her to have a fast heart rate. Usually they can control it with medication and then at four-years-old they have surgery for it.
In Shelby's case, it got worse as she got older. "We just couldn't control it for her and she didn't know anything different. We were on at one stage four different medications for her taken four times a day," says Jess.
"It got to a point where we just couldn't control it anymore and if they left it, it could cause other problems for her."
So at six and a half months old, Shelby had surgery and since then the issue has gone away.
Jess says Heart Kids helped them in many ways especially when they were in Auckland for the surgery.
"They have all sorts of services so that I could go out and just have a coffee or something. Being stuck in a room all day is very boring and very stressful, so they allow you to go out."
Riley Hargreaves was three-years-old when a murmur was detected at her usual GP visit. Her mum Tanya Hargreaves says that was then followed up with an echocardiogram which confirmed she had a condition called Patent Ductus Arteriosus.
"It means that an artery that we have when we're inside our mummy's tummies shuts off when we're born, but hers never shut off. So ultimately, her heart was over worked, in which it enlarged the left side of her heart," says Tanya.
"So it was pretty scary, cause we were told that it was completely normal – the murmur was normal so it came out of complete left field."
Riley had her surgery on April 1 2019, where a stent was put in her heart to block her artery.
"Heart Kids just gave us information that was really useful, and the lady on the ward with Heart Kids was amazing.
"It didn't really affect us as a family as a whole apart from emotionally and mentally but she just had her follow up and her heart has just about to decreased down to normal. That's only seven months post-op."
Tanya says when Riley went and had her surgery, the centre was just amazing towards them.
"When we were told Riley is going to have surgery, they did a fundraiser for us, and just helped us financially and emotionally.
"They called us when we were in hospital a day before her operation. All the kids' video-called us, so that was really cool."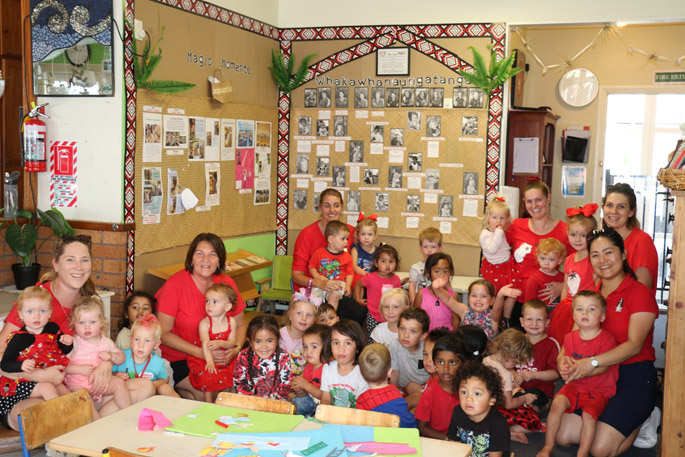 Children and teachers from Kids on Nineteen all dressed in red.
Centre manager Marlene says with everyone dressing in red and supporting the Heart Kids, it shows the respect that the community has got for tamariki and whanau.
"They know of Shelby, they know of Riley, the support they've given to them, to us and supporting this charity has just been amazing."
The centre has managed to raise more than $800 through raffles and prizes for Heart Kids.
Marlene says they didn't expect that amount of money.
"Just tongue in cheek I put it out on my Facebook page to my friends and family about the cause and the need and what we were doing etc, and I got so many replies back from my own family and friends donating money. That's when Jess decided to share it on her Facebook page and it just came flooding in from all directions."
Marlene says she is grateful and thankful for the support from everyone who got behind them for this cause.
Subscribe to our weekly Newsletter
Email: