Emerging a little like hairy cavemen from Level 3, distinguished gentlemen all over town took themselves, their moustaches and beards promptly to their local barbers.
A shaggy and grateful Peter Williams was spotted on the first day of Level 2 enjoying a tailored trim at Cuts Barber Shop in downtown Mount Maunganui.
Hair To Train barbering tutor Todd Madden from Havana Barbers at Mount Maunganui enjoyed seeing his students return after setting them a fun challenge during the lockdown – trimming their lawns.
"I wanted our students to come up with different ways to use our barbering techniques," says Todd on his Facebook video, as he knelt on the grass with scissors to demonstrate his trimming skills.
The Havana barbering students were back on deck on Tuesday, with careful planning in place to transition safely through the Alert Level 2 requirements. The shop is accepting cashless payments only and clients are asked to wait at the door until led to their chair.
At Tauranga Historic Village, a new barber shop opened its doors for the first time on Monday and is accepting walk-ins.
"I've been hair dressing most of my working life," says The Village Barber's Trina Pyle, who is also a graduate of Hair to Train academy. "Barbering really took my interest."
Trina moved down from Auckland 14 years ago and enjoys the Tauranga lifestyle.
"I love the climate here. I just think it's a beautiful place to live. We've got it all here really."
After putting herself through barbering school, she set the goal of opening her own barber shop.
"I'd been looking around for about 18 months and this one at the historic village came up. Initially I didn't go for it, but after doing some research and speaking to all my business advisors, we worked out that it was a great location."
Trina found herself signing her new lease just as the country went into the national lockdown. Not knowing when she could open, and how, it gave her a quick introduction into the stressful period that business owners all over the country were facing.
"She's done an amazing job," says Lisa Yarr who worked on Trina's website.
"Such a lovely person. How her barber shop is set up works so well for the COVID-19 restrictions, because she can seat people outside comfortably as well as inside. All the restrictions are in place."
Trina was grateful for the help given by essential workers and contractors who helped her get the shop ready. She also recalls how as a child, her father sat for hours letting her play with his hair.
"He was a little pedantic about the way he had his hair and only let me touch it. It means a lot to me to start this business, because I lost my mum two years ago and she would be proud of what I'm doing right now. Both my parents would be.
"I'm starting from scratch, but I've got lots of family friends who are supporting me."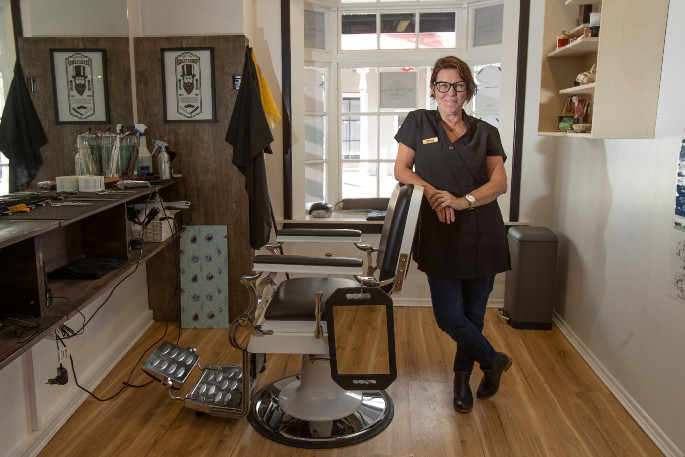 Subscribe to our weekly Newsletter
Email: