With 11 artworks illuminating Tauranga's urban landscape this week – to bring creativity vibrancy to the city – The Weekend Sun talks to two artists to shed some light on their stunning pieces.
Robert M Hunter and Bobbie Gray – who both have installations in the CBD's After Dark Urban Light Festival on until the weekend's end – have ties to Tauranga with Robert based in Papamoa, and Bobbie proud to call the city her hometown.
Doubling as a commercial director of photography and artist, Robert has created 'Immiscible' for the festival – "a high-impact video projection piece exploring psychedelic colours, chemical reactions, and explosive worlds of light".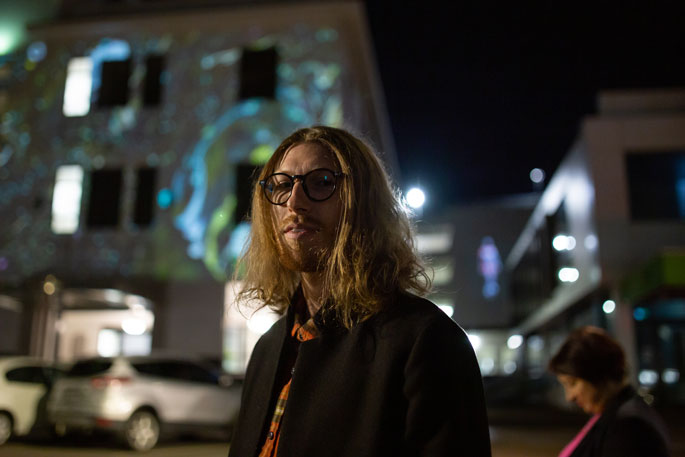 The psychedelic colours of 'Immiscible' by photographer and artist Robert M Hunter, pictured, project illuminated worlds upon a Grey St building. Photo: Kendra Stone.
A little bonkers
"I've always had a fascination with the hidden worlds of macro photography, psychedelic colours, and things that are a little bonkers," says Robert.
Using a macro camera gear and specialist lighting equipment, Robert is able to "explore and create those worlds" and share them through the festival.
He commends friend and artist Sally Saberhagen, and his partner Ashley JW Carlson for their collaboration in Immiscible's ideation and creation.
Artist Bobbie Gray, who earned her Bachelor of Fine Art from Whitecliffe College of Art and Design, created her artwork 'Wisteria Lane' using more than 10,000 plastic bottles.
Crafted during the second lockdown, the piece's creation has been a collaboration with friends and family who posted bottles to her Auckland home studio, says Bobbie.
"[Wisteria is] my mum's favourite flower and the cool thing is in lockdown my mum was helping me a lot with this work, so I kind of dedicated it to her."
Bobbie cuts and melts the bases of plastic bottles to give them "an organic shape". She then drills holes into the base before spray-painting the plastic flower and threading it onto lights connected to nets. The results emulate Wisteria, a "big and beautiful sprawling vine," says Bobbie.
Whack
A mixture of artists, brings a mixture of meaning to the festival. "All the work I do is inspired by nature…the idea is to bring nature into the city," says Bobbie.
From an environmental angle, Bobbie says, "It's [Wisteria Lane] quite magical in one sense but then at the same time you get these feelings of sadness thinking of the general picture of the plastic waste".
"I just want people to enjoy seeing something a little whack, something they haven't seen before, just for the sake of art," says Robert.
He adds: "To create something seemingly impossible-something that makes you say: 'Woah'."
Launched by Creative Bay of Plenty, Bobbie says: "It's an awesome event to be a part of and something that is very much needed for the city".
The festival runs for three more nights, May 20-May 22. Visit: www.afterdarkfestival.com
Subscribe to our weekly Newsletter
Email: