For the first time Opotiki is to be the venue for a Tauranga Arts Festival performance with Irish singer-songwriter Roesy on a double-bill with traditional Irish dancers, The Seisiún.
"It's great to be taking our first-ever festival performance to Opotiki," festival director Jo Bond says, "and we couldn't think of a better show. This will be a night to remember."
The festival has regularly taken shows to Katikati and Te Puke – Roesy + The Seisiún will play in Katikati, while Te Puke will host Welsh comedy Hiraeth in the Litt Park Theatre on October 28 at 7pm.
Roesy (it's a childhood nickname) has enough mana in the world of music to have appeared with Ron Sexsmith, Billy Bragg, Joan Armatrading, Donovan, Shane MacGowan and celebrated Irish poet Paul Durcan.
Now based in Melbourne and having previously lived in Amsterdam, Roesy has recently toured the land of his birth with his most recent album, Wolf Counsel. Reviewers regularly praise his "jocular gab" and songs that have "heartfelt sincerity".
He will be joined by two traditional Irish dancers and a group musicians, collectively calling themselves The Seisiún (The Session).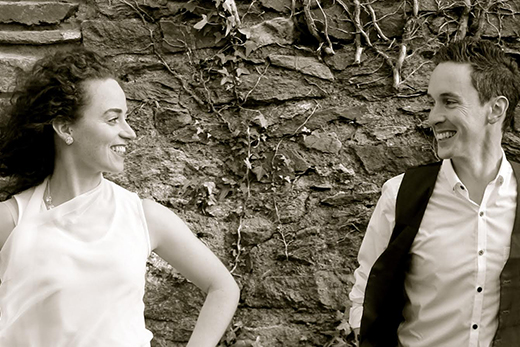 Charlene Morrison and Liam Scanlon will be teaching Irish dance at a ceili in Tauranga on October 30.
Liam Scanlon, who began dancing at the age of 5, has won All-Ireland and World Fleadh titles, as well as touring extensively, while Charlene Morrison, a former school teacher, became a professional dancer in 2010 and has toured the United States as a lead dancer.
They will be accompanied by four musicians playing a variety of traditional instruments.
After the Tauranga show The Seisiún will host a good, old-fashioned ceili (dance party) where steps are taught and everyone dances together. The Hiraeth actors and musicians have promised to attend and share the traditional Welsh version, a twmpath.
People who buy tickets to the Tauranga double-bill have the ceilih included, otherwise tickets may be purchased for the ceili only ($10) which starts at 10.30pm at the Crystal Palace.
Roesy + The Seisiún perform at the Talisman Hotel in Katikati at 8pm on October 29 (tickets from the Talisman or Baycourt), at the Pacific Crystal Palace (Masonic Park) at 8.30pm on October 29 (tickets from Baycourt) and at the De Luxe Cinema in Opotiki at 8pm on October 31 (tickets from The Travel Shop in Churst St, Opotiki or ticketek.co.nz). See the full festival programme at www.taurangafestival.co.nz
Subscribe to our weekly Newsletter
Email: