Aimee-Leigh Brunsdon's claim to motoring fame is driving off from a petrol station forecourt with the petrol pump still in her car.
But don't let that fool you. The Sun Media sales consultant will be no holds barred when she takes to the terracotta track at Baypark Speedway on December 9 for the annual SunLive Demolition Derby.
Aimee-Leigh is swapping her 'nana car' – a 2000 Nissan March – ­for a battered Daihatsu Charade to give it a last hurrah before it goes to the great wrecking yard in the sky.
While she may be new to all this, there are no signs of nerves from this cool cat. "I've never done anything like this, so I'm really throwing myself in the deep end," says Aimee-Leigh. "That's the best way to learn how to swim, right?"
And what is she doing to prepare for the big race?
"I've been preparing for this my whole life. I'm late for everything so I'm usually racing people on my way to work – within the speed limit of course because I'm not a rule-breaker!
"I also draw my inspiration from Lightning McQueen."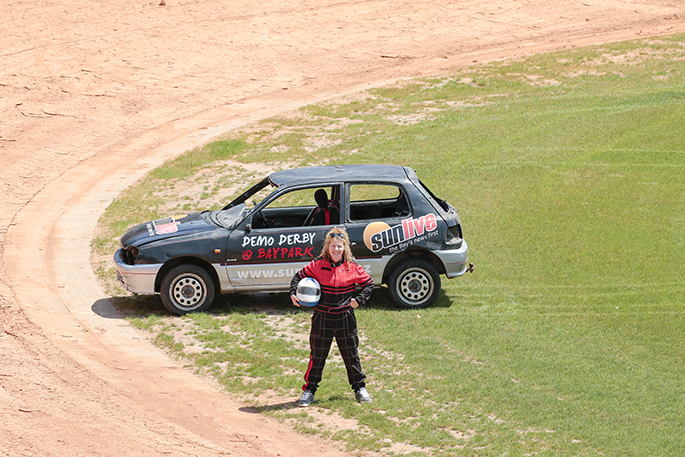 The idea of driving around a track smashing into other cars has got her quite excited. "It will be an experience for sure. I've been to many demolition derbies and I've got a lot of guy friends who do burn-outs and things like that. I've always thought it would be a bit of fun to do it myself."
And Aimee-Leigh is no shrinking violet – she's out to win.
"I'm in it to win it. Bring it on!"
'Strap in tight'
"Strap in tight." That's the advice Sun Media special publications manager Kathy Sellars has for her colleague Aimee-Leigh Brunsdon as she takes on the SunLive Baypark Speedway Demolition Derby.
Kathy, who was the SunLive driver for the January 2017 event, says you certainly get thrown around a bit in the car, but it's all part and parcel of the event.
"When I came out of the pit onto the track it was quite thrilling," says Kathy, "and I got in a few spins and a jump over the ramp before my car died and wouldn't start again."
The more experienced drivers gave her plenty of advice and helped her into her gear and onto the track.
"Everyone was having a good laugh and were all amped up and ready to go. They were super helpful."
Up to 50 cars are expected to take to the track for this year's event, ensuring there will be plenty of action.
The last car standing receives a $2000 cash prize, and a $1000 cash prize goes to the 'best stirrer'.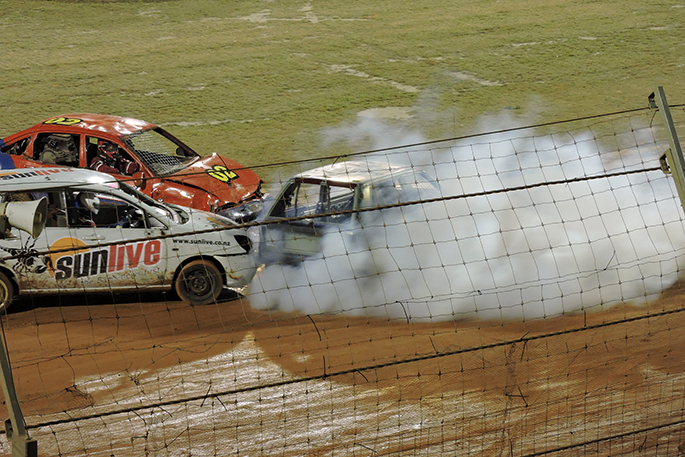 Kathy Sellars in action at last year's SunLive Baypark Speedway Demolition Derby.
Speedway action at its finest
"One of the craziest speedway nights you'll see all season."
That's how Baypark Speedway promoter Bernie Gillon describes the SunLive Baypark Speedway
Demolition Derby coming to Mount Maunganui on Saturday, December 9.
Road rules go out of the window for this one, with drivers able to let loose with what is often a road car on its last legs.
Bernie says it's not hard to prepare a car for the derby and entries, which close on December 6, are open online at: www.bayparkspeedway/co.nz/forms
"Basically all the glass, including mirrors, must be removed, the correct seat belt installed and a safety pole put in behind the driver's seat," explains Bernie.
"Once on the track, it's no holds barred."
The addition of a ramp at each end of the track ensures some great antics on the night.
As well as the demolition derby, other classes of racing on the night include sprint cars, super saloons, saloons, stock cars and mini stocks.
Gates open at 5pm with racing starting at 6.30pm. You can come down early and walk through the pits to meet the drivers and see the race cars, or enjoy a buffet meal in the speedway lounge.
The Kidz Zone will be open from 5pm with bouncy castles, face painters and more.
Tickets cost $50.00 for a family (two adults and three children), $20 for adults, $10 for seniors and children age 5-15 years and under 5s attend free.
To buy tickets go to: www.bayparkspeedway.co.nz or buy at the gate on the night.