New Zealand First Tauranga-based list MP Clayton Mitchell is looking forward to being part of the government in his second parliamentary term.
Despite New Zealand First receiving a lower party vote in 2017, and losing three seats in the process, Clayton returned to parliament thanks to his high list ranking.
He says the election was a 'straightforward campaign', tarnished only by the 'dirty politics' of leader Winston Peters having his personal information leaked to the media.
"It was interesting to watch Labour's turnaround, which no one expected," says Clayton. "Our own internal polling had shown us experiencing huge growth, but that didn't come to pass on election night. That was in part to Jacindamania, I think."
The biggest frustration for him and his party is the 'first past the post' mentality of the mainstream media, who he says treated the election as a two-horse race between National and Labour.
"As a result, a lot of the smaller parties were ignored. There's also a lot of bias in today's political reporting, and a lot of negative coverage of Winston."
He thinks many people prefer FPP to MMP as a political system. "FPP was a massive failure, and continues to be around the world."
Despite losing 1.5 per cent of the party vote from 2014, New Zealand First still ended up in a position to decide the next government – and chose a fresh start with Labour.
"Being part of the coalition discussions was fascinating," says Clayton. "People don't realise how close it was."
He's looking forward to advocating strongly for Tauranga and already has several private member's bills in mind.
"Getting Route K toll-free is one of my major goals for this term," he says, adding that ministers are much easier to reach and talk to now that he's on the government benches.
Clayton, who has a background in hospitality, first became involved in local body politics in 2013, when he successfully ran for Tauranga City Council in the Mount Maunganui/Papamoa ward.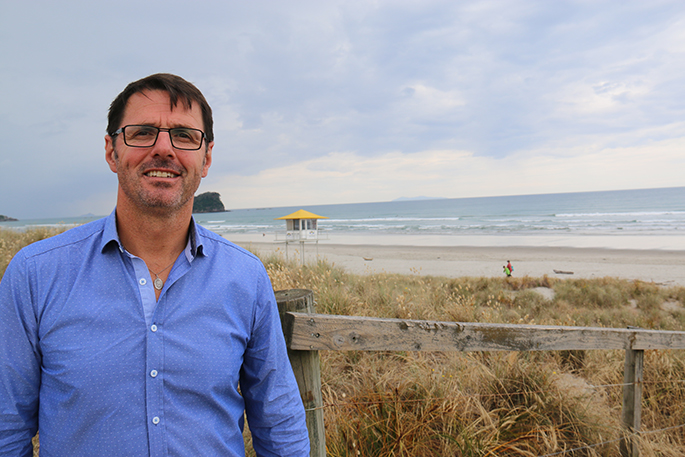 "I'd backed people for council before, but I decided it was time to stand myself. At that time there was too much petty infighting going on between councillors. I wanted to bring some fresh ideas and a business perspective – I only intended to serve a term or two at the most."
As it happened, he was selected as New Zealand First's candidate for Tauranga in the following year's election, and resigned from the council upon his election to parliament on the list.
Growing up, Clayton was exposed to politics by his parents, who were at opposite ends of the spectrum – his father was National, and his mother was Labour.
"I'm conservative in my thinking," says Clayton. "I believe growing inequality is a big problem, and that race-based privileges and laws have to change. We need to be colour-blind when dealing with poverty and New Zealand First is the only party saying this."
He currently lives in Mount Maunganui with his wife Erika – a native of Dorset, England, whom he met while she was here on her OE.
They have three children together – Jazmine, 11, Oliver, 9, and William, 6 – while Clayton also informally adopted two of his sister's children (a Maori practice called whangai) after her death in a car accident in 2001.
He is spending this Christmas in England with his family, where they'll enjoy the snow.
"The kids have been before, but never for Christmas," he says. "Then we'll all be back to enjoy a Kiwi summer in the middle of January."