Peace is a product of a positive mental attitude, while violence is the result of negative thinking.
Peace can be interpreted in many ways, but for art student Grace Fellows, peace and harmony shake hands like lifelong friends.
The 13-year-old Otumoetai resident last year entered her art piece into the Lion club's annual peace poster contest.
Not only has she won the regional competition, but she has also been awarded a trophy as a winner of the national contest. Her work is now off to Chicago to be judged alongside other works worldwide.
Grace says to have her poster from New Zealand going up against kids from all over the world is unreal.
"I painted a girl of different ethnicities representing our multi-cultural world," says Grace.
"She is dressed in flags from around the world, meaning that we need to work together as one in harmony.
"She is freeing a cage of doves around the world, showing that we need to have freedom to achieve peace and make the world a better place."
Otumoetai Lions Club coordinator Harry Kiriakdis says the art contest, which has be running for 31 years, invites young people worldwide from the ages of 11-13 to express their visions of peace through art.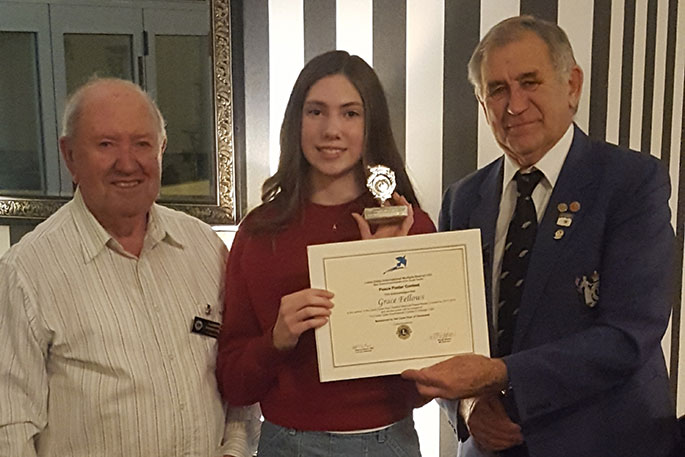 Otumoetai Lions Club chairman Harry Kiriakdis, peace poster winner Grace Fellows and Zone 8 Chairman Lionel Raven.
Split into three divisions - regional, national and international - more than four million children from nearly 100 countries have participated.
"Otumoetai Intermediate School has always been lovely to work with, giving us the opportunity to work with their art teachers and students," says Harry.
The district competition has been running for 18 years, and Otumoetai Intermediate School Art School has won 13 district competitions and six national competitions.
"It's great to see what the students come up with," says Harry. "To have Grace representing New Zealand is just amazing."